Auto Cinderella Jack home grown cannabis in soil with LED
Auto Cinderella Jack is one of Dutch Passions latest autoflowering projects which brings the best flavours, aroma and potency together in a single auto using the combined expertise and skill from the Dutch Passion and Buddha Seeds team.
Auto Cinderella Jack genetics originally came from the acclaimed Cinderella 99 and Jack Herer photoperiod lines, this gave the high THC foundation as well as some award winning stable genetics which ensure consistent and predictable home grown results.
The genetics were converted to an autoflowering version by crossing with Magnum (Buddha Seeds).
Feminized high THC auto seeds
This weeks grow was expertly done by 'XxxAuto' from the popular 'Grow Diaries' forum and the original grow diary is here.
Nutrients came from 'Big Plant Science' and included Power House Part A, Calcium Plus Part B and Micro Power Part C nutrients, along with Bud Explosion and Stimulus, all from Big Plant Science.
A 600W LED grow light was used and the grower gently defoliated the Auto Cinderella Jack during growth to allow light penetration to the lower branches.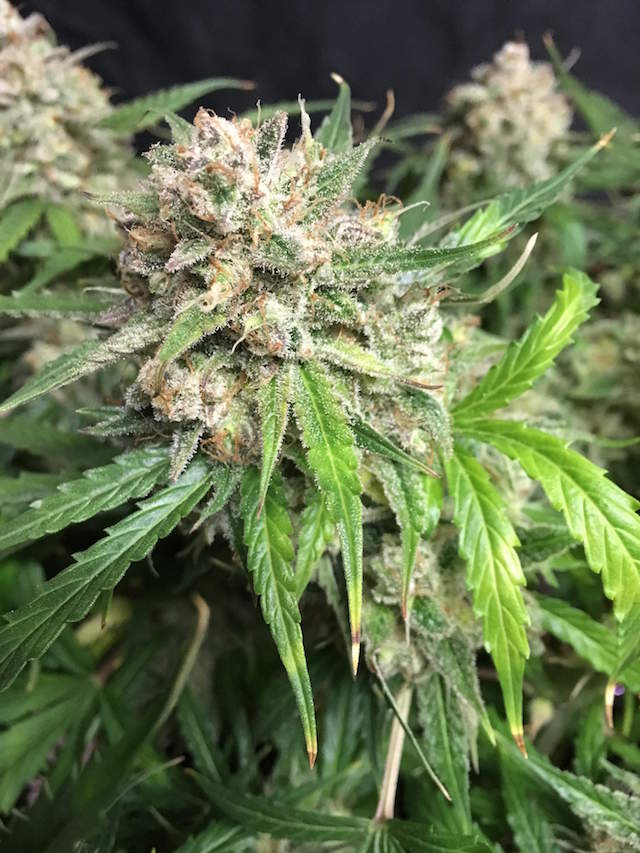 Auto Cinderella Jack, easy home grown cannabis thats high in THC
Auto Cinderella Jack is one of the most potent indica/sativa hybrid autos that we have seen, with a rich resin coating which gives a great appearance to the cured buds.
Its a medium hight variety which can grow into the usual XL Dutch Passion size in optimum conditions.  But most customers choose Auto Cinderella Jack for the consistent strength and potency of the THC rich buds.
Its an easy and uncomplicated variety to grow, usually grown under 20 hours of daily light.  Auto Cinderella Jack grows well in any grow medium and usually takes around 75 days to grow from seed to harvest indoors.
Home grown marijuana with rapid bud growth
This weeks Auto Cinderella Jack produced over 150g of top quality cannabis and took an extra couple of weeks in bloom, eventually harvested around week 13.  Many modern autos can occasionally produce phenotypes that want to keep producing buds after the usual 75 days.
Although this can mean delaying the harvest for an extra week or two the extra harvest quantities are worth the wait.  The Auto Cinderella Jack from 'Xxx Auto' stayed medium hight and produced plenty of blooms.  This is a variety noted for dense hard and sticky buds.
The great aroma on Auto Cinderella Jack comes from both the Cinderella '99 genes and the Jack Herer, with deep spicy and fruity old school scents.  The visual appearance with the frosty resin finish gives this aromatic variety a great bag appeal.
It may be a new Dutch Passion auto but its already a staff favourite with a super strong long lasting high and an appealing sweet and flavoursome smoke/vape.
Auto Cinderella Jack home grown cannabis
Comments are from XxxAuto
Appearance
Very crystallized hard density buds
Smell
Dominant smell of Christmas :here is where i get 3 different aromas…..I say it smells like very ripe of vanilla , cinnamon, and… christmas…… AMAZING SMELL!!!!!!
Taste
Like it smells….tastes really nice…i am very excited of this strain.
HARSH/SMOOTHNESS
8 out of 10  (1 being extremely harsh and 10 being extremely smooth).  Really stoned
BUZZ
Profile
Percentage of head to body (e.g. 80% head 20% body)…20 % head..80% body
Potency
(1-10, 1 being extremely weak and 10 being extremely potent)…8
Duration
(approx length of buzz, from first hit)…1-2 hrs
Use
Daytime/Bedtime…better in the evening…if you smoke 2 within a hour…say goodnight
Lots of side branching
Auto Cinderella Jack grows with lots of side branching and is well suited to indoor growers looking for heavy home grown harvests.  But she also grows well outdoors and tends to take around 85-90 days to grow from seed to harvest.
She suits the grower looking for a compact and reliably potent auto with good yields, superb aroma and resin coated buds.  Auto Cinderella Jack is a typically robust and tough high THC auto which is easy to grow.
Get your seeds here.