THC rich results, easy home grown cannabis and XL harvests
With so many high THC autoflowering cannabis varieties available there has never been as many cannabis home growers enjoying the benefits of growing their own. Feminized autoflower seeds are popular with both indoor and outdoor growers.
They grow easily under a wide range of growing conditions in any grow medium. More people are growing autoflowering seeds than ever before, here are the main benefits delivered by autos.
Outdoor growers and autoflower seeds
Autoflower seeds tend to be produce smaller plants than those grown from feminized photoperiod cannabis seeds. For some outdoor cannabis growers this makes autos easier to hide and increases the chance of a successful harvest.
Instead of a 3 metre tall monster photoperiod variety to try and hide, you may just need to hide a few waist-high plants. Many people grow their autoflowering cannabis varieties hidden in their garden, greenhouse or in the countryside.
Autoflower seeds for fast outdoor harvests
Autos take around 90-100 days to grow from seed to harvest outdoors. This means they can be grown in climates with short growing seasons, where it would be difficult or impossible to grow an outdoor photoperiod variety.
Even growers in extreme northern/southern latitudes will be able to get a crop from auto seeds if they are planted in the warmest, sunniest 3-month period. Many outdoor growers in northern climates such as Scandinavia and Canada successfully grow all their cannabis using autos.
Tips for growing autoflowering cannabis varieties outdoors
Start the seeds indoors under 24 hour light for 2-3 weeks if possible. This gives the seedlings the best possible start before they are planted outdoors.
Plant the auto seedlings outdoors after the last frost. The autos will do well if planted outdoors at the start of the best 3 summer months.
Choose a sunny location, and if possible improve the soil quality perhaps with some supermarket soil and organic fertilisers such as well-rotted manure.
Protect your autos from slugs and snails with snail pellets. A small protective ring of garden wire ('chicken wire') can be a good way to prevent rabbits, deer and other animals from eating your plants.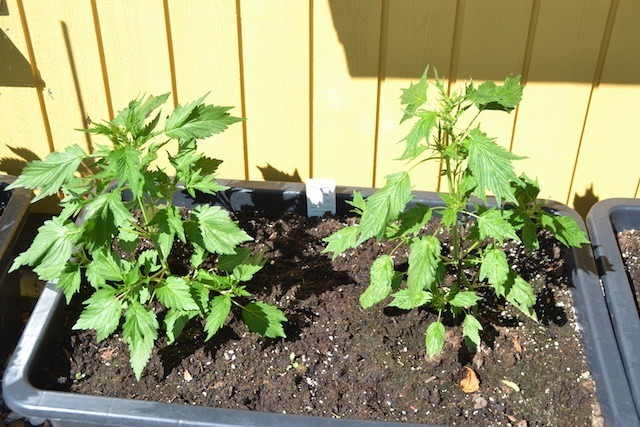 Indoor cannabis growing with autoflower seeds
These days huge numbers of indoor growers use feminized autoflower seeds for growing cannabis easily and quickly at home. Seeds from the best auto breeders are just as potent as the best THC rich photoperiod cannabis seeds, and they are faster to grow usually taking around 75 days from seed to harvest under 20 hours of daily light.
Dutch Passion autos are often grown under 24 hour light from seed to harvest, not all the seed banks can say the same.
Autoflower seeds, the easiest way to grow cannabis at home
Autoflower seeds begin to bloom automatically at 3-4 weeks old, irrespective of the light cycle. One advantage for the home grower is the ability to use a single grow room for seedlings, medium size plants and mature females.
With feminized photoperiod marijuana seeds you would need separate grow areas, one for vegetive growth and one for flowering. But auto seeds need just a single grow tent, making indoor cannabis cultivation very easy for the auto grower.
Many indoor growers harvest an auto every couple of weeks and germinate a new auto seed at the same time, creating a grow room with a perpetual cannabis harvest. If you haven't grown autos yet, they buy your autoflower seeds online from Dutch Passion who have been a leader and early pioneer of autoflower seed technology.