Auto Blueberry and Think Different cannabis review
LED grow light & coco fibre
This weeks review comes from Hansbricks who grew two of Dutch Passion's best loved autofems, Auto Blueberry and Think Different. 
Think Different has potent energetic sativa high, and exceptional yields, she is currently the best selling variety in the entire Dutch Passion collection. 
AutoBlueberry has a strong fruity Blueberry aroma and is one of the most resinous varieties we have seen with a heavy sedating effect.  The words and pictures are from Hans. 
The original grow diary is here.  One of the most interesting aspects of this grow is the use of the air-dome at the bottom of the coco-fibre.  We see more and more coco-growers 'super-charging' their coco grow by adding an air stone or air-dome.
**
Comments from Hansbricks
"For my setup I use a 4x2x5′ (1.2m x 0.6m x 1.5m) tent with a 4″ (10cm) exhaust fan and passive intake. My lighting consists of a MarsII and Apollo4 LED for a total of about 300 actual watts (on an 18hour on/6 hour off schedule). Both plants were grown in 15L Autopots with airdomes.
Also for this grow I was using a Coco / perlite mix for the first time, which I'll be sticking with based on the excellent results from this grow. The plants were fed with Advanced Nutrients pH Perfect Grow/Micro/Bloom plus a few of their additional supplements.
Recommendations
I would highly recommend both the Autopots and nutrients especially for new growers, I've been able to get consistently good results with as little effort as possible. After the first couple weeks I basically just have to fill up the reservoir once a week and don't ever need to adjust or check the pH…
Combine this with great Dutch Passion genetics and these plants basically grow themselves."
Quite impressive
"It was clear from the start of this grow that these two plants were going to be pretty special. Their vigorous growth during veg was unlike any I've seen before."
"The amount of side branching and overall size and structure was quite impressive on both… but especially the Think Different, which probably could have filled out my entire tent if given the space."
"I did a fair bit of trimming and defoliation on the lower half on these plants to help focus on the many tops and reduce the amount of popcorn buds."
Flowering phase
"During flower the AutoBlueberry in particular showed signs of calcium-magnesium deficiency, both were given additional supplements from the start since this is quite common when using LEDs. I'd keep the AutoBlueberry at full strength nutrients through entire flower stage if I were to grow it again."
"Another thing to note is the ability of these strains to handle non-ideal growing conditions without issue. My temperatures during bloom averaged around 30ºC-35ºC  with peaks of almost 40°C, yet these showed little to no signs of stress or effect in development."
Smoke is superb & buds dense
"During the grow the AutoBlueberry definitely lived up to her name, a slight rub of the buds would reveal the sweet blueberry aroma. The dried buds lost most of their smell initially but after a good 2-3 month cure there is nice blueberry-pine smell to them and the smoke is superb."
"The buds are quite dense and the trichome coverage is exceptional, definitely some of the frostiest buds I've grown. The AutoBlueberry makes for a great evening smoke, the high is very enjoyable with a relaxing body effect. It has also been helpful to me for getting a good night's sleep. 119g harvest"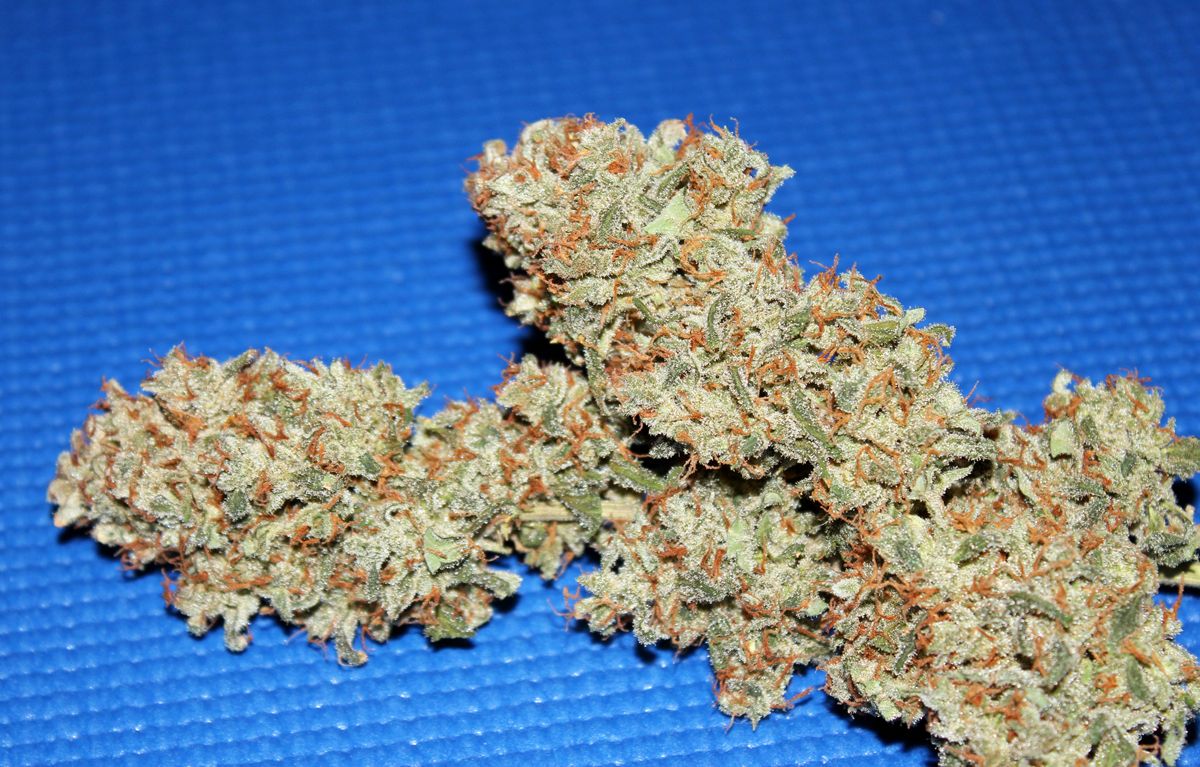 Think Different: biggest & best yielding
"The Think Different was my biggest and best yielding plant by far, 196grams dry. The buds were nice and solid and covered in sticky resin. The buds had a citrusy lemon smell during the grow, which remained throughout the cure."
"The smoke is very smooth but packs quite a punch… it has hard hitting cerebral effects initially with a slight body buzz near the end. Works well as a daytime smoke since you still have energy to get stuff done and its euphoric high will leave you with a permanent grin on your face. Probably one of my favourite all around highs so far."
Exceeding my expectations
"Overall this grow has far exceeded my expectations. As a relatively new grower myself I didn't think I could be achieving these kind of results with such a small home setup."
"These Dutch Passion auto genetics are truly some of the best and these two strains did not disappoint, the quality of the smoke is on par with some of the top photo strains out there."