Auto Brooklyn Sunrise cannabis home grown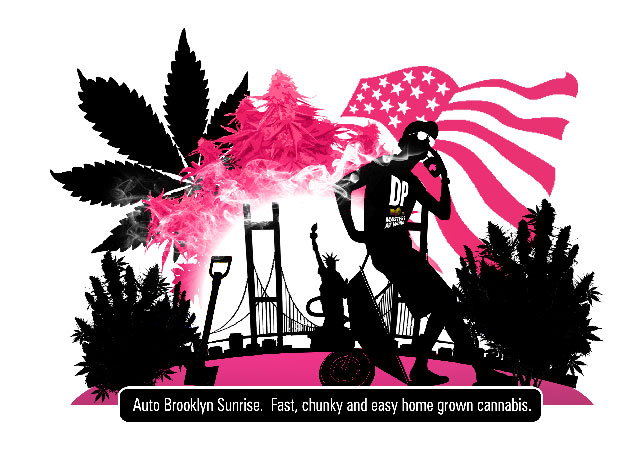 Heavy yields & a THC-rich long lasting high
Auto Brooklyn Sunrise cannabis combines genetics from the proven 'Brooklyn' Diesel clone combined with AK genetics. Its a combination that produces fast harvests of strong, THC rich cannabis buds.
Like all Dutch Passion autos, Auto Brooklyn Sunrise is an easy and uncomplicated cannabis seed variety to grow at home. Harvests are often around 75 days after seed germination, and this variety can sometimes produce plants that are ready to harvest in under 70 days.
Its a fast growing variety that usually stays around, or below, 1 metre. Harvests are heavy, this is a chunky and productive variety with solid dense buds and a frosty resinous finish. Aroma is deep and rich, anyone that likes the fuel-scented Diesel smell will enjoy this variety.
Even first time cannabis growers have got great results with Auto Brooklyn Sunrise, its one of our highest rated marijuana seed varieties for home growers.
This weeks grow came from 'fairlynew' who grew the Auto Brooklyn Sunrise plants in 15 litre air pots using a soil-free grow medium and nutrients from Remo. This experienced grower also produced excellent results from Dutch Passion Think Different and Auto Xtreme in this grow review.
Auto Brooklyn Sunrise grown in air pots
Air pots come in different sizes and are made from plastic with numerous air holes. The design ensure superior levels of root oxygenation thanks to the air holes. Flat-sided plant containers can allow the roots to circle around the edges and base of the container, but the unusual design of the air pot forces the roots to grow evenly throughout the growing medium.
This stimulates better root growth, better utilisation of the growing medium, and healthy plant growth. Dutch Passion have seen numerous growers get excellent results from air pots, and many growers now use them as their preferred growing container. Air pots deliver excellent results with both soil-based growing mediums, as well as soil free growing mediums such as coco fibre etc.
Fast growing auto with chunky blooms
The full grow review is here on the auto flower network growers forum. 'Fairlynew' grew four Auto Brooklyn Sunrise plants. They all grew quickly and were deep into bloom as early as day 47. Auto Brooklyn is a chunky variety, she tends to stay at medium hight and by the end of bloom she usually has several chunky blooms surrounding a slightly taller central bloom.
Its a good variety for home growers, she grows quickly and doesn't waste space in your grow tent growing lots of long, heavy yielding branches. Auto Brooklyn Sunrise is a marijuana seed variety designed for compact, efficient production of THC rich cannabis.
Its also good for growers looking to grow lots of plants close together and still have a manageable grow room with plenty of cannabis production.
Extensive bud production
Auto Brooklyn Sunrise often has extensive bud production visible by day 50.  The blooms continue to thicken producing unusually large buds in a short space of time.  Like all Dutch Passion autos, the patient grower can leave them to slowly get larger and more resinous as they reach day 70 onwards. 
But such is the speed of bloom that some home growers will harvest Auto Brooklyn Sunrise anytime from day 60 onwards.  Its a good auto for growers that just want a quick crop with guaranteed good quality.  This variety is usually grown under 20 hours of daily light from start to finish, but she can be grown under 24 hour light from start to finish.
harvest 85 days after germination
Auto Brooklyn Sunrise is also a good auto for outdoor cannabis growers, with good mold and pest resistance.  She is often ready to harvest outdoors around 85 days after germination and can yield heavily in good outdoor conditions, especially when the ground has been well prepared.
Many outdoor growers like to give their autos 2-3 weeks indoor growth using 24-hour daylight before planting their autos outdoors or in their greenhouse.
This indoor home grow of Auto Brooklyn Sunrise went quickly and smoothly, like all the best home grows should! The plants grew consistently and fast, with lots of frosty and resinous buds. Its a ganja variety with a great fruity aroma and hints of diesel fuel. Towards the end of bloom you will enjoy sitting with your plants and enjoying an unusually rich and aromatically scented grow room.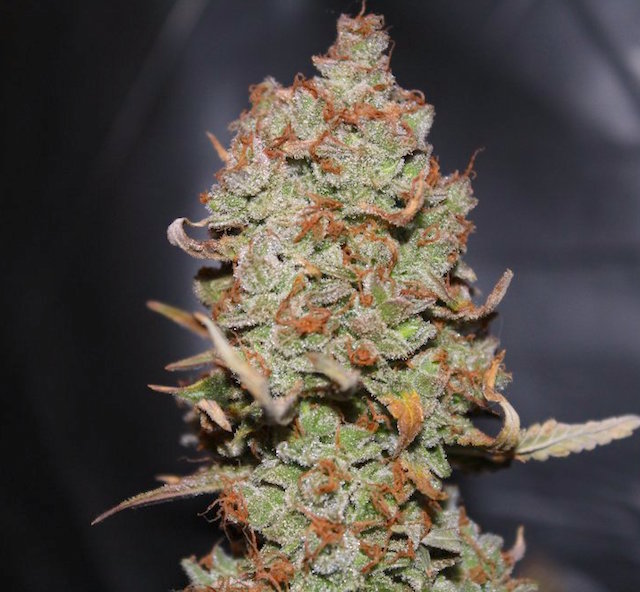 The auto that is easy to grow
Although there are lots of great quality Dutch Passion feminized auto seed varieties to consider, Auto Brooklyn Sunrise offers a unique combination of rapid growth, strong harvests, rich fruity/diesel aromas and chunky, compact structure.
The feel good, potent buds give this variety a well deserved reputation for being a great smoke/vape. The grower commented that "The Auto Brooklyn Sunrise is one of those autos that is outstanding it's resin production is out of this world and the high is powerful one-hit stuff for sure.
I am enjoying these new strains Dutch Passion has brought out in the last while. If you have not tried Auto Brooklyn Sunrise give it a go, it will not disappoint you. This weed is OUTSTANDING after a good long cure. I am growing more right now"
Auto Brooklyn Sunrise is also one of Dutch Passions most affordably priced autos, yet delivers excellent results across a wide range of home growing conditions. If you are looking for a fast, strong auto thats easy to grow then Auto Brooklyn Sunrise is the one for you. Get your seeds here.