Auto Colorado Cookies 600g indoor harvest report
If you were wondering how productive is Auto Colorado Cookies, this indoor grow report from Nordin, of The Urban Grow Collective, is for you. This home grower managed a whopping harvest of 600+g of dried buds within just about 11.5 weeks from seed to harvest and without any kind of yield improvement techniques.
Auto Colorado Cookies is part of the Dutch Passion USA Special collection of cannabis seeds. These stand for heavy yields, in-your-face flavours and blazingly powerful effects.
Auto Colorado Cookies was created by crossing the multiple cannabis cup winning Girl Scout Cookies with the connoisseur favourite Auto Blueberry. The result delivers very high THC levels (up to and around 20% THC) alongside some genuinely mouth-watering sweet fruity cookie flavours.
This indica can grow fast and produce harvests perhaps somewhat larger than the average autoflower strain. She is a great addition to anyones autoflower seed collection, easy to grow and ready to harvest in around 11 weeks.
Auto Colorado Cookies indoor grow info
Grow details
| | |
| --- | --- |
| Variety | Auto Colorado Cookies |
| Seed type | Autoflowering cannabis seeds |
| Number of seeds | 14 |
| Germination date | Summer 2018 |
| Germination rate | 100% |
| Germination time | 3 days |
| Light cycle | 20 hours of daily light from start to finish |
| Grow cycle length | 11-12 weeks from autoflower seed to harvest |
| Bloom stretch | Large sized autoflowers, medium/large in height and stretch |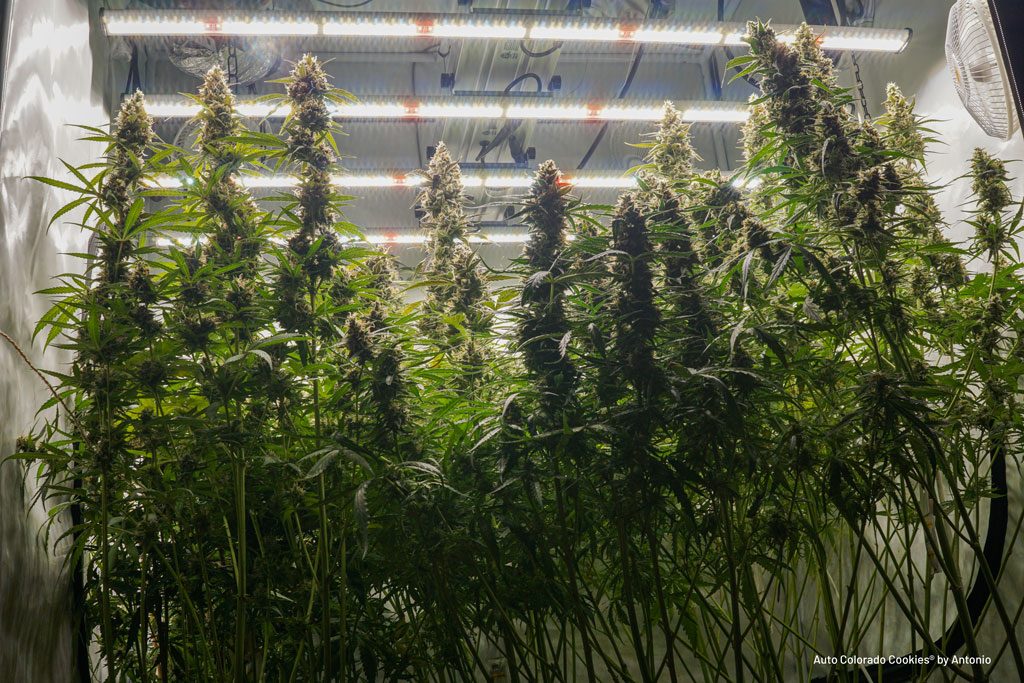 Basic grow information
| | |
| --- | --- |
| Grow room type | Indoor grow tent, Growtent Q120 |
| Grow room size | 120cm x 120cm |
| Plant containers | 12 plants in standard square 12 litre containers. |
| Grow medium | Coco fibre |
| Nutrients | GHE Coco A& B line |
| Grow system | Watered by hand |
| Grow technique | Natural grow, no techniques used |
| Grow light | SPYDRx (340W) |
| Light distance to canopy | 10-40cm |
Auto Colorado Cookies germination in coco fibre
I germinated 14 seeds and had a 100% germination rate, I picked out the best 12 to work with and put them straight into their final containers which were filled with about 12L of coco fibre. They all germinated pretty fast, within 3 days they all had a lively little taproot.
Auto Colorado Cookies early vegetative growth
These Auto Colorado Cookie plants were grown on a 20/4 light cycle from start to finish. I had to place the Fluence LED grow light pretty high in the beginning so they wouldn't receive excessively intense light.
The first few days I started with the LED around 75-80cm over the plants. When the plants started to grow, I reduced the light to about 50-60cm. The stretching then stopped and the plants really thrived from that point on.
They all grew into lush little wide bushes. I did see some phenotype differences occur but during veg growth that meant nothing more than just a minor difference in height and leaf structure.
As the plants grew older, I reduced the light distance to about 40cm when they were still in the vegetative phase. It took about 5-6 weeks before the first flowers started to appear.
From that moment the plants really started to grow more vertically. During the first few weeks it was mostly in width, with a lot of vivid green leaves and fresh shoots. During this time there was not much to do other than give the correct nutrient dosage and the right pH to let the plants flourish.
Auto Colorado Cookies flowering stage
From week 5 and 6, plant growth was really starting to gather pace. As I said before, this was also the time they showed signs of bloom. All the plant were showing female hairs, I was glad to see that! From the moment the first flowers appeared, all the plants were growing almost a few cm per day.
Some phenotypes were growing very rapidly, there were definitely some differences to be noticed. Some, especially the larger ones, showed a bit more stretch and had thinner leaves and a lot more side branching.
Others stay fairly compact and were focusing mainly on the main central bloom. It was fun to see all these different type of plants, as I knew it would probably mean I would taste a lot of different flavours later!
I did a sort of SOG type of grow and let them grow freely. That means I almost didn't use any techniques to keep their height under control. As you can see on the pictures, some are a bit larger and others a bit smaller. I think roughly speaking, there were almost equal amounts of small plants as bigger ones.
The canopy-to-distance was therefore variable, however, with the Fluence LED I didn't notice any major difference in the density. Of course the ones at the bottom were more popcorn style but the main cola's were all pretty solid! (even when the light intensity would have been somewhat different).
Overall, the plants let the light shine through well. I took away some leaves during veg and early bloom to make the canopy more breathable.
Once the flowering really had started, I could immediately say these flowers were going to be big! Most of them had a short to medium internodal distance and were completely filled with white hairs.
Most buds tended to get pretty long, between 20-35cm in size, some even longer! During the following weeks the buds were getting fatter and fatter by the day. I did not use any support (sticks/ropes/nets) because the plants stayed upright by themselves.
I guess the thick branches are strong enough to uphold the heavy flowers and prevent them from bowing down.
There were no big differences in the nutritional needs of the plants, the coco line I was using did very well. The flowers were becoming pretty heavy and almost fully stacked. After 9,5-10 weeks they were starting to get rid of the fan leaves (yellowing)/sucking up the remaining nitrogen in the leaves.
I started flushing the plants after 10 weeks so they would use the remaining nutrients in the soil and in order to get a clean product in the end. I also plucked some of the remaining leaves and further removed lower branches so there was less chance of dead leaves and the problems (fungus, budrot, pests…) this can cause.
In the end it also saves some time when you are about to harvest your plants. Plus it makes them look more attractive to the eye.
Harvest report for Auto Colorado Cookies
Final Height in cm:
Most plants were medium in size. About 60-80cm in total with one plant that became about 100cm and just few plants that were somewhere in between.
Calyx-leaf ratio (Easy trim/yes or no):
Yes, she has a favourable calyx-to-leaf ratio, almost all of the phenotypes have just a few leaves in the buds making this strain easy and quick to trim/manicure
Quality (Resin/Smell/Compactness):
Very nice boutique quality, especially for the best phenotypes which were very interesting hybrid plants with big buds that were still pretty compact and dense. These cookie-dominant phenotypes had a thick resin coating and usually a very sweet and doughy aroma. These were my personal favorites! Other good ones were pretty fruity and creamy.
There were also a few plants that were more Sativa leaning, with some more woody, herbal tones. These were still pretty pungent but I didn't like them as much to be honest. Just a matter of taste, I guess. Some of these plants also had a slightly darker colour which did reduce the bag appeal compared to the others. The more compact ones were very white with sometimes fiery orange hairs which looked pretty damn good! The best ones were rock-hard as well.
Auto Colorado Cookies review and ratings
Yield:
A very good yielder, I understand why these plants have received an XL rating! In my case it could also have been XXL. A whopping total of 600+g of dried buds during this round!
And this happened with just a 345w LED in about 11-11.5 weeks from seed to harvest. That's close to 2g/w without any additional CO2 or other yield improving techniques within less than 3 months. I'm of course really happy with this result! It shows the massive potential of this strain, especially for those growing commercially.
Remarks after curing:
What a mix of flavours! Any pheno-hunter looking for a range of different aromas and flavours would be in heaven. From the 12 plants I noticed there were about 8 different buds with different aromas and flavours.
Look out for the sweet, creamy and more doughy phenotypes, these are just lovely smokes! The fruity ones are very tasty too! Very smooth on the throat and the high is pretty relaxing and slightly euphoric.
Not too intoxicating, you will still be able to do things after you've smoked a good one. A nice bud to smoke with friends outside, in the park, at the beach or during a BBQ.
Overall rating (out of 5): 4
| | |
| --- | --- |
| Aroma | ★★★★☆ (4 stars) |
| Taste | ★★★★☆ (4 stars) |
| Effect | ★★★½ (3,5 stars) |
| Bag appeal | ★★★½ (3,5 stars) |
| Overall rating | ★★★★☆ (4 stars) |
Overall, a very nice autoflower, it was pretty difficult to give an exact rating since there were many different phenotypes which all had their own aroma, taste and high.
Some could score a 4.5 for aroma/taste or maybe even a 5. Others would be a 3 or 3,5. This has of course a lot to do with personal preference but I think a 4 sums it all up nicely.
Special remarks from the grower for Auto Colorado Cookies
Auto Colorado Cookies proved to be a truly exceptional yielder! The harvest potential is one of the best things about this strain. She is definitely easy to grow and didn't require any special growing techniques or nutrient schedules to turn out the way she did. Her buds can be as long as your forearm and are pretty easy to manicure.
A bit of a shame that there are still so many phenotypes to be seen. On the other hand, no complaints from me, they were all good enough!
The differences in growth, size and yield are definitely there, some stay fairly compact while others become pretty big. I think when this strain would be further stabilised, Dutch Passion could have a real winner here. I truly believe when you would only have the biggest plants in the room you would be able to get yields that go sky-high!
I'm quite a big fan of Cookie genetics and these (Auto Blueberry x Girl Scout Cookies) definitely gave me some very potent Auto Colorado Cookie buds which are super tasty to smoke. For an autoflower that only takes 11 weeks from seed to harvest (and with such jaw-dropping yields!) she left a really good impression on me and my friends!