Auto Ultimate customer grow review
Home grown in a small 80x80cm grow tent
This weeks Auto Ultimate customer grow review is from 'Lucky P' who grew her Auto Ultimate autoflower seed in a small 80cm x 80cm x140cm tent, but still produced a heavy yielding plant with numerous blooms which filled the tent. Auto Ultimate is one of Dutch Passion's heaviest yielding autos, she is easy enough for a first time grower and she delivers a potent feel-good stone.
Under LED grow light in Plagron Light soil
An 80x80cm grow tent is easy to accommodate in even a small apartment. LED grow lights are particularly popular with marijuana home growers because they are compact, reliable and create less heat than HPS grow lights. In this grow a 300W LED grow light was used.
Auto Ultimate customer grow review
Cannabis seed germination
The Auto Ultimate was germinated using the paper towel method. Simply wet some paper towel and put the cannabis seed inside, a day or two later you will see the tap root emerging. Click to read some of our recommended cannabis seed germination methods.
The germinated cannabis seed was then placed in the 20 litre felt container containing Plagron Light soil. Felt containers, like air pots, allow a highly oxygenated root mass and encourage strong root growth. They can be washed and re-used. Plagron Light soil is a low-nutrient light soil blend. Cannabis plants grow well in the light aerated soil mix.
Super cropping autoflowering cannabis plants
The Auto Ultimate grow steadily and in early bloom she was super cropped. This is where the growing tip is cut off, which forces the lower branches to grow quickly. The result is usually a shorter, bushier auto. In this weeks grow review the super cropped Auto Ultimate grew in a bowl shape, with numerous blooms. T
he open, level canopy allows the grower to position all the blooms at the optimum distance from the LED. Not all cannabis growers approve of supercropping autoflowers, feeling that it costs the plants valuable time to recover.
But many growers routinely supergroup autoflowering cannabis varieties and get consistently good results. For growers with small tents, perhaps super cropping has particular appeal.
Autoflowering cannabis seeds with LED
Auto Ultimate grew well after super cropping, the LED light able to reach the inner areas of the plant allowed plenty of blooms to form. Auto Ultimate is a THC rich autoflower, and in the right light the blooms look white thanks to the sticky resin coating.
The Auto Ultimate grew under 19 hours of daily light, with 5 hours of darkness. Some growers like to grow autoflowers under 24 hours of daily light from seed to harvest. That can be useful during winter, the growlight helps to keep the grow room warm, and is one reason why people find autoflowering cannabis convenient for winter growing.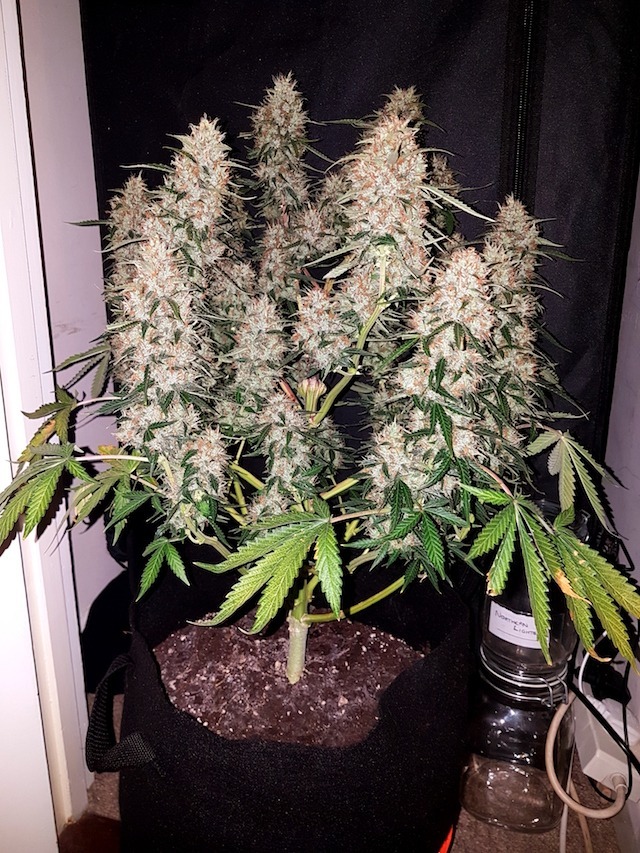 Auto Ultimate, easy to grow, heavy harvests of high THC weed
The Auto Ultimate was fed with nutrients from 'Advanced Nutrients'. The products used included Sensi Grow/Bloom A&B, Rhinoskin (silica), Sensi Cal-Mag Xtra and Molasses.
It was a very productive home grow, showing how easy it is to grow your own cannabis even in a small space. If you are looking for an easy cannabis seed variety to grow then try Auto Ultimate for heavy potent harvests.