Auto Ultimate insane 850-900g organic indoor harvest from a single plant!
This astonishing grow produced 850-900g of dry buds from a single Auto Ultimate plant grown in a standard 15 litre round plastic container of coco fibre! The plant took 95 days from autoflower seed to harvest and was grown under large LED panels drawing 820W. The grower 'Xmas' from the Autoflower Network grow forum felt that the plant had the potential to have done even better in a larger grow container…
| | |
| --- | --- |
| Variety | Auto Ultimate |
| Cannabis seed type | Autoflowering cannabis seeds |
| Number of seeds | 10 seeds germinated, just one selected for final bloom |
| Date of germination | Winter 2021 |
| Germination rate | 100% |
| Days required for germination | 3 days |
| Length of grow cycle | 95 days from autoflower seed to harvest |
| Stretch during bloom | Fair amount of stretch. 'Xmas' chose the largest Auto Ultimate (out of 10 original plants) which finished at 1.8m tall and 2m wide. Massive final plant with multiple side blooms |
| Grow light cycle | 24/0 light cycle until late stretch. 20/4 light cycle in bloom. 18/6 light cycle in late bloom. |
| | |
| --- | --- |
| Grow room type | Open grow room |
| Grow room size | 240cm x 200cm |
| Plant numbers | 10 seedlings initially. 9 were deliberately discarded allowing one plant the full 820W of LED during late bloom |
| Plant containers | 15 litre standard round grow containers |
| Grow medium | Coco fibre by Gold Label |
| Nutrients | Gold Label (Coco A & Coco B , plus Ultra MG) Advanced Nutrients (B52, Big Bud and Kushie Kush.) Plant Success (Orca & Great White root nutrients) |
| Grow system | Watered in a tray with an air stone and air pump |
| Grow technique | Natural grow, ropes added for support in late bloom |
| Grow light | 2 x YC-4000 LED panel, approx 450W per panel true power draw. Lights have extra far-red and UV chips added. |
| Maximum nutrient EC | EC 3.7 ! Auto Ultimate consumed up to 10 litres of feed per day in late bloom, necessitating regular feeds from the grower |
Auto Ultimate seeds germinated and grown
Xmas germinated 10 seeds and had a 100% germination rate. All the roots showed within a few days. This is a common success rate when you follow simple guidelines to ensure a healthy germination rate.
I used Grodan rockwool-cubes, which were easy to transplant into the coco. Early on, I looked at their roots to see which of the plants I would grow – every seedling is different. In my opinion, it is better to germinate a couple extra seeds and then pick the best one or two… They are so cheap to buy.

Xmas
Auto Ultimate vegetative growth phase (24/0 light cycle)
From the 10 seedlings, the grower Xmas hand-picked the best plants. These were transferred into 15L pots filled with coco. The plants grew with real strength and vigour during the first few weeks. Auto Ultimate is one of those original Dutch Passion strains that is known to produce truly epic harvests. If a high yielding strain is what you need then you should definitely give these high quality autoflower seeds a go.
She's in 15 litres of coco with 12 litres-per-minute of air injected into her root-system. Nutrients were from Golf Label and Advanced Nutrients. I used Gold Labels base (Coco A and Coco B and their Ultra MG. From Advanced Nutrients, I used B52, Big Bud and Kushie Kush. I also used Orca and Great White from Plant Success to get a bigger and healthier root-system. The medium was coco from Gold Label and I think it is made of the very best quality.

Xmas
The lights are on 450 watts each with an extra far-red and UV-setting. It was the first time I tried these LED lights and I got blown away by the intense lights. It is the best and cheapest light at retail that I could find with infrared and UV. Vegged/stretched/pre-flowered under 370 watts until day 65.

Xmas
Auto Ultimate in flowering stage: 20/4 grow cycle until the last 2 weeks when an 18/6 light cycle was used
During flowering the strength and power of this strain became evident. Instead of finishing two Auto Ultimate plants, Xmas made the difficult choice to cut one of the ladies at day 65 and continued with just one plant. This was a deliberate choice to make sure this, the biggest lady out of the original 10, could receive everything she needed. Enough light, nutrients, care and love. Not every plant has what it takes to produce a bountiful harvest like this, so it is up to the grower to recognise and select that prized lady and make her the Queen of the grow-room!
She grew until middle of week 8, and reached a height of 180 cm from floor.

Xmas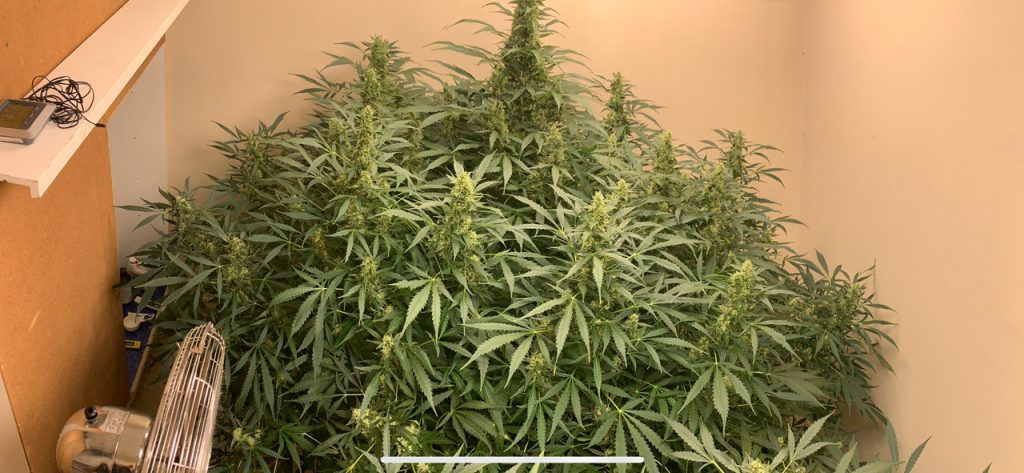 From now she's drinking about 10 litres a day. When she shared the space with her sister it was roughly about 6-7 litres per day, but I took the other one down (way early) as this lady needed space.

Xmas
Now she's under 820 wattage split between 3 lights to get as big buds as possible.

Xmas
I must say she responded very well to Kushie Kush, so that is a nutrient I would recommend if you want heavy buds. But there a lot of things that have to be in order to get plants of this size. She's on an EC of 3.7 now but I will drop it down to 3.2 next refill as I don't want to burn her leaves too much.

Xmas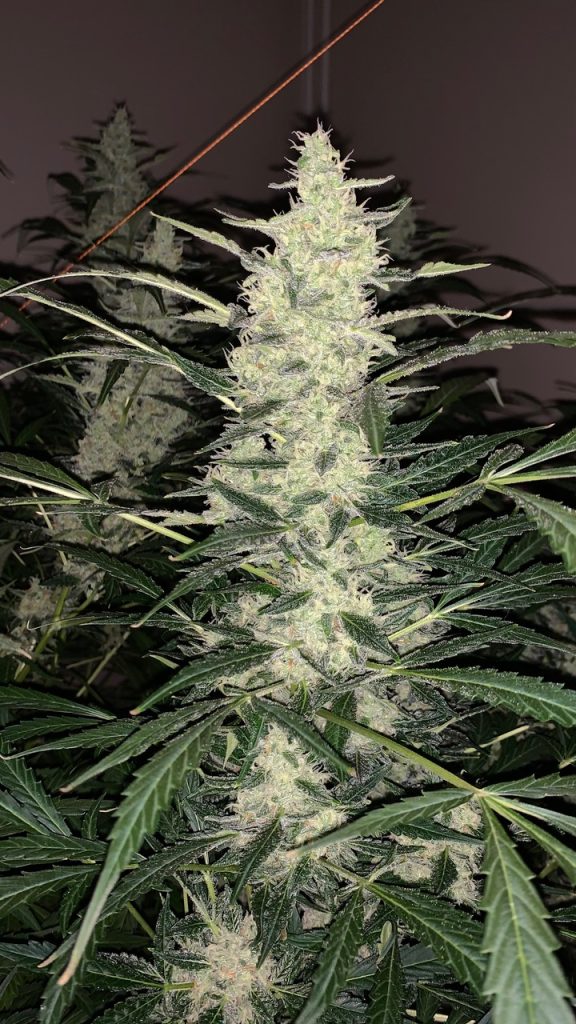 The maximum light she received in late bloom was around/over 800 actual watts. However, she was under just 370W until day 65 when I had to take down her sister as I didn't have space for the two massive plants.

Xmas
On day 70, I started to tie her up to prevent her from collapsing under her own weight.

Xmas
I believe I harvested the finished lady on day 95. Sadly, I had to harvest her sister on day 65 as I couldn't fit 2 plants in my grow-area, which measured 240x200cm.

Xmas
Harvest report for Auto Ultimate
Final Height in cm :
The plant is 200 cm wide and 181 cm high from floor! Pretty good for an auto. I bet they could weigh 2.5 Kg (of dry buds) in the right conditions.

Xmas
Calyx-leaf ratio (Easy trim/yes or no) :
She was very easy to trim as the buds were so firm and strong. The calyx to leaf ratio was perfect, just as the pictures show.

Xmas
Quality (Resin/Smell/Compactness) :
The quality of the buds are great and they feel firm, heavy and potent to the touch with a lot of trichomes. And after a very fast trim, the buds are looking absolutely fantastic!

Xmas
After Harvest
Yield :
Her yield is about 850 to 900 grams. Unsure as of now since some lower parts are still drying. If I was going for yield alone, I could have kept both girls and done some LST, super-cropping or used the SCROG method to get a higher total yield. I wanted to beak the 1kg autoflower-barrier but I didn't quite reach all the way this time around.

Xmas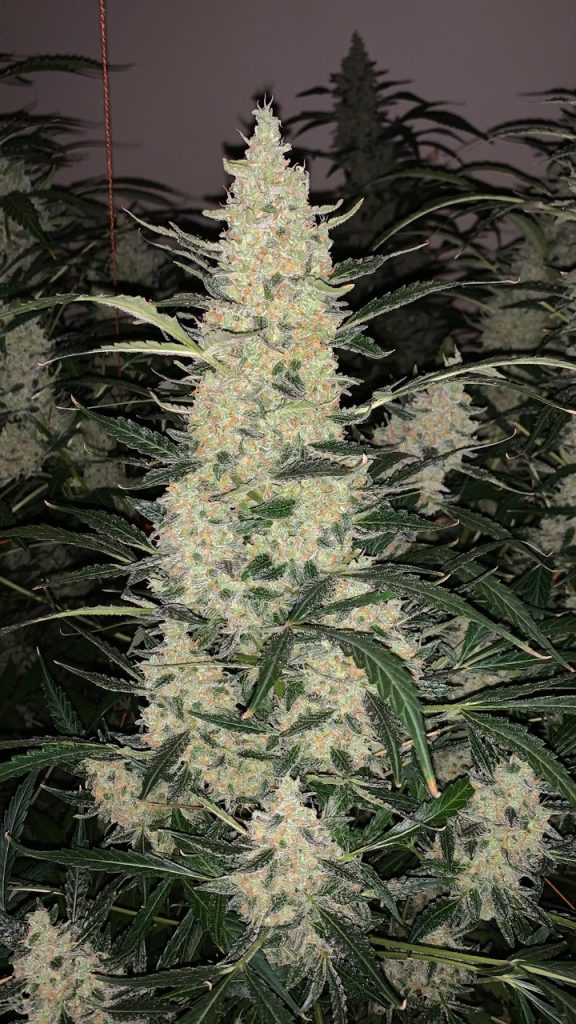 Remarks after curing (taste and high) :
The taste of the buds with just a few days of curing is sweet, with a hint of coffee or a very dark variety of cacao. The taste will be better after a total of 13-17 days of curing. They are still a tiny bit harsh as I didn't flush the girl for the last 3-5 days of her life, but that is something I will do in the future if I feel it is needed. The high is uplifting, focused and relaxed that changes and the gives you a calm and social vibe where it fits perfectly with some good energetic music.

Xmas
Auto Ultimate Rating
| | |
| --- | --- |
| Aroma | ★★★★☆ (4 stars) |
| Taste | ★★★½☆ (3.5 stars) |
| Effect | ★★★★☆ (4 stars) |
| Bag appeal | ★★★★★ (5 stars) |
| Overall rating | ★★★★☆ (4+ stars) |
Not only do Auto Ultimate seeds produce plants with a massive amount of buds, the quality of the flowers is very good too. Xmas gave his buds a 4+ as an overall rating. He particularly loved the bag appeal of this strain as well as the aroma and the effect. These frosty nugs are pretty firm and dense and produce a lovely dreamy high which is strong enough for regular smokers.
Growing Auto Ultimate seeds – grower remarks and tips
Unique observations or tips for this strain:
I don't really have any special remarks during growth or flower, other than she needs a bigger pot than the 15 litres I gave her. If your pot is too small, it will reduce final yield since the plant can't build her big and crucial root-system which is needed to provide the blooms with water and nutrients. So in my view, she would have become even bigger if I had given her a bigger grow container. If you are looking at her lower parts, or just take an overlook – height, size and so on, you will see that she's underdeveloped because of the grow container being too small. Give Auto Ultimate as much light as she can handle and she will grow to an insane size with glistening buds. And you should definitely use LED grow lights for maximum growth and potency.

Xmas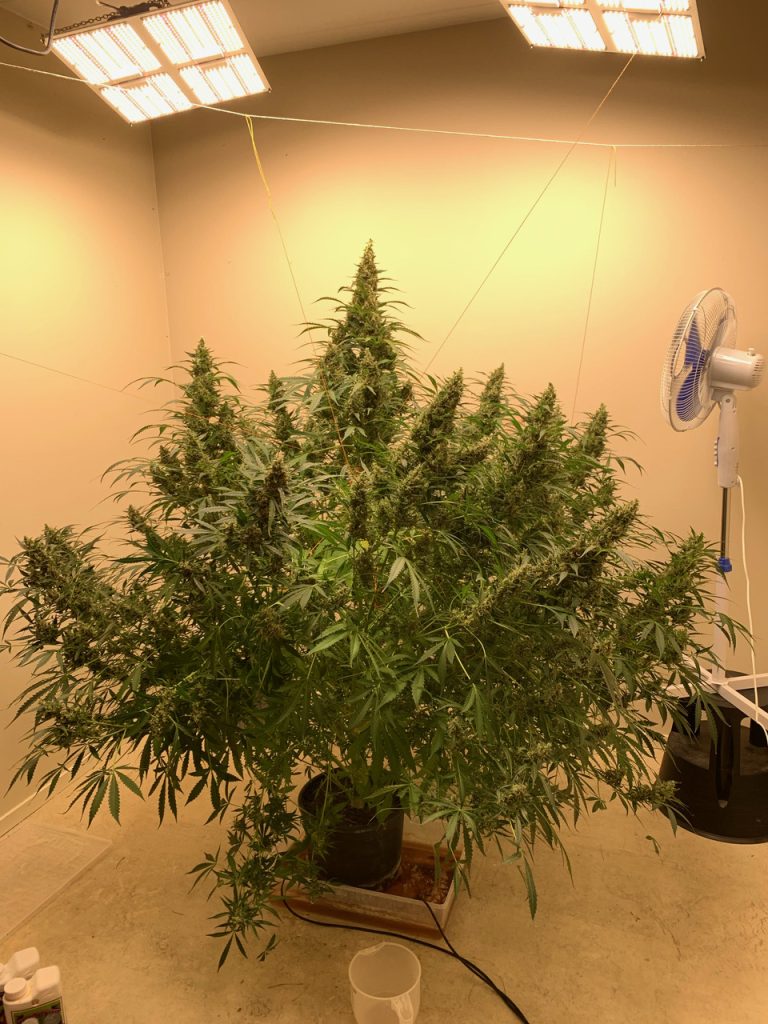 A big thank you to all of you guys. Finally I can grow big ass plants, and this was my BIG dream when I first started cultivating cannabis. I will definitely grow her again, but next time in a DWC system to beat that 1kg harvest, or I may just go with a massive pot filled with coco.

Xmas
This is really another epic Auto Ultimate grow and we can't thank AFN grower Xmas enough for sharing his experience. It shows what can be achieved when you go that extra mile and are not afraid to focus on a single plant instead of 10 different ones. Selection is key here and a big amount of TLC is crucial too. We can't wait until Xmas is ready to grow this strain again. We are sure he will be able to break that 1Kg harvest from just one plant!