Auto Xtreme home grown cannabis
Cultivated under LED in an airpot of soil
Auto Xtreme uses Haze genetics to produce a powerful harvest of top strength cannabis around 11 weeks after germinating the seeds. The premium strength Auto Xtreme Haze genetics come from the Dutch Passion gene bank, they are one of Dutch Passions best THC-rich lines and they grow well under 20 or 24 hours of daily light.
Auto Xtreme is also a heavy yielding variety, she grows with a heavy central bloom surrounded by multiple side blooms which yield well with intense light levels. The plant can reach a metre or more indoors and produce XL yields of THC rich home grown marijuana. Whats more, its an easy and uncomplicated variety to grow, recommended for first time growers.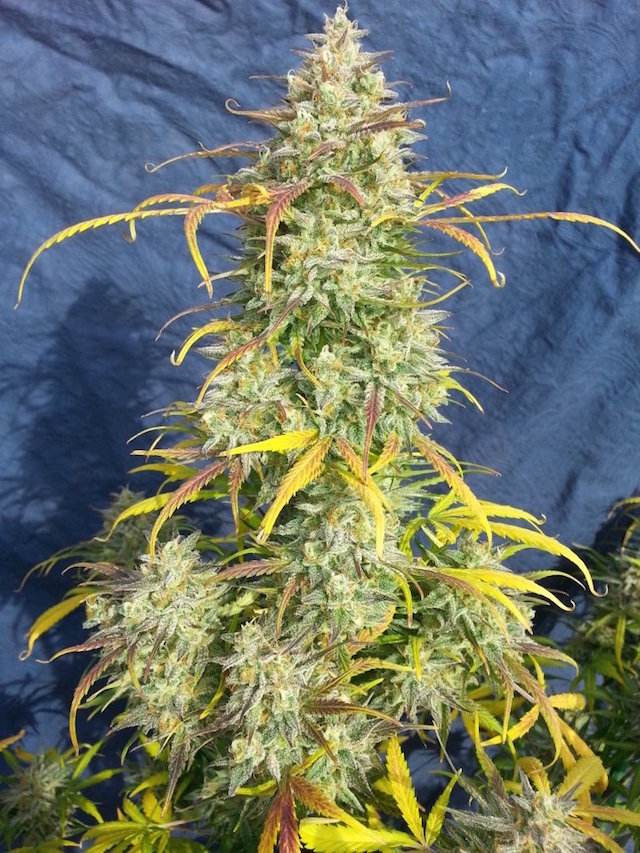 THC rich Auto Haze genetics thats easy to grow
This weeks Auto Xtreme was grown indoors by BeeBop420, the original grow diary is here on the Autoflower Network. She was grown in an airpot of Fox Farms Ocean Forest Soil. Nutrients were Fox Farms Holy Trinity, Open Sesame, Beastie Bloomz and Cha Ching. LED grow light was used throughout the grow.
Dutch Passion are seeing numerous home growers upgrading to LED grow light, the lack of heat stress and the improved spectrum allow healthier, better looking plants which produce better quality cannabis.
Autoflowering cannabis seeds
Auto Xtreme grew steadily in the 20 litre (5 Gallon) airpot, the extra root aeration levels provided by the multiple side holes in the airpot allowed a healthy root structure to build below the soil. And as any home ganja grower knows, healthy root systems are essential for a healthy plant.
Many marijuana home growers also use Fabric pots made from a felt-like fabric. These are washable, and in a similar way to air pots they also allow oxygen to penetrate the root ball of the cannabis plant, improving growth and plant health.
With modern autos growing under 20 or 24 hours of daily light the almost permanent nutritional demands of photosynthesis require an extensive root system. Air pots and fabric grow bags are more popular than ever with Dutch Passion customers based on the results that they deliver.
Reliable, consistent, fast and potent
In optimum conditions Auto Xtreme is one of the most resinous THC auto Haze varieties we have ever seen. This is a variety that thrives in high intensity light and resin can be seen all over the buds and often on the fan leaves too. BeeBop420 was able to cultivate a medium-hight and productive Auto Xtreme with plenty of buds on several different branches.
It was a straightforward grow, with no serious problems or issues. Auto Xtreme is a simple variety to grow, simply start the nutrients on a low concentration and steadily increase them as she grows. At the first hint of nutrient burn (over-feeding) just back off the nutrients.
Cultivating in soil
Cannabis home growers cultivating Auto Xtreme in soil will find her very easy to grow. If Auto Xtreme is growing in a container of 15 litres (or more) of compost then she won't need feeding until bloom begins around weeks 4. And even then, bloom nutrients can be added slowly at first since the soil will already contain some residual nutrition.
Auto Xtreme tends to have maximum nutritional needs towards the last 2-3 weeks of flowering when the blooms are swelling at the maximum rate. One of the main pieces of advice to people growing Auto Xtreme in soil is to avoid over-watering her especially during the first few weeks.
This variety does not grow well when the roots are growing in permanently water logged soil. Its another reason why air-pots and fabric growing sacks are recommended.
End of the growth
Towards the end of growth the blooms on Auto Xtreme may need supporting. When grown in good conditions Auto Xtreme produces an aromatic citrus flavoured smoke thanks to some of the Lemon scented Haze genetics. Its one of the strongest smokes in the Dutch Passion auto collection and the smoke quality is combined with heavy harvests.
Summary from BeeBop420
"Extremely powerful smoke, hits fast and lasts long. Very lemon lime tasting all the way through. 111.4 grams, broke my personal record! This is a VERY powerful smoke.
Taste and smell are ok. Seriously though, a few rips of this stuff and you go red eye like crazy and are totally BOPPED! "
AutoXtreme is one of Dutch Passions most well established and popular autos. She suits the home grower looking for a premium quality auto variety that is somewhat stronger than the average, with a powerful Haze smoke, good yields and its easy to grow.
She takes around 75 days from seed to harvest and is a Dutch Passion customer (and staff!) favourite thanks to the great overall genetic package. Get your feminized Auto Xtreme seeds here