AutoDaiquiri Lime USA cannabis genetics
AutoDaiquiri Lime is Dutch Passions latest auto with some of the best USA cannabis genetics in a super-potent auto. She grows from seed to harvest in around 10-11 weeks under 20 hours of daily light, but she can be left to bloom for longer and will deliver XXL harvests.
As well as being one of the strongest autos we have seen, AutoDaiquiri Lime delivers great taste by crossing a USA Sour Diesel with a unique lime-tasting phenotype of our famous California Orange.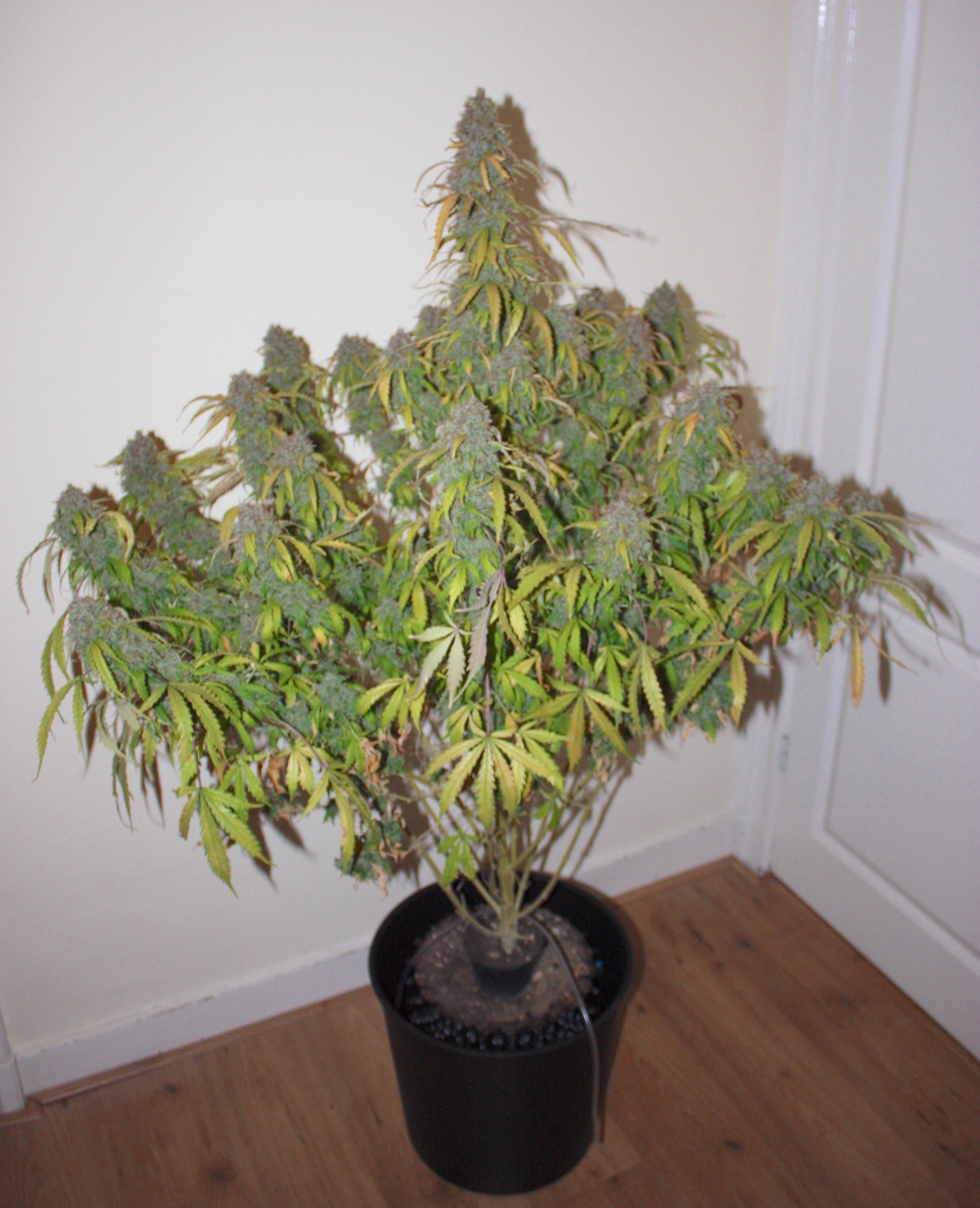 USA cannabis breeding community
The USA has attracted great interest from the cannabis breeding community ever since the system of licensed cannabis production began to identify some really special varieties. These varieties are in high demand as parent genetics for legal US cannabis farmers, and of course these elite genetics are extremely interesting to companies such as Dutch Passion.
AutoDaiquiri Lime combines potency and yield into a consistent auto that is easy to grow at home.
The following grow comes from 'Terra', the original grow diary is here on the Autoflower network.
**
Words and pictures from Terra
"The largest plant reached 115cm and the smallest was only 50cm. I grew them in a mix of Plagron lightmix and plagron coco 1:1 and fed them them the following Advanced Nutrients: Sensi Grow + Bloom, CalMag, Voodoo Juice, Big Bud, Overdrive, Carboload, B52 and Sensizym. I roughly followed TaNg's easy feeding schedule."
"The smallest and largest plants were in 15L Airpots, and the middle plant was in a 16L Smartpot. The largest plant had an Airdome in the pot (normally used in Autopots) and was placed in a large pot halfway through the grow, to form a makeshift Autopot. Whenever the pot was emtpy I filled her up with a good 4-5L of nutrient water. I think this really contributed to her size and yield."
"The plants started out under a T5 light and after a month shared one HS1 led. Eventually the largest plant was under a Mars Hydro Reflector led (200W draw), the second largest plants was under a 75W HS1 with 60×60 diffuser, and the smallest plant shared a 75W HS1 with 60×90 reflector with another plant. The total wattage was roughly 300W in the end, and much less in the beginning of the grow because I had 6 other plants in my tent."
Yields AutoDaiquiri Lime
"The yields were: Smallest AutoDaiquiri Lime = 63g; Middle AutoDaiquiri = 117g; Largest AutoDaiquiri = 281g; so a grand total of 461 grams of top quality buds."
"The best part of growing this variety was the size of the largest plants. They were the largest autoflowers I have grown so far."
"I vaporized a small amount of the bud and was completely blown away by the strength. I was very high for at least 4-5 hours. The high (for me) was very energetic but relaxing as well. I tried writing a smoke report, but just couldn't type because I had trouble thinking. I don't smoke/vaporize very often nowadays, and my tolerance is extremely low. A friend of mine that has been smoking for about 15 years time told me this was the strongest weed he ever smoked."
Taste
"The taste was slightly sour with a citrus twist to it, that most closely resebles lime. The smell of the fresh bud is very nice, a very strong lime-like smell."
Grow in autopots or hydro
"If you can, grow this variety in Autopots or hydro to really maximize the size and yield potential. They weren't very heavy feeders, and I didn't go above 1.5ml/L of base nutrients. The largest plant was drinking about 4-5L every 2-3 days."
"I had my Mars LED light angled into the plant for better coverage, and each branch developed so much bud that they were like small entire plants. I think that the angled light helped a lot with this. I love each Dutch Passion autoflower variety I have grown so far, and this one is no exception. They produce excellent genetics."