Dutch Passion AutoBlueberry customer favourite
Dutch Passion AutoBlueberry customer favourite
Dutch Passion AutoBlueberry remains one of the customer-favourites from our auto collection for all the right reasons. Since AutoBlueberry was introduced she quickly developed a reputation for consistently reliable harvests of rich-flavoured and heavy-hitting cannabis.
Smoke, eat or vapourise some AutoBlueberry and you are in for a real treat whether you are a recreational or medical user.  Our original AutoBlueberry became a best seller shortly after release and has stayed a best-seller ever since.  That is the mark of a variety which has been bred to the highest standards.
This week our photo's come from Organic Jim, his original grow diary is here on the UK420 growers forum.
AutoBlueberry with 200g yield
Organic Jim has previously had great results with Dutch Passion Think Different and Dutch Passion Night Queen varieties.  In this grow he produced a sensational AutoBlueberry which yielded 200g of dry buds from a plant grown under a 400w HPS light in a 6.5 litre container of coco fibre.
AutoBlueberry, like the rest of Dutch Passion's auto's will grow well in soil, coco or hydroponics.  She also grows well outdoors in a sunny spot.  Normally AutoBlueberry is ready to harvest 10-11 weeks after germinating the seed.  Occasionally AutoBlueberry will go 'super-auto' and take an extra 2-3 weeks to finish.
Organic Jim's AutoBlueberry was harvested after 14 weeks but as you will see, it was well worth waiting for with massive blooms and a super-heavy 200g yield.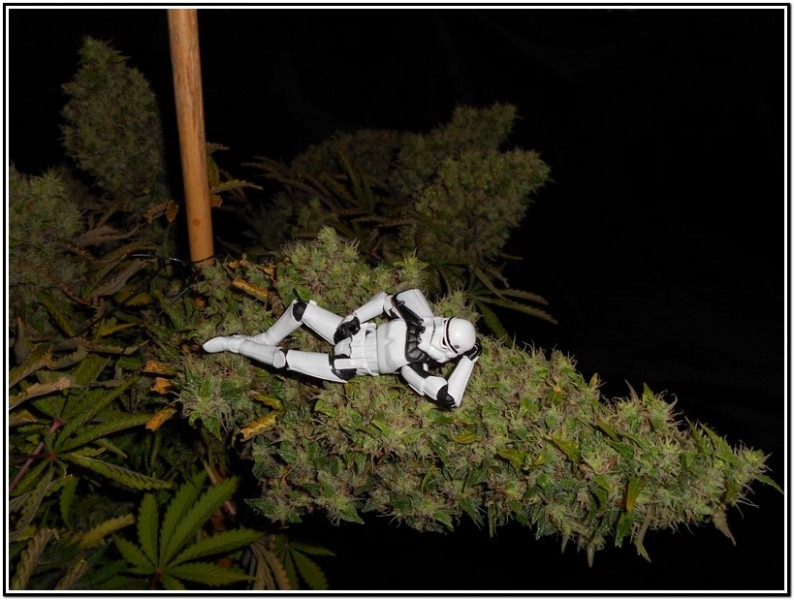 Above, AutoBlueberry in late bloom.  AutoBlueberry is now approved by intergalactic warriors as the photo shows.
Speed, flexibility and convenience
One of the reasons that automatics have become such a regular choice of the home grower is the speed, flexibility and convenience they offer.  On top of that is the fact that the best quality automatics are also heavy yielders of very strong weed.  A smoke of AutoBlueberry is just as satisfying as any quality traditional 'photoperiod' variety; people simply would not grow auto's if this were not true.
Modern automatics really have become a top-drawer alternative to traditional varieties and more and more home-growers are discovering this for themselves.  If you haven't yet grown an automatic then there has never been a better time to try, and they don't come much better than our original AutoBlueberry.
To many of our customers AutoBlueberry remains the classiest of our auto's combining aroma, taste, strength and heavy harvests.  On top of all that, this is an easy variety to grow – a variety we often recommend for first-time growers.
Above, hash made from AutoBlueberry.
Above, the harvested AutoBlueberry ready to dry.  When dry it was a 200g harvest.
Comments from Organic Jim
"She's really easy to grow in coco, I germinated the seed then planted in a 6.5L pot of moist coir (coco fibre). They don't get grow feed, just weak bloom feed to begin with, then increased feed strength as the plant grows. I decreased feed near the end to a one week pure water flush. No actual problems except for the Super-Auto which overran the schedule by 4 weeks (usually 10 weeks from seed to weed), but wow, it was worth it and not really a problem as such!"
"The smell and taste of the 3 Auto Blueberry I have had so far have been leaning toward the Afghani hashy indica side of the family tree, really spicy and skunky Indica taste with a subtle sweet blueberry aftertaste on the exhale."
"The high is very positive and blissful. It is strong but not overbearing, although people with low tolerance (or occasional smokers) will find themselves extremely stoned."
Question
Is there anything you would do different if you were to grow AutoBlueberry again?
Organic Jim
"Yes, in all previous grows of Auto Blueberry I have left all growth intact. In retrospect I would have trimmed the lower growth early on."
Question
Any advice to someone thinking of growing AutoBlueberry?
Organic Jim
"Do it and do it now! You will certainly need odour control as the cannabis smell from week 5 onwards is very powerful. The Blueberry aroma is best when soil grown, the coco coir brings out the skunky Afghani taste more."
"For me, the Auto Blueberry gives a very comfortable high which lowers anxiety in smaller doses. If you have a larger dose or use it for play its very sedating. If used during the night there's a very active mind period before drifting back off to sleep, so there are better strains for insomnia."
**
Dutch Passion AutoBlueberry
Congratulations to Organic Jim on a great harvest and another superb result which any home-grower would be proud of.
Dutch Joe
Find me on Facebook too!