SnowStorm Dutch Passion Automatic Orange Bud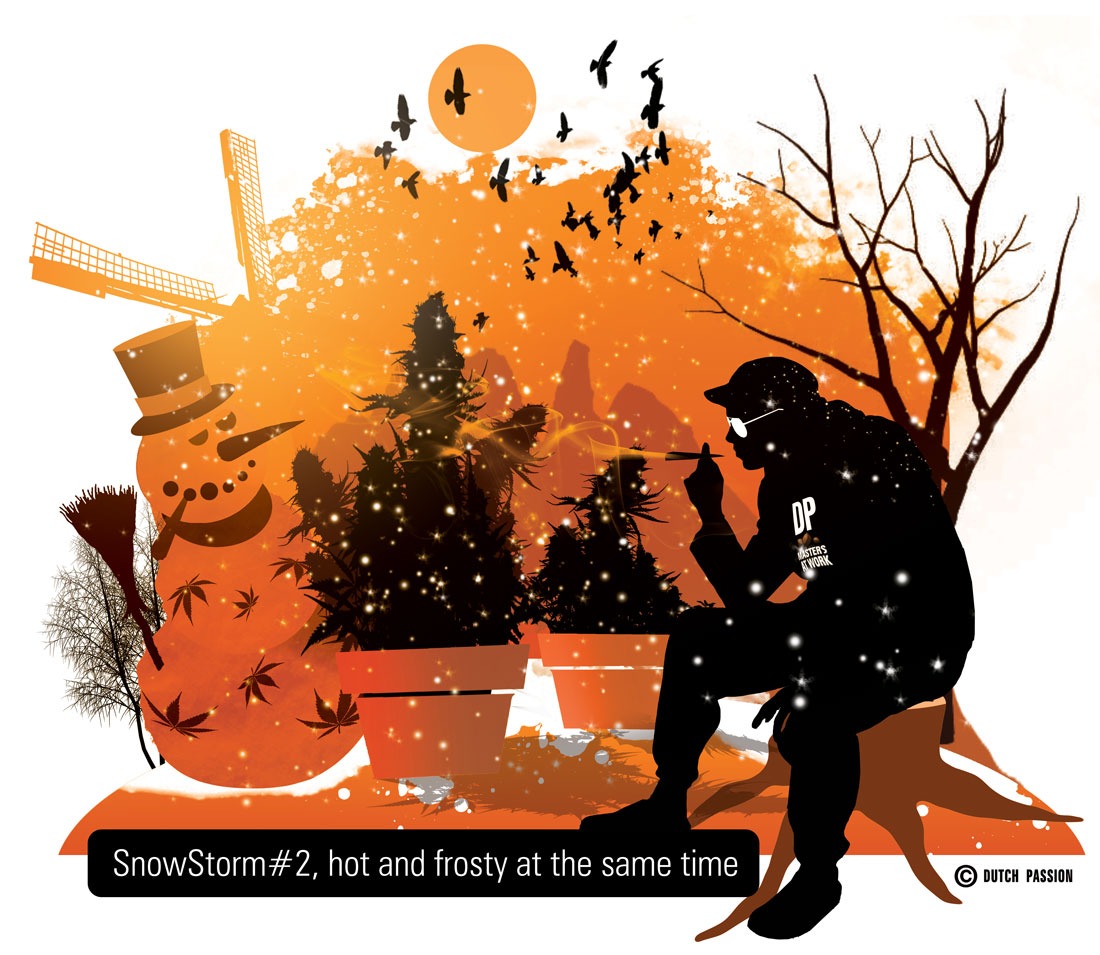 SnowStorm variety
When Dutch Passion created our automatic SnowStorm variety we wanted to create the finest possible automatic version of our best selling Orange Bud traditional photoperiod variety.
Orange Bud itself is a special Skunk selection from our own breeding team. It is a variety that has remained in our top 5 bestsellers for decades simply because it combines such a wonderfully strong 'up' high with yields which are way above average.
Today Orange Bud is recognised as one of best of the original 1980's classic varieties and is still found in the coffeeshops.
Mature Orange Bud plants
Mature Orange Bud plants often have vibrant orange hairs, a great citrus aroma/taste and a happy feel-good 'up' high.
Orange Bud is one of Dutch Passion's best creations and we took great pride in the automatic version which we called SnowStorm#2 due to the surprising levels of resin production on the buds and fan leaves.
The abundant resin gives the impression that the buds had been given a light dusting of frost or snow, and that's how the SnowStorm name came about.
SnowStorm#2
SnowStorm#2 may not be the most famous name in the Dutch Passion AutoFem collection, but it is one of the best for the sheer quality and taste of the buds she produces. Just like the original Orange Bud, SnowStorm #2 also gives great yields.
Dutch Passion SnowStorm #2 has been bred with the genetic potential to yield 200g+ in the right conditions, typically these are hydroponic grow techniques combined with intense light levels. But at Dutch Passion we recognise that not every home-grower will be able to push the genetics to their limits.
Collection of automatics
So our collection of automatics is also designed to be robust enough to deliver above-average performance in the typical conditions used by most home-growers. Dutch Passion's success in the world of auto's has been our focus on the careful breeding and selection of the genetics.
We want to retain the extreme performance for the best growers whilst ensuring that the seeds will still deliver great results for the average grower whether they are growing in soil, coco or hydro.
In this weeks blog a grow from LED auto pioneer 'Seymour Buds' produced a SnowStorm which yielded 226g (8 ounces) of dry bud. The full grow diary is courtesy of Autoflower.net.
One of the plants grew somewhat taller than the other and yielded better (220g). The shorter of the two SnowStorm's yielded slightly less (160g) but it was Seymour's favourite with some delicious Tangerine aroma's.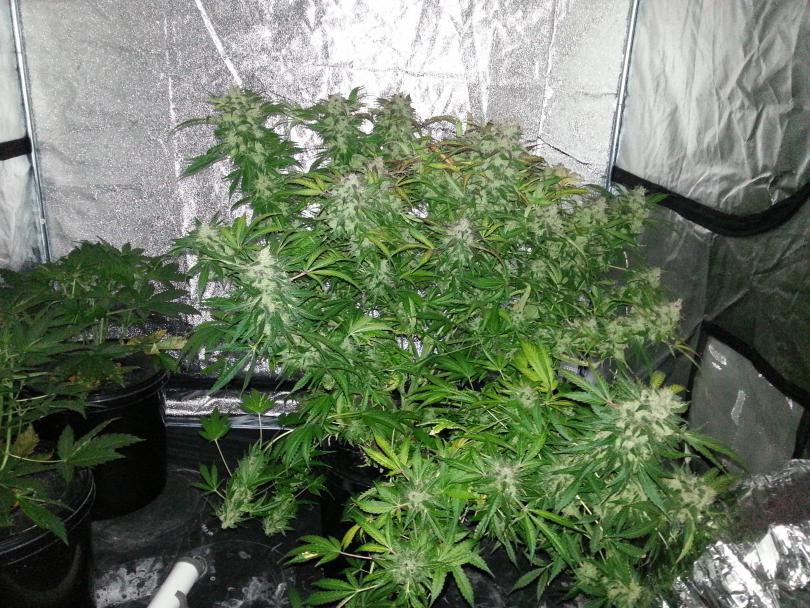 Above, the Tangerine-scented SnowStorm plant with delicions aroma and flavour.
High resin levels
In the photo's you can see the trademark resin production which coats not just the buds but also many of the leaves. The high resin levels on this variety means she is popular with both recreational and medical growers.
Many of our repeat SnowStorm customers recommend saving all the trimmed leaf material from harvest to convert into hash, this variety is particularly useful for hash-makers thanks to the extra resin which is produced from week 6 onwards. SnowStorm #2 is usually harvested 10-11 weeks after germination.
The photo's this week also show some particularly attractive colours coming through in the buds. Not only is a good quality modern auto a very strong smoke, they will also offer great taste, aroma and beautifully coloured buds for the connoisseur stoner.
Comments from Seymour Buds, the grower
"The aroma on this pheno is by far the better of the 2 that I had grown and she smells of really sweet/zesty tangerines, i cut 1 of her branches on Saturday and dried out her flowers and after 3 days drying i can safely say that this little beauty 1 ticks all the right boxes in terms of flavour and effect and i know after a cure she will be so shweeeet"
"Add that to the 1st plant which was 228g gives me 392g dry from both which isnt to bad from 300 watts of light"
**
Affordable automatic
SnowStorm #2 is one of our most affordable automatics, 7 seeds cost just €52. 3 seeds cost €25 yet the expectations for quality and harvest-quantity are just the same as our better known best selling automatics. So if you would like to grow yourself some top-drawer stash that is frosty, tasty and comes complete with great aroma, flavour and colour we would really recommend SnowStorm#2.
It is a top-class automatic version of our best-selling Orange Bud – what more do we need to say.
Dutch Joe
Find me on Facebook too!