Freddy's Best Grow Review By 'The Joker'
Freddy's Best Grow Review By 'The Joker'
This Freddy's Best grow review comes from 'The Joker', a Dutch grower and regular Dutch Passion customer who wanted to try a new sativa Haze variety. He chose this variety to bring some fresh sativa genetics to his indoor garden.
Freddy's Best is arguably Dutch Passion's best photoperiod sativa variety, delivering a euphoric and intensely strong 'up' high. It's a variety which spent several years in creation, a 3-way cross between Chocolope (Chocolate Thai x Canalope Haze), Dutch Haze and an un-named Dutch Passion gene bank sativa.
The variety was the last breeding creation from 'Freddy' who was one of Dutch Passion's original breeders and an expert in sativa genetics.
Purpose to get a few jars
The Joker' enjoys his pot but is not a 'heavy' consumer of pot, for him the purpose of growing is simply to get a few jars of top quality cannabis, preferably top-quality sativa varieties which are not always easy to find in the coffee shops.
The Joker grew a 5-pack of feminized Freddy's Best seeds and got 5 female plants. The following comments are from The Joker himself.
In love with Cannalope Haze
I fell in love with a variety called 'Cannalope Haze' a few years ago. It was one of those coffeeshop varieties that became legendary but the original was extremely hard to get hold of and these days it is impossible.
The best Haze varieties are extremely special to the fans of the genre, and although I don't smoke a great deal these days I am still a lover of the very best sativa varieties. You can still get them in the better coffee shops but you have to know where to look.
Even in Amsterdam a lot of the old-school connoisseur growers prefer to grow their own rather than risk the coffeeshop selections.
Dutch Haze and Chocolate Thai
Freddy's Best was recommended to me since Cannalope Haze is one of the key genetics used to create Freddy's Best. The Cannalope was present together with a blend of Dutch Haze and Chocolate Thai. The Thai genetics are particularly appealing since they give a quite unique uplift, and if you are a fan of sativa's then you already know just what I mean.
The Freddy's Best seeds grew steadily through veg, and they did stretch quite a lot in bloom. This should be expected since they are heavy with old-school sativa gene's. I estimate that the plants tripled in size when they were switched to flowering. This is a photoperiod variety, so the plants were grown vegatively under 18 hours of daily light and then flipped into bloom by reducing daily light to 12 hours.
The Freddy's Best needed 'average' strength nutrients in the early stages but can take stronger nutrients near the end of bloom.Rather than bore everyone with the usual details of how this variety grew I would prefer to talk about how she smoked. That is the reason I selected this variety. And I have to say that this is a variety which is ALL about the quality of the high.
This is an unusual variety, not the kind of heavy stone that puts you on the sofa. This is a highly psychedelic variety which will get your pulse racing and remind you of the 'Thai Sticks' that you used to find in the Amsterdam coffeeshops back in the 1980's. At first you smoke this variety and you wonder when you will get stoned.
Freddy's Best Grow Review : Taste and flavour
The taste is fresh with a strong tangy flavour of Haze. On the exhale you will notice chocolate and some citrus flavours. For the first 5 minutes you feel the high building. Then after another 5 minutes you realise that you are far more stoned than you ever imagined.
For a brief moment you sit there thinking 'I hope I don't get any higher than this', yet the high keeps rising and rising though not in an unpleasant way. The worst thing that can happen is that the phone rings!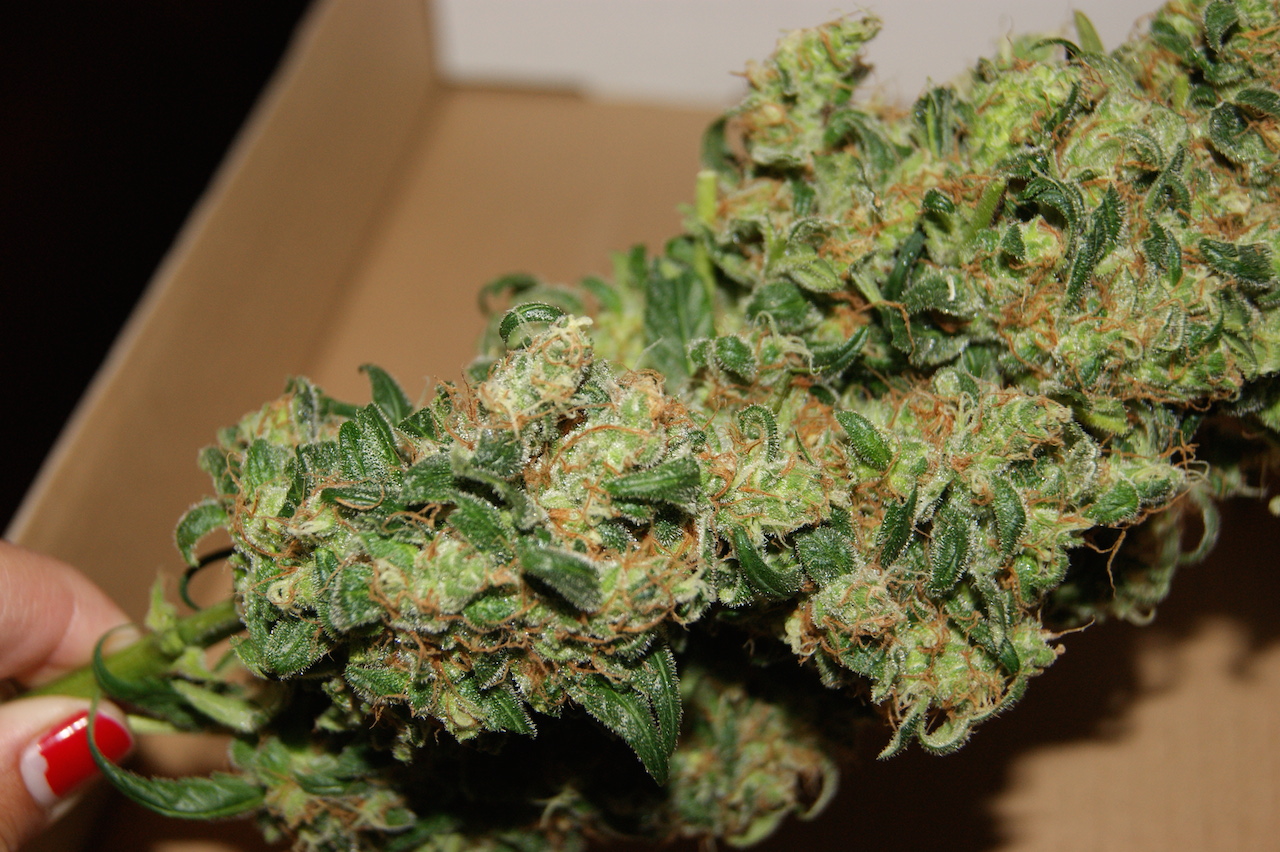 For me it's difficult to stay indoors with such a strong and mentally stimulating variety, I really need to be outdoors riding my bike, sailing my small boat or fishing by the canal.
This is a variety that transforms music into a magical symphony of beats that you never knew were there. It's a variety that takes an ordinary afternoon in the garden and changes it into a masterpiece of liberated personal enjoyment.
Strong and beautiful variety
I always choose the best days and times before I enjoy a joint of Freddy's Best, its such a strong and beautiful variety that I like to choose the best moment before I light the joint. It's too classy to waste. I find it best to choose a time when I can really relax completely with no other activities planned and with no interruptions!
This is by far the best weed I have smoked since some of the 1980's sativa's reached the Amsterdam coffeeshops.
Intense ride for the first hour or two
The high is an intense ride for the first hour or two and then it levels off into a soothing and deeply relaxing 'stone'. Who would I recommend this for? Probably I would say that Freddy's Best is a must-grow variety for anyone looking for a well-bred sativa, if you like a strong mental high then this is for you. But be warned, this really is very strong.
I still can't finish a small joint of this variety. Freddy's Best is actually a pretty good yielder, like other sativa's the blooms can grow to be very long. But this variety is not about yield in my opinion, it's all about the re-birth of a traditional old-school sativa Haze which will leave you feeling that your brain has been elevated into a new dimension of comfort, peace and euphoria.
Freddy's Best Grow Review : Effects
Sorry for talking too much about the effects of this variety rather than the growing her. But this is a truly special variety and for me this variety is all about the quality of the high.
Of the 5 plants I kept one as a mother plant, she is easy to take cuttings from and this is a variety that will always be in my grow room.