Frisian Duck feminized cannabis seeds
Frisian Duck feminized cannabis seeds
Growing with natural camouflage
Frisian Duck feminized cannabis seeds is a variety with unusually shaped leaves. This makes it very difficult to identity Frisian Duck as cannabis, especially during the first few months before the buds form.
Frisian Duck uses a naturally occurring leaf deformity which has been stabilised by the Dutch Passion breeders. Without the iconic, instantly recognisable cannabis leaf, most people would not know what you are growing until the last 3-4 weeks of bloom. The natural stealth leaves and weird appearance allow you to grow Frisian Duck without other people recognising it. Its the perfect variety for growing in an urban location, in a garden, back yard, terrace, greenhouse or window ledge.
Many outdoor growers find that they can grow Frisian Duck in the countryside, forests and by the local riverbanks with more confidence of a harvest thanks to the unusual appearance. Until the end of bloom you could walk straight past Frisian Duck and not realise that it is cannabis.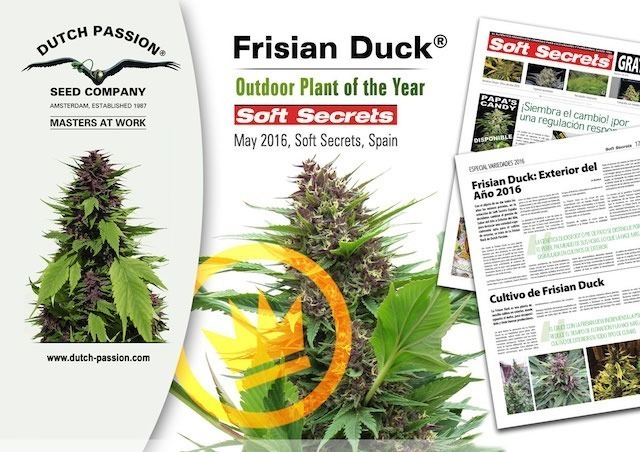 Frisian Duck a unique cannabis plant
The pictures of Frisian Duck come from Dutch Passion customers that have used the unusual appearance of Frisian Duck to make a successful outdoor cannabis harvest. It's a simple variety to grow. Just buy your Frisian Duck cannabis seeds online and germinate them.
Here is a useful cannabis seed germination guide which shows you the best ways to germinate your marijuana seeds. Frisian Duck germinates like any other cannabis plant, you will see the unusually shaped cannabis leaves.
These leaves stay with the plant until the end of harvest, and many people say that a Frisian Duck leaf looks more like a nettle leaf than a cannabis leaf.
Frisian Duck unusually shaped leaves

Frisian Duck is most popular with cannabis growers that want an extra level of stealth and protection for their cannabis growing. Its such an unusual looking cannabis leaf that some customers have even written to us asking if we are sure this really is cannabis.
It took many years of breeding to create Frisian Duck, and she has become very popular with cannabis growers all around the world. Frisian Duck grows well in any grow medium, she grows well outdoors or in a greenhouse/polytunnel.
The 'Duck' name comes from the unusually shaped leaves which look like a Ducks foot print.
For outdoor cannabis growing
Frisian Duck usually takes around 4-5 months to grow from seed to harvest. She will benefit from being germinated indoors and grown indoors for a few weeks before being planted out. This will allow any plant to reach a larger final size.
In the Northern Hemisphere Frisian Duck is often harvested in early October, and the southern hemisphere she is usually harvested around early April.
Feminized autoflower seeds
Due to popular customer demand, Dutch Passion also created an autoflowering version called Auto Duck which grows from seed to harvest in around 100 days outdoors. Auto Duck is faster to grow than Frisian Duck, but plant hight and harvest quantity also tend to be slightly lower.
Auto Duck and Frisian Duck can be grown indoors, but the benefits of stealthy leaves and low aroma make the Dutch Passion 'Duck' varieties perfect for outdoor growers.
You can buy your Auto Duck feminized autoflower seeds online from Dutch Passion and also buy your feminized photoperiod Frisian Duck seeds online from our website.