Jorges Diamonds Grow Review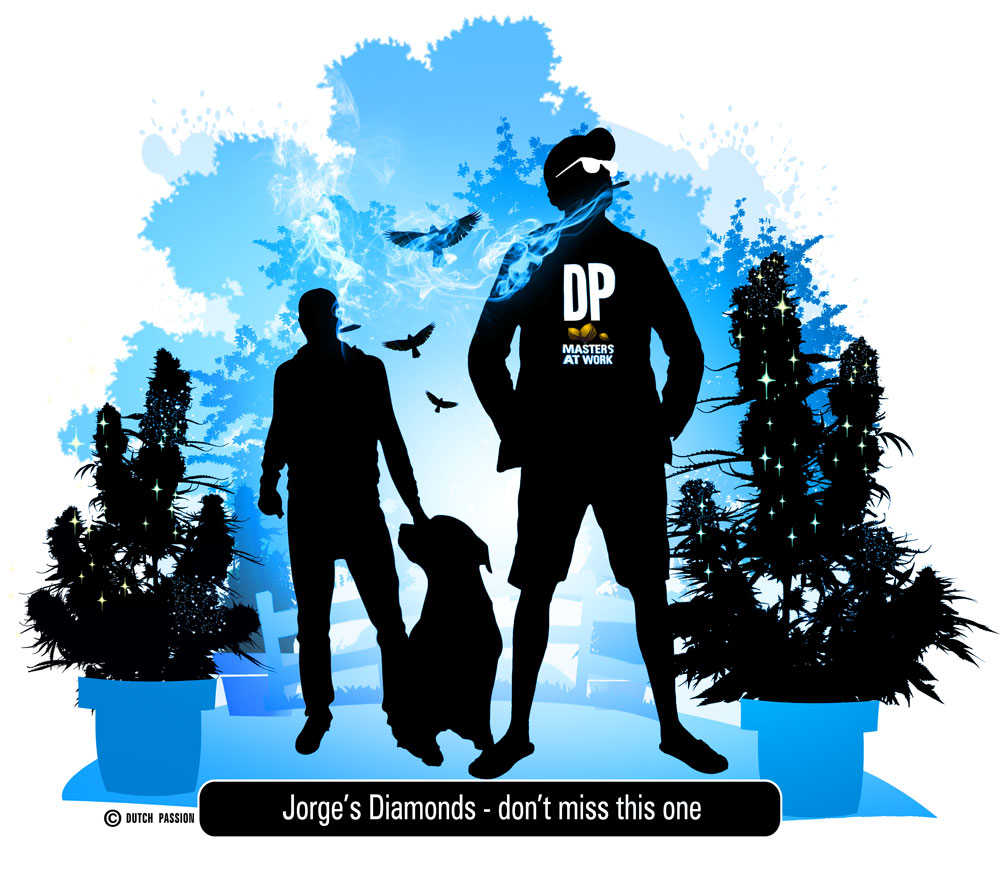 Jorges Diamonds Grow Review
This Jorges Diamonds grow review comes from a grower in Chile. Jorges Diamonds is one of those really special Dutch Passion photoperiod classics that packs a particularly strong punch. It's an indica dominant variety with a rich coating of resin which we co-developed with Jorge Cervantes. Jorge himself made the final selection, its a very fruity aroma, sticky and sweet tasting with a hard-hitting high with a smooth relaxed afterglow.
It's also one of our most appreciated varieties which won 1st prize at the 2013 Highlife Cannabis Cup with many of our customers claiming it is the best indica dominant hybrid we have ever released.
Above and below Dutch Passion Jorges Diamonds plants sparkle in the outdoor sun of Chile.
Jorges Diamonds Grow Review: indoor variety
Dutch Passion Jorges Diamonds is an indoor variety which creates dense and heavy blooms in quantities which are well above average. It's a simple, undemanding and easy variety to grow even for inexperienced growers.
The plant will show a little bit of stretch as she reaches to fill the grow space that she has been given. But she is a reliable producer of top quality cannabis and has been a customer favourite for several years. It is difficult to define the most important aspect of Jorges Diamonds since this is a variety that appeals to growers for a few reasons.
She has great fruity taste, incredibly potent, easy to grow and great yields.
Above, Jorges Diamonds, indica dominant, extremely strong and notably resinous
As you will see in this weeks back-yard grow from Chile, this is a variety which also grows well outdoors in those countries with a reasonable climate. In this weeks grow review 'Diego' grew 2 Jorge's Diamonds outdoors. In South America the main cannabis growing season is typically from October/November until April.
Growers in central and Southern Europe have also got good results outdoors with Jorges Diamonds.
Diego's story
"This is a very productive plant, which grows fast. I estimate that I've harvested around one kilo from my 2 plants. I got two different phenos, the large plant was planted in November, and harvested in April."
"But additionally I planted one in January, and harvested in March. The difference between both of them is big. The large plant, the one from the pictures, has a subtle, creamy taste, soft smell and intense effect. It makes me very conscious of what I'm doing."
Diego continues his description
"The small plant that was planted in January has a rough smell, and much more resin. It's the leafy bud in the photos. It has a smell similar to the most smelly skunks, even more smelly I believe. It is impossible for me to take a bud from this one out of the house because of it's penetrating smell."
"One day I had it in a zip-lock bag. An acquaintance told me that I smelled like fuel! The effect is similar to the other plant, a little bit more indica but it's taste is very much different, kind of sweet-sour and very intense."
Below, Jorges Diamonds likes to coat the fan leaves with frost.


Diego makes some final comments
"Yes, I recommend it completely, it is a incredible variety, with many different nuances. An incredible taste with a generous resin level. This variety is very suitable to be smoked with a pipe because its a bit difficult to get it in the right shape for rolling paper."
"This variety is especially suitable for recreational use, it does trigger hunger and sleep, but I would not recommend it for medical use because of it's intense cerebral high."
**
The genetics on this variety produce plants which are typically 80% indica and 20% sativa. This is definitely one of the very best traditional varieties in the Dutch Passion collection, especially for those that love a strong old-school indica variety with a hugely enjoyable yet powerful dominating indica effect. It's one of our Prize-Winning varieties for very good reasons, this is a variety you will not regret growing.
Dutch Joe
Find me on Facebook too!