Passion Fruit grow review by Bob-Bud
Passion Fruit feminised seeds grow report
This grow review of Passion Fruit is from Bob-Bud. Passion Fruit is a feminised seed variety with very high THC levels. She uses genetics from Orange Bud and Sweet Pink Grapefruit. This combination of proven parent strains produces a reliably potent indica/sativa hybrid which is easy to grow with real XL harvests. Those that love fruity weed strains will enjoy the complex fruity aroma from Passion Fruit.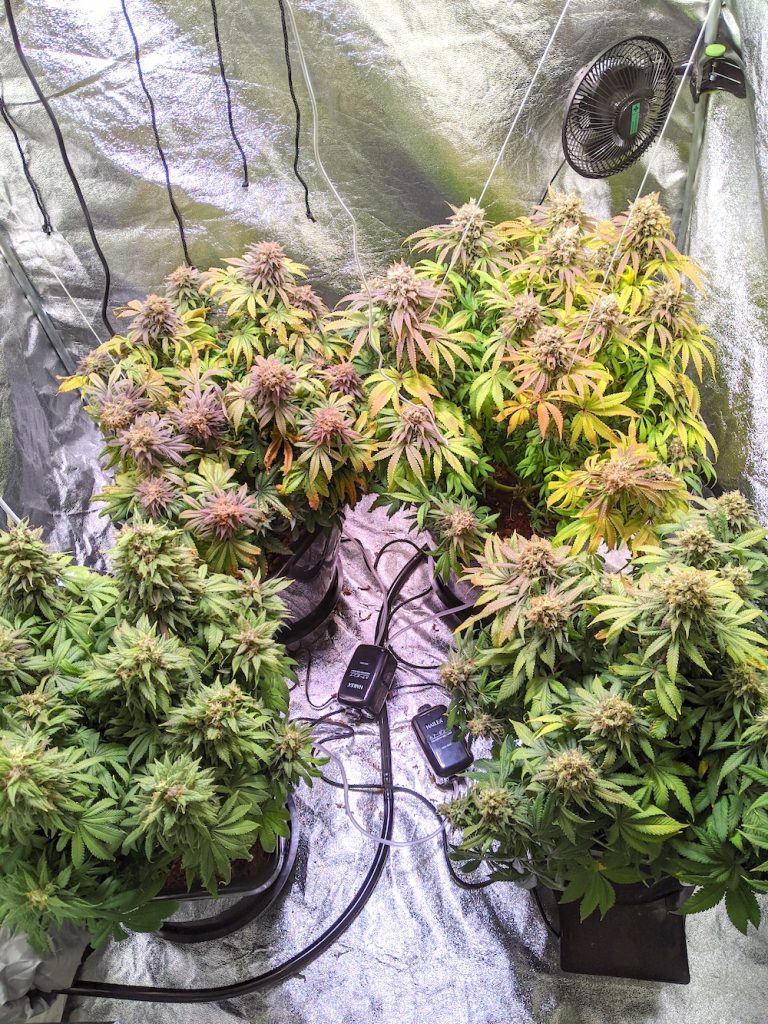 Passion Fruit feminised seeds, very high THC and particularly easy to grow
If you are looking for a trouble-free, robust feminised seed variety which grows easily in a wide range of growing systems/styles then Passion Fruit is right at the top of our recommendations. With THC levels around 20% she's as strong as they come and remarkably uncomplicated and easy to grow. What's more, the yields are heavier than average. Passion Fruit is officially a star member of our 'Very High THC seeds' collection.
Passion Fruit comes from the Orange family of cannabis seeds. These are particularly popular with fans of strong cannabis with a fresh citrus taste and a stress-busting feel good high. Passion Fruit is available only in feminised seeds, not autoflower. Bloom time is around 8-9 weeks. Sativa leaning phenotypes can take an extra week or so.
Passion Fruit grow details
| | |
| --- | --- |
| Grow system | Auto Pot. This is a gravity fed, automated plant feeding system. 25 litre pots, filled with coco fibre/clay pellets. 225 litre water tank and AutoPot air domes |
| Nutrients | Biotabs Nutrients. Organic nutrients, easy to use and highly recommended by Dutch Passion. Startrex & Orgatrex and 4 tabs (all from biotabs) used for each plant |
| Grow Light | SolarSystem 1100 grow light. 800W on full power draw, though full power was never used on this grow. |
| Grow tent | 1.2mx 1.2m, 4 plants were grown from 4 seeds (100% germination) |
| Seeds germination date | 29-11-19 with a light mix. |
| Seeds put in AutoPot | 13-12-19. Fimmed (topped) and trimmed on 4-1-20 |
| Harvest | Good yields, 75g-100g per plant. Smoke quality VERY strong! |
Additional Passion Fruit comments from the grower
This was the first time that the grower had used the powerful 800W SolarSystem 1100 from California Lightworks. He suspects that plants may have had excessive light levels during the growth which bleached the tops of the buds. Sometimes it can take a grow or two to really dial in the grow lights until they give optimum results.
Bloom conditions were gradually transitioned (using the SolarSystem 1100 controller) from 18/6 light to 12/12 lighting from 11-1-20 to 17-1-20. The idea of a slow transition to 12/12 light conditions is to mimic the slow natural transition.
During the grow the grower, Bob-Bud, felt he had some Calcium/Magnesium deficiencies which were solved using Aptus CaMg-BOOST supplement. Bob-Bud also discovered the pH of the local water was a bit high. A pH down additive was used to bring it back to pH 5.5
Some of the branches needed support later on in bloom. This is always a nice 'problem' for the grower to have, signalling heavy production of buds and resin.
The first 2 plants were cut down on the 18-3-20. The other two plants possibly had more sativa dominant tendencies, so they were given extra time and were cut down on 30-3-20.
Summary of the Passion Fruit grow
Despite some teething issues with the new LED, the grow delivered a good harvest of great quality weed. With better management of the LED light intensity control, the grower felt that plants could have yielded more. However the potency rating was 10/10 and Bob-Bud felt particularly satisfied that the Passion Fruit seeds, organic growing and LED grow lights combined to produce the highest quality results. The yields of 75-100g per plant were considered quite acceptable and allowed Bob-Bud a great stash of THC rich buds for the summer.
Passion Fruit, smoke review and report
The first thing to greet you when you examine a Passion Fruit bud is the unusually fruity aroma. The smell is appealing and sweet, hints of citrus, passion fruit and grapefruit. Anyone that likes a slightly superior aroma to their home grown should enjoy the zesty fruity citrus scent that comes with these great looking buds.
On closer inspection you may notice some small flecks of different colours in the buds. This adds extra appeal to an inviting fruity hybrid strain. The buds have a solid, compact structure.
Smoking Passion Fruit is a smooth experience with an overall fruity sweetness to it. The high is relaxing with a wonderful anti-stress effect and a headrush. It's a seriously strong smoke with a great fruity taste. The high seems to last a long time and is probably too strong for the inexperienced cannabis user, unless used very sparingly.
Passion Fruit, reliable excellence with a fruity twist
Type: Feminised seeds
Genetics: Sweet Pink Grapefruit X Orange Bud
Family: Orange Family
Plant type: Hybrid
THC: Very High
Flowering: 8 weeks
Yield: XXL
---
---
Passion Fruit feminised seeds will appeal to those that love fruity hybrid strains, rock hard nuggets, consistent 20% THC levels, heavy yields and an uncomplicated/unfussy growing experience. She grows well indoors, or outdoors. Outdoor growers should will do best at central or southern European latitudes.
Any outdoor growers at northern European latitudes would be better advised to grow autoflower seeds or feminised outdoor seeds such as Frisian Dew. Indoor growers will find Passion Fruit a high performing all-round strain which delivers well across a wide range of conditions.