StarRyder grow and smoke review by Hazy
StarRyder grow review by Hazy
This weeks StarRyder grow review comes from Hazy, who grew his plants under a 600W HPS light.
When Dutch Passion made their first 'joint venture' with the Joint Doctor we had no idea that the resulting StarRyder variety would become such a hot customer favourite so quickly.
During 2013 we have had perhaps more positive customer feedback on StarRyder than any of our other auto varieties. The customer praise for StarRyder can be summarised with two short comments.
a) It is easy enough for a completely new grower to succeed with, and
b) It is remarkably strong pot to enjoy. Some customers say StarRyder is one of the best new varieties they have tried in recent years, auto or traditional photoperiod variety.
Great feedback StarRyder users
As well as the great feedback from recreational StarRyder users, and we get good feedback from medical users too. StarRyder is a particularly potent variety which is good for pain relief, and also very effective for helping with sleep and appetite.
As many medical marijuana users will report, if you can eat well and sleep well it is a great boost for your body when fighting any illness.
StarRyder Grow review by Hazy
Hazy has developed a simple technique for growing consistently good yielding auto's, it is a system that even completely new growers can use.
Seeds are germinated in 'Root Riot' germination plugs. Once germinated they are put in a 7.5 litre pot of Plagron Light Soil Mix. Nutrition is simply BioBizz Fish Mix & Bloom.
Proven recipe for success
It is a proven recipe for success and Hazy cropped 316g of Think Different from just 3 plants using a similar system on a previous grow. Despite the success and popularity of high-performance hydroponic grow techniques such as deep water culture ('DWC') many growers still prefer the simplicity of natural organic soil growing.
Every year thousands of people try growing their own pot for the first time. Many of those prefer to start their new hobby by growing in soil. And Hazy has shown that soil is a perfectly acceptable way to produce generous quantities of top quality bud. Some soil enthusiasts will even tell you that soil grown pot can have the best flavours!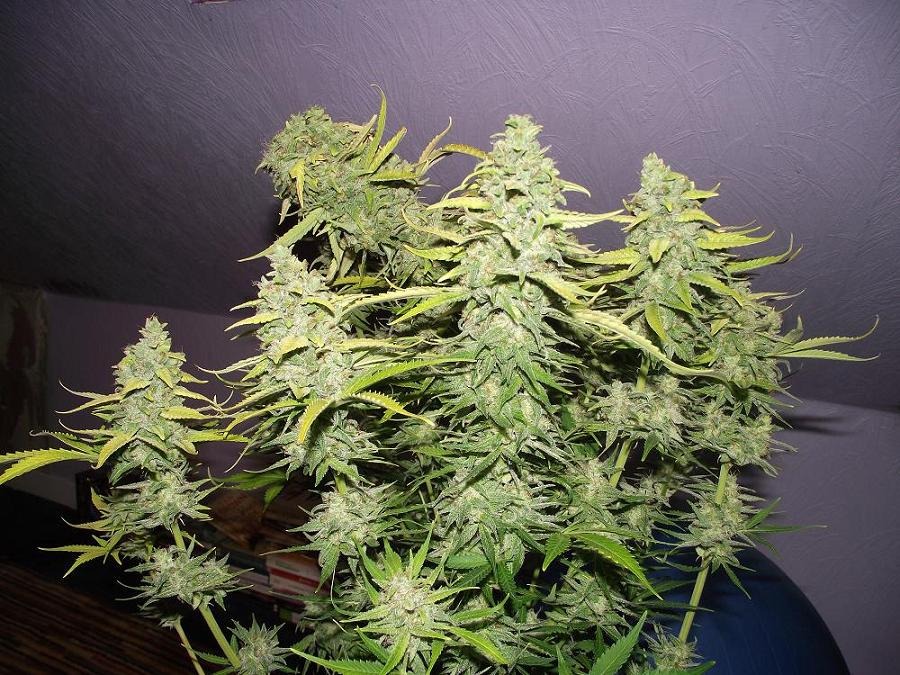 Plagron 'light mix' soil
With the Hazy system of soil growing there is no need to invest in lots of different equipment or complicated nutrient packages. Just get some 7.5 litre plant pots, Plagron 'light mix' soil, and a bottle of BioBizz nutrients.
If you are planning on growing auto's then StarRyder seeds or any of the Dutch Passion auto's will give you a great result. Just set the lights to switch on for 20 hours and switch off for 4 hours and you simply have to remember to water/feed your plants and wait 10 weeks. It is that easy!
Lots of first-time growers choose AutoFem's for their simplicity and convenience. If you have never grown your own pot before then we recommend you have a think about treating yourself to a packet of StarRyder seeds, they are a proven performer and are getting a solid reputation among our regular customers.
Experienced growers will find that the StarRyder genetics have the ability to really yield well in experienced hands – check out previous StarRyder grow diaries from 'Insert' and 'CK'.
Comments from Hazy
"What can I say about the StarRyders? From a grow point of view, it's another real easy strain to grow, requiring no special attention. I had 3 phenos the sativa one (which looked like the Isis parent genetics) which I thought had stopped growing, and then all of a sudden the buds exploded with pistils and started to foxtail like crazy."
"I also had the standard 'Christmas tree' shaped StarRyder which you see on the Dutch Passion website. The last StarRyder was a tall citrus smelling plant which had the most rock-solid buds. I super cropped the main stem on one of them, as I had previously done with an AutoXtreme and again I ended up with a main cola with a fat round end as hard as a pool ball"
The smoke is deadly
"The smoke is deadly …Really, this weed really is very strong. The mistake is always rolling a second joint! The StarRyder stone is just that, a quality, heavy indica stone, it starts off with a real nice high that then develops into a heavy feeling in the body and eyes. This is followed by a feeling of being 'spaced out' and a real need to raid the fridge of all the contents. StarRyder is a really smooth smoke. This is one for the Indica lovers out there, who don't mind a bit of couch lock in their life. "
"This grow was 600w HPS, Plagron Light Soil, Root Riots, BioBizz Fish Mix & Bloom in 7.5L pots. I ended up with a bucket full of 'Grade A' weed in 70 days. If you include the Taiga#2 plant (which was also in the grow-room) I got the pound of weed (450g) I was after. This is a really easy strain to grow, anyone from a beginner to a pro should get great results with this strain"
**
Exceptional results
Many thanks to Hazy for the words and pictures this week. It is good to see Dutch Passion auto's being grown with simple techniques and still delivering exceptional results. You can buy StarRyder seeds in 3-packs or 7-packs from our webshop. Or you can get StarRyder seeds in our new 'Colour Mix 7' which offers 2xStarRyder, 2xThink Different and 2xAutoXtreme
Dutch Joe
Find me on Facebook too!