AutoNight Queen easy to grow Auto Kush with high THC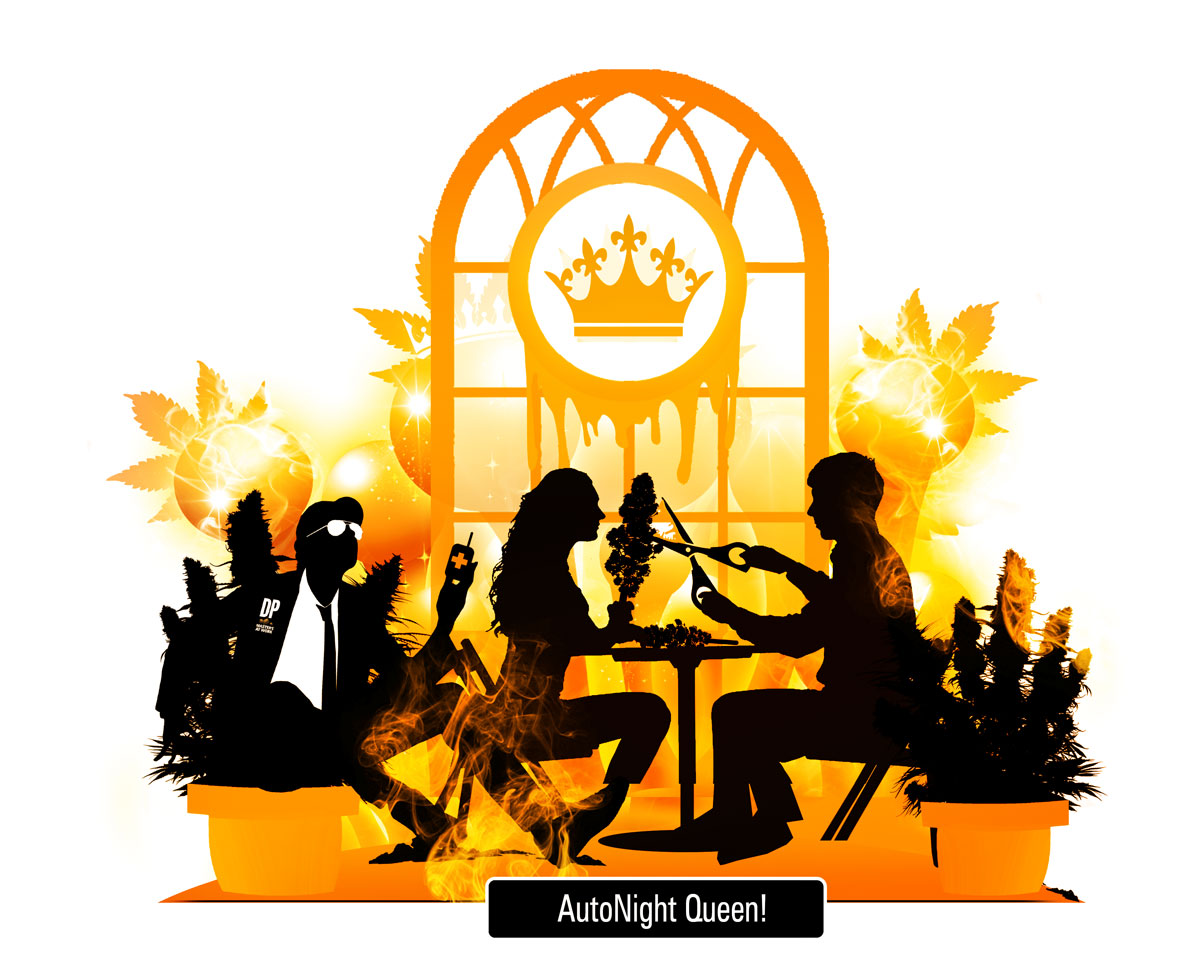 AutoNight Queen easy to grow
AutoNight Queen is the autoflowering version of the 2015 Champions Cup winning Night Queen indica Afghani Kush. Both Night Queen and AutoNight Queen are easy to grow indoors and are rich in THC.
The proven, prize winning genetics guarantee exceptionally dense and resinous buds. This is a potent evening smoke with a rich hashy aroma, much stronger than an average variety,. AutoNight Queen took 1st Prize in the 2016 Highlife Cup and grows well under 20 hours of daily light from seed to harvest producing low, bushy plants.
The following grow review comes from organic medical grower 'Antonio'.
**
Smooth and quick experience
Growing AutoNight Queen has been a very smooth and quick experience. It is a fairly short and compact autoflower, a bushy plant with broad dark green leaves. I think it will suit a lot of growers looking for a short type of Autoflower (for example due to height restrictions in their grow room) and growers that are looking for a fast flowering strain.
Besides this, Indica fans will absolutely love her, she is extremely frosty and the high is powerful, all the phenotypes show amazing resin production, a true characteristic of its Afghani Kush heritage. The buds are rock hard and are sticky as hell, you can literally roll joints from your scissor hash during the manicuring process. In total the plants took between 65 – 80 days from seed to harvest.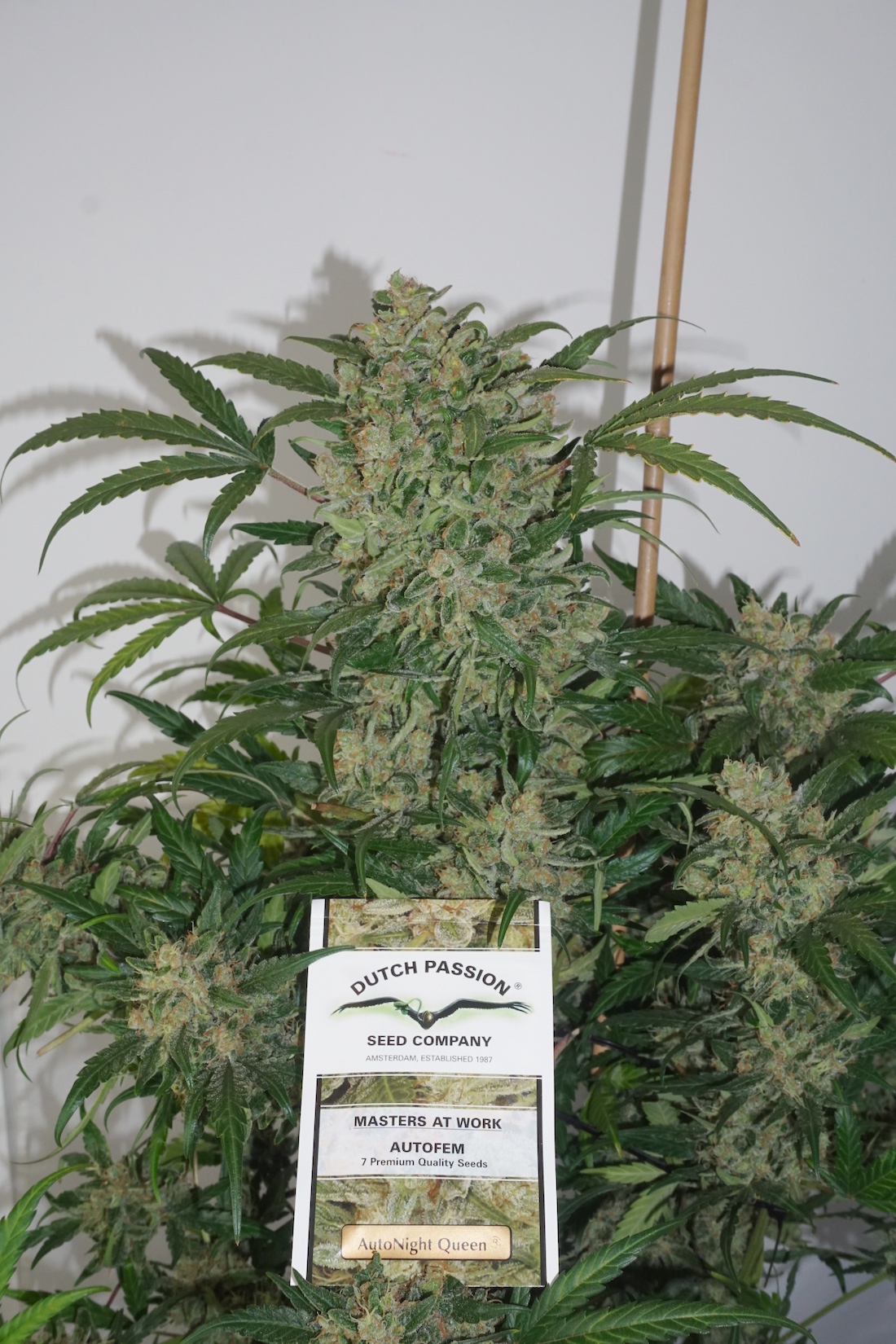 Grow info
5 plants. 3x 41L Smartpots, 2x15L Airpots. Lightmix/Coco mix 4:1
Nutrients : Bio-tabs (Biotabs. Mycotrex, Startrex and Bactrex) and B.A.C (Bio grow, Bio bloom and Bio PK booster)
5 plants were grown in a 0.9m² growroom with 2x HS1 75w LED lights and a 140W UFO LED, a total of 290watts. They were grown in a 20/4 light cycle. This was the first time I tried Airpots with an Autoflower variety and it showed great results.
Pre-growth
During the pre-growth phase the plants developed quite broad and short leaves. It seemed like the first 2 weeks nothing really happened, the initial growth was quite slow. The beauty with these Indica dominant varieties is that you don't need to worry about the height of the plants, there is often no need to open them up or to use LST or anything like that.
The plants focus primarily on developing a big central cola with a few bigger side buds. It makes AutoNight Queen very easy to grow, perfect for first time growers and idiot proof! A friend grew two AutoNight Queens in small 3L Airpots in the corner of his grow room. Even in poor light conditions these really tiny, dwarf like plants gave him a harvest of 11-13 grams per plant, despite having almost no leaves.
Growth period and Flower period
The plants have an overall bushy structure, internode distance is short to medium, leaves are medium to big. Plants are small to medium in size with 3 phenotypes.
Pheno #1 : Kush
Pheno #2 : Short & Fast
Pheno #3: Fruity
Above the "Fruity" phenotype of AutoNight Queen.

Above the "Kush" phenotype of AutoNight Queen.
Above "short and fast" phenotype of AutoNight Queen.
Plant number 1 (phenotype #1)
Grown in 15L Airpot, the biggest Autoflower 65,6cm, the wet weight was 398.9gr (with a mainbud of 83,7), Dry weight was 90.8gr. This phenotype has a bit more leaf and an airier bud structure but the buds were extremely potent. The smell is very kushy, earth, musky, skunky with a hint of fruity undertones. The flowers were the most stickiest ones and it gave a powerful Indica Buzz. (This phenotype is the winner of the Highlife cup)
Plant number 2 (phenotype #2)
It was grown in 41L Smartpot, she came 54cm tall, the wet weight was 155g, the dry weight was 33g. The bud structure was very compact with rock-hard nugs. It has the best calyx/leaf ratio I've seen in quite a while, it makes it very easy to trim. The flowers were glimmering with the amount of crystals, very white and resinous buds.
Plant number 3 (Pheno #3)
This was one was grown in 41L Smartpot, it became 59cm tall. Wet weight was 133g (67g main bud wet weight), dry weight was 27g. This plant had an amazing fruity smell. You could clearly smell citrus and oranges. It was very pungent almost like a perfume, reminding me of Hugo Boss in motion, the orange one. This plant had a decent calyx/leaf ratio, the buds were compact too but not as hard as with the Phenotype #2.
Plant Number 4 (Pheno #2)
This plant was also grown in a 41L Smarpot, it was the shortest plant of the 5, just 39cm. It had a main cola with maybe 4 side buds. The wet weight was 126g, the dry weight was 33g. This was the most compact one of them all. It was also the fastest one, it took only 9.5 weeks for it to be ready to harvest. High potency with rock solid buds, the bag appeal of this plant can't get any better if you ask me.
Plant Number 5 (Pheno #3)
This plant was grown in a 15L Airpot. It became 60cm tall, the wet weight was 256g with a 75g main cola. Dry weight was 55g with a main cola of 18g. The main cola had a beautiful compact structure, internodal distance of this phenotype was a bit shorter, I guess this helped to make that big main bud.
In total 227g of dry buds from 290 watts of LED in a 0.9 m² with just 5 AutoNight Queen plants. A very good result and the trimmings are ideal to make your own hash or oil.
Smell during flowering
Fruity with clear hints of oranges and citrus, very pungent, almost like perfume, sharp, earthy and kushy with some floral undertones and little bit of citrus.
Smoke report, aroma and taste
Bag appeal 5 stars with and overall score 5 stars, definitely a prize winning variety!
The Aroma is very earthy, kushy, fruity: citrus and oranges.
All phenotypes are very smooth on the throat, the Kushy pheno tastes like a Kush should with very earthy flavours, little bit spicy and it has a thick smoke. The short and fast phentoype and the fruity phenotype have quite an unique taste with clear hints of citrus and oranges.
The fruity phentoype is almost exactly the same as the photoperiod Night Queen plant I grew a little while ago, a cup winner too, very special.
Effects
Strong body and head high. The overall effect is very strong, it produces a strong high, your mind gets blazed, you will feel your body relax and your eyes can turn red and lazy.
This couch-lock effect is a strong Indica buzz which can help to get a good night rest or make your movie or series a lot more interesting.
Special remarks
AutoNight Queen can be described as a strong and easy variety. It is a very compact, resinous, fruity and kushy Autoflower. She is Indica dominant, easy to grow, very fast from seed to harvest, fairly small but highly potent. She delivers a powerful stone and Indica buzz and can create a couch lock effect with red and heavy eyes. It can be quite an overwhelming experience for first timers or for people that don't smoke often.
"Make sure to support the buds in the end because they can get quite heavy. AutoNight Queen has an excellent calyx/leaf ratio which makes it easy to trim. If you are an Indica fanatic, please give her a go!"
"Last but not least, I want to thanks Dutch Passion for giving me the opportunity to grow the AutoNight Queen before it was even released. Growing cannabis is my biggest passion and I really appreciate being one of the first growers to test her. What a beauty! I really think this strain has the ability to become one of the most legendary varieties of the Dutch Passion seed collection."