AutoUltimate medical effects review
Grown in DWC with LED grow lights
This weeks AutoUltimate medical effects grow review comes from 'MedGrower' who grows AutoUltimate to help others with the inflammation, spasticity (muscle stiffness) and neuropathic pain that comes from Multiple Sclerosis ("MS").
AutoUltimate is one of the heaviest yielding autos currently available. She grows from seed to harvest under 20 hours of daily light in around 75 days.
The original grow diary is here on the Autoflower Network.
The AutoUltimate was grown under LED grow light with a 20/4 light schedule. Canna nutrients were used in the Vegative growth stage (the first 3-4 weeks of an autos life) and Advanced Nutrients were used in Bloom.
Med grower harvested his AutoUltimate with a 274g harvest 88 days after germination.
Medgrowers' comments
Regular gardener
"I consider myself as a fairly regular gardener who has taken upon himself to learn a thing or two but certainly I am no expert. That is why I think that combination of Dutch Passion's AutoUltimate, Grow Northern's LED -lights and Advanced Nutrients -nutrients manages to create an illusion that I must be really good at this."
Deep Water Culture
"I grew this using deep water culture -method using a approx 31 litres reservoir and 60 litre/minute air-pump. Throughout the growth cycle I found this strain to be extremely hardy and forgiving. Doing LST (low stress training – such as tying down the branches) and super-cropping I managed to break couple branches"
"Even when I left them without care after my unfortunate error, these babies just fixed themselves. Even when I snapped one already budding branch in the middle of flowering and broke it to 90 degree angle with over half of the actual stem cut, that managed to heal just fine and continue the bud growth fairly normal. It was the level of vigour that was amazing to observe."
"The nutrients had a peak EC of 1.5 in the early flowering,  and 1.3 for the rest of the flowering. I found the AutoUltimate to be really thirsty for water in particular. Overall I'd recommend this strain to anyone. If you are a beginner you are going to have easy time to get big yields and if you are experienced, you are going to get harvests that will shock you.  When vaporized, the pain relief lasts a full 60 to 90 minutes, while the relaxing effect continues to linger up to 3 hours."

AutoUltimate Medical effects by Med Growers' friends
"I have MS and I regularly experience three types of severe pain: neuropathic pain, spasticity and sometimes inflammatory pain from an unrelated condition (endometriosis). While CBD-rich strains help me to manage spasticity, it often isn't enough to help with my neuropathic pain. Thankfully, AutoUltimate helps me with all three types of pain, and has a soothing, relaxing effect that doesn't trigger or aggravate fatigue."
"I prefer to vape a small quantity, frequently throughout the day to manage pain, and AutoUltimate doesn't interfere with my mental focus either. AutoUltimate begins to relax my muscles as soon as I vape, and the neuropathic pain settles down within 15 minutes."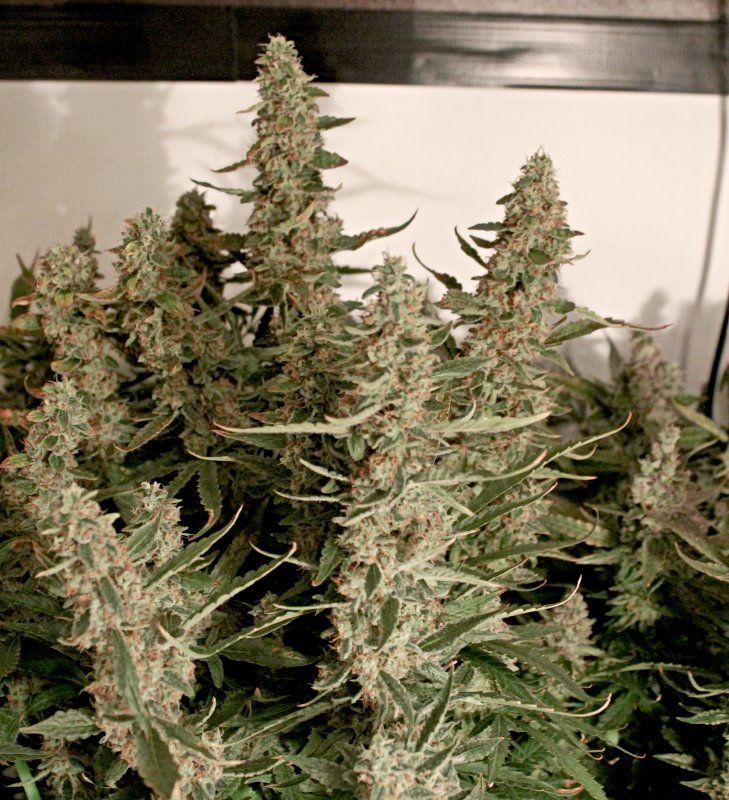 "The vapour had a delicious blueberry flavour in the first couple weeks after harvesting, but as the bud aged, that became just a hint of berry. Smoking the bud didn't provide the pleasant flavour experience, but the pain relief took effect almost instantly."
"When taken orally (cannabis infused coconut oil, see technique here: http://skunkpharmresearch.com/extracting-with-oils-and-fats/), the medical effects are felt within 30 to 45 minutes and lasts for about 6 hours, and using the medicine this way treats my spasticity better than CBD-rich strains I've used in the past. I would whole-heartedly recommend AutoUltimate to other medical users who struggle with severe chronic pain."