Banana Blaze feminised seeds grow report
Banana Blaze is a special indica variety with a delicious sweet taste of ripe bananas. It's one of Dutch Passion's most affordably priced feminised seed varieties. Banana Blaze seeds are part of the Dutch Passion Afghani Kush seed collection.
Yields on this variety are good. She tends to suit those that enjoy a rich terpene profile and a delicious taste. THC levels are high, as opposed to the extremely high THC levels seen on other strains.
Banana Blaze may be best suited to those looking for a medium strength variety which won't leave them completely incapacitated during the day. It's a delicious tasting strain, with a relaxing effect. Not everyone needs the highest THC levels all the time. For those moments when you just need a deliciously satisfying smoke, without wiping out your whole day, there are few varieties more enjoyable than Banana Blaze.
Basic grow information
| | |
| --- | --- |
| Germination rate | 90%, 9 out of 10 feminised Banana Blaze seeds germinated. The best 4 were selected for bloom. |
| Germination details | After 4 days the germinated seeds were transplanted into small 0.25 litre pots. |
| Vegetative growth (18/6 light) | About 3.5 weeks in 0.25L pots and then about 4.5 additional weeks in 25 litre containers. 8 weeks in total, about 56 days. |
| Flowering under 12/12 light | 9 weeks (63 days). |
| Stretch during flowering | 100-150%, short/medium stretch. |
Banana Blaze grow detail
| | |
| --- | --- |
| Type of grow room | Growtent – Homebox Q100 |
| Size of grow room | 100 x 100cm |
| Number of plants | 4 plants in total |
| Type / size of pots | Autopot XL – 25L |
| Type of soil/medium | Coco – Lightmix |
| Nutrients | GHE General Organics |
| Grow technique(s) | Coco / Autopot with SCROG under LED light |
| Avg. temperature | 20-28ºC (min 18.5ºC, max 29ºC) |
| Average humidity | 35-55% LV (min 35, max 65%) |
| Lighting | Geyapex LED Mega 4, 600W power draw |
| Light distance | About 35-50cm to canopy |
Important remarks
Banana Blaze seeds germination
Germination was a little slower compared to others. Maybe the Banana Blaze feminised seeds had a harder shell? But within 4 days 90% of the seeds germinated and formed medium size root tips. One seed failed to germinate.
Banana Blaze vegetative phase (18/6 light)
The plants were pre-grown in 0.25 litre plastic pots for about 3,5 weeks. They were then repotted to the 25L Autopot XL containers in which they were grown for about another 4,5 weeks. During vegetative growth the plants showed quite unique looking blades on the leaves, very sharp looking edges similar to a saw blade.
All the plants had strong and sturdy stems, most leafs showed a hybrid leaf structure leaning more to the Indica side of the genes. Some plants showed signs of excessive Phosphorus and a Ca/Mg deficiency. The grower added some Ca/Mg to fix the issue.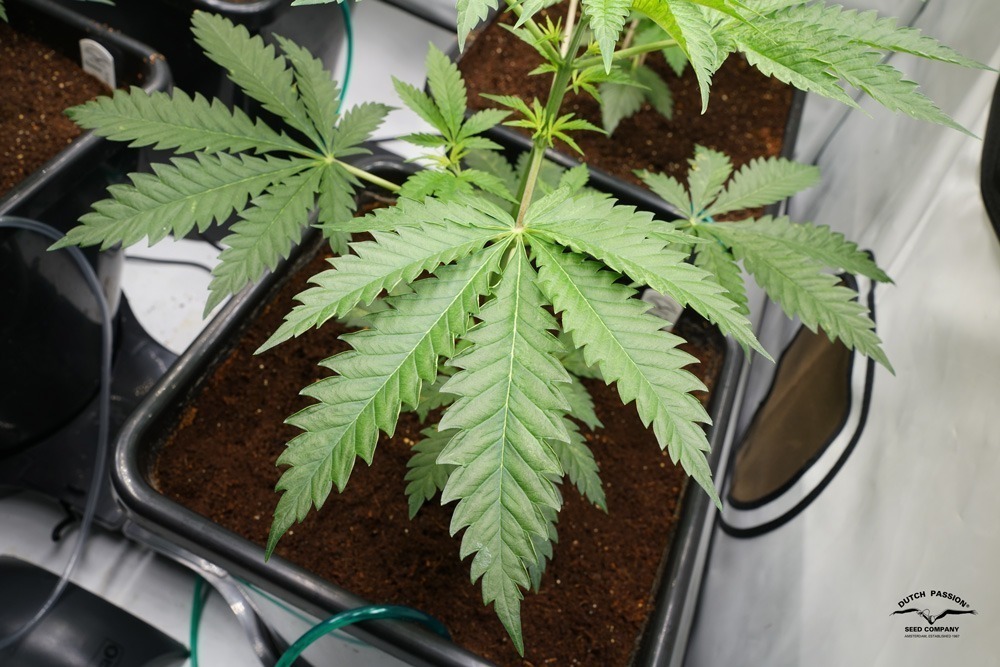 The stems were so sturdy that you have to be careful with bending, scrogging and supercropping techniques. This is a lady that will do well in natural grow, however she did quite well in this SCROG grow too. We think she would really shine in a SOG (sea of green) setup. Banana Blaze also has quite big/fat fan leaves making her a bit less suited for a scrog setup.
Banana Blaze bloom/flowering period (12/12 light)
After flipping the clock to 12/12 the plants don't stretch a great deal. They do stretch but not with a lot of speed, stretch is best described as short/medium. After about 2.5 weeks in flowering they stop stretching. Within 2.5-3 weeks most plants already show small round flowers full of white hairs.
After 3 weeks of bloom resin starts to develop as well. Within 5 weeks the buds become quite bulky and chunky, meaning that these flowers can grow pretty big and heavy. This is a type of plant that doesn't need huge amounts of buds in order to yield well. Having a few of those massive cola's will provide you with a good yield quickly.
The 2 plants on the left side of the grow room were the 2 biggest ones and accounted for about 66% of the harvest. The 2 plants on the right side of the net remained a bit smaller and showed a different leaf and bud structure. The one in the back (right side) had quite a leafy bud structure and seemed to lack the resin production of the others.
During the middle of flowering the net was full of buds, some a little fatter than others. Orange hairs started to appear and the plants ripened further. During the last few weeks the plants were stripped of their larger fan leaves in order to let more light through the dense canopy. In the last few weeks the flowers tend to become harder and harder. In the end the 2 phenotypes on the left side had quite compact buds, but the ones on the right were slightly less dense. So in the end there was something of a difference between the 4 plants.
Banana Blaze harvest report
Final height: Because of the SCROG method is almost impossible to say how big the plants would have been without the use of this growing technique. We would rate the Banana Blaze as a compact to medium sized plant, depending on the phenotype.
Calyx-leaf ratio (Easy trim/yes or no): Overall the strain wasn't too bad to trim. Two phenotypes had more round and chunky buds, these were the easiest ones. The other 2 pheno's were a bit more leafy and fluffy making them a bit more time consuming.
Quality (Resin/Smell/Compactness): Average looks, more like a standard cannabis variety you can get almost anywhere. #1 and #2 were the best looking plants smelling a little sweet, fruity and creamy. The other 2 pheno's had a more piney and floral aroma, less pungent and floral aroma, less pungent and interesting. All in all most dominant aroma profile is the more creamy, musky, fruity mix of terpenes. Accompanied by a bit of pine from the 2 other pheno's.
Yield: The total yield was about 405g of dry buds from 4 plants, pretty respectable. The two biggest plants were pheno #1 (132.6g) and pheno #2 (117.4g). The smaller plants were pheno #3 (62.5 g) and pheno #4 (92.8 g). There was some variation, but the average of around 100g per plant is quite acceptable.
Remarks after curing: After drying, the best phenotypes lost a little bit of their pungent character. #1 smelled more earthy and musky, a bit like the 'Critical' strain. #2 was more fruity and creamy, #3 reminded us of the Ultimate, piney, woody and musky. Phenotype #4 again had that creamy musky, 'critical' type of aroma.
Banana Blaze indica feminised seeds
---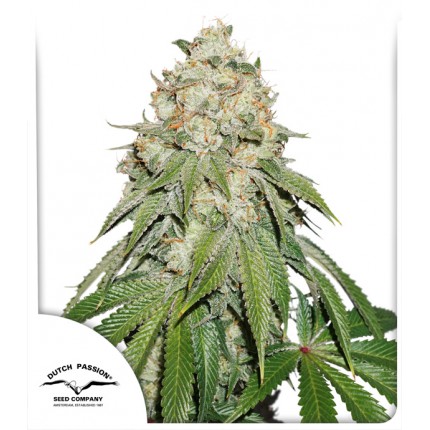 Type: Feminised seeds
Genetics: Old School Banana Indica
Family: Afghani Kush
Plant type: Indica
THC: High
Flowering: 8 weeks
Yield: XL
---
---
---
Observations and tips to grow Banana Blaze
Banana Blaze is a relatively fast flowering indica dominant hybrid strain. Most plants were ready somewhere between 8-9 weeks. She has very sturdy stems and a beautiful unique leaf structure in vegetative growth.
Banana Blaze buds tend to get quite bulky and heavy but the stems are strong enough to keep the flowers from bending, which should make her an interesting variety in a SOG setup. Although the yield with the SCROG was pretty decent, we believe the strain might do better with more plants per square metre.
The best tip we can give is to be careful with bending and cropping techniques. The stems are so sturdy that they can break easily when trained. We would encourage growers to not top or 'fim' the main bud. That's because the main cola tends to form a massive main bud if left intact and allowed to grow naturally. The Banana Blaze plant structure lends itself well for natural growing.