Dutch Passion Euforia Grow Review
Dutch Passion Euforia
Dutch Passion Euforia is a very special sativa variety selected for a uniquely pleasurable and euphoric high which is particularly pronounced with this variety.  Euforia is also an established customer favourite noted for heavy yields of very strong pot. 
This weeks blog features a grow of Euforia by Automaster, the original grow diary is here.
Above, Dutch Passion Euforia in full bloom. Heavy harvests of resinous cannabis with a great euphoric sativa high.
Euforia is a 90% sativa variety, she was discovered in the 1990's during a Dutch Passion Skunk breeding program. Euforia was initially noticed for the long frosty sativa blooms which contributed to reliably good-yields, she is a stable skunk selection and is easy to grow even for beginner home-growers. But it was the smoke-testing which revealed the real beauty of this variety. Many of the smoke test team reported a distinctive, long lasting and quite special euphoric high.
A best seller
Such was the appeal, that we decided to keep this variety, we named her Euforia, and 20 years later Euforia remains a best seller.  The yields are very good, she is THC rich and very strong, but it is the connoisseur-quality 'high' which really makes this variety so memorable. 
Euforia is available in feminized and regular seeds and we have many customers that place repeat orders for this variety based purely on the quality of the uplifting, blissfully enjoyable high.  If you haven't grown this variety yet then it is one which should really be on your list!
Above, Euforia, resin production on the leaves is always a good sign
Quantum LED lights
The Euforia plants shown in this weeks blog were grown under 1700w of LED (from Quantum LED) in soil using airpots with genesis nutrients.  The seeds were soaked in RO (reverse osmosis) water for 15-20 hours before being transferred to plant pots and covered with kitchen film to retain soil moisture.  9 out of 10 seeds germinated.
The seedlings were grown in 'John Innes No2' soil, to which Automaster added 10-15% of sand/perlite. After 35 days the plants were switched into flower by reducing daily light from 18 hours to 12 hours. At this point 3xPhoton 189 LED lights provided around 1700W of LED power. Several of the Euforia plants were topped – the growing tip was removed to produce bushier plants with more side blooms.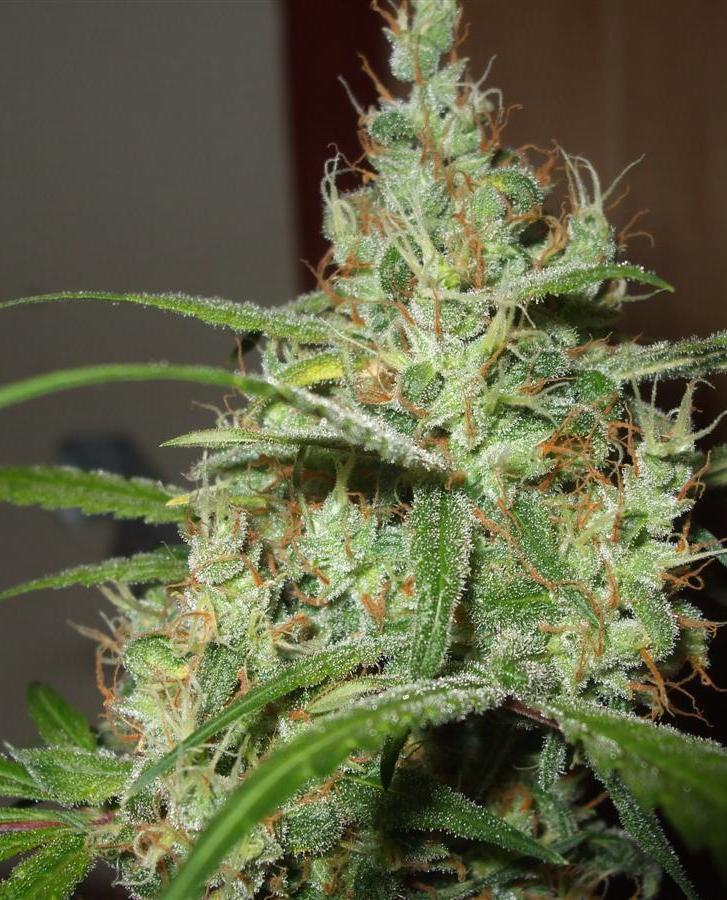 Above Euforia ready to be harvested, and ready to be enjoyed.
Flowering period
The Euforia plants spent 70 days in flower before harvest. Microscopic examination of the resin trichomes showed that they were 90% cloudy at harvest point. Many home growers have their own preferred harvest point based on the trichome (resin gland) appearance. One of the great advantages of home grown cannabis is the ability to grow top quality organic pot, from your preferred genetics, harvested at the right time for you, free from any pesticides and harmful chemicals.
Above, good yields of hard buds, but most Euforia growers cultivate this variety for the special uplifting qualities and the great anti-anxiety high
Comments from Automaster
"The smoke test was like a 90% sativa should be; a full medicinal belt ! Not a sledge hammer, more like a warm anaesthetic blanket calming every nerve in the body, a pleasant cool, euphoric, clear high you can work with. The sativa bouquet can only be described as full-fruit, refresher chews mixed with pear drop acetone, with a caramel sweet edge on the tongue taste…hints of cinnamon……… delightful."
"So smooth on throat, the fruit and caramel wash over like a warm apple pie with cinnamon under-tone. The high works it's way up to the interpretive centre like a warm bath…………very relaxing and contemplative, eutopic, with mild but confident euphoria."
"For new growers, just take it easy with the nutrients until you get to know the limits with sativas. Experienced growers should start the nutrient concentrations low and increase slow and soft"
Above – Euforia buds coated in resin, a top quality skunk selection.
Organic grow mediums
"The flowers are like big chunks of rounded fruitiness……dense and heavy, and very sticky to touch"
"Organic grow mediums are recommended for full flavor and post cure bouquet. Some phenos hit 1.6m tall from soil. The smallest indica-pheno was 90cm………but was heavy with buds. All other phenos were supported by 1.2m canes and tied back."
"Due to end game bud weights it's highly recommended to support branches if topping………..this did improve yield also. I found it a great smooth smoke. A highly medicinal, cool-hand-luke head. A superb summer chill and hard day evening relaxation smoke………for sativa lovers a must. A superb strain, 9.75 out of 10. Very enjoyable."
**
Dutch Passion are lucky to have a number of top quality varieties in our collection, but of all the Sativa varieties it is perhaps Euforia which has some of the most loyal repeat growers that love the special Euphoric high which gave this variety her name. 
As one of our original legendary varieties, Euforia also comes in regular seeds.  This is a special variety for many growers, and a must-grow variety if you love a euphoric high.
Dutch Joe
Find me on Facebook too!