Night Queen Afghani indica at it's best
Night Queen customer favourite
Night Queen was one of Dutch Passion's original 1980's customer favourites. She is a particularly potent variety that Dutch Passion bred to combine good yields, ease-of-grow and a heavy indica stone. Finding your own 'personal favourite' variety can often take years of growing.
Some growers prefer the more uplifting and energetic high associated with the sativa varieties. Others prefer the deeper, rich body-stone which comes from the better quality indica varieties.
If you are one of the recreational or medical growers that prefer the satisfying effects of a strong indica then Night Queen is a proven photoperiod variety which should really be in your seed collection.
Afghani parents
Night Queen was a 1980's development from original Afghani parents. The concept behind this variety was an uncompromising indica bred from pure native genetics. Night Queen was never hybridised, she remains a faithful 1980's classic.
A tribute to those that love to be get very stoned! Anyone that has enjoyed our other famous Afghani, Mazar, will love the flavours, aroma and heavy stone of Night Queen.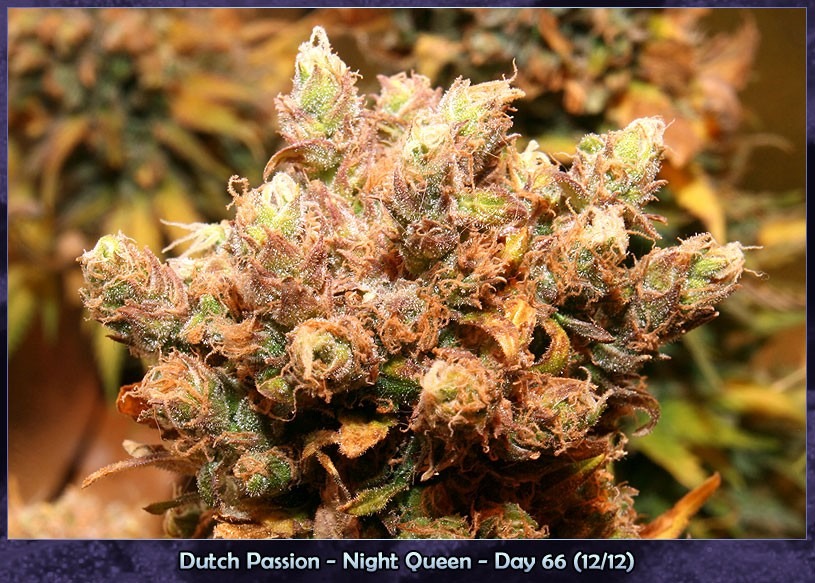 Grow diary from Serpent
This weeks grow diary comes from 'Serpent' who grew 3 Night Queen's under a 250w HPS in 7.5 litre containers of compost. The original grow diary is here on the UK420 growers forum. Serpent grew the Night Queen seedlings under veg conditions (18 hours of daily light) whilst he grew our StarRyder auto.
We often see growers combine the use of auto's and traditional photoperiod varieties to maximise the productivity of their growroom. Once the StarRyders were ready for harvest Serpent switched the lighting conditions to 12/12 and started flowering the Night Queens.
This technique allows the smart home-grower to maximize the yields from their indoor garden, producing an initial harvest from auto's followed around 9 weeks later by a harvest of the photoperiod plants.
Comments from Serpent
"Another nice plant to grow from Dutch Passion, they stayed squat, didn't mind being topped and responded pretty well to being scrogged. There was also a couple of different phenos on show, one squatter, faster finisher with more dense buds (Pheno #1) and the other a bit taller with a different bud structure showing more stacked calyxes and took a little longer to finish (Pheno #2)."
"Slightly different buds from the 2 phenos on show. Pheno #1 was a lot more compact, dense and slightly frostier, while Pheno #2 was a bit looser, but both had a similar smell, with Pheno #1 being a little bit more intense while Pheno #2 being a bit fresher and not quite as dank. Both though had subtle citrus/fruity undertones going on though, and again, Pheno #1 was slightly more intense, but there wasn't a huge amount in it."
Incredibly smooth
"Simply put, a kick arse smoke, like the StarRyder she's incredibly smooth and I mean that, very little throat irritation both in a spliff (with tobacco) and vaped with a very moreish, slightly fruity taste."
"The high is exactly what you would expect from an indica, when we harvested the first plant, our tolerance had certainly dropped as it kicked our arses and locked us both to the couch in no time, a complete body stoned so I did have to be careful smoking during the day, but at night, it did exactly what I was after/hoping for."
"The only downside is I found my tolerance has built up quite quickly, not sure if it's me as you know what it's like when you jars are full, you're like a kid in a sweet shop."
"I've also found that Pheno #1 was the more potent smoke, again, I'm not sure if that's something to do with tolerance, but she did seem to have a heavier hit."
Pheno #1
Bud Aroma: 8/10
Bud Appearance: 8/10
Bud Density: 9/10
Trichome Visibility: 8/10
Smoke Taste: 9/10
Smoke High: 9/10
Total Yield: 8/10
Ease Of Cultivation: 9/10
Result: 68/80 or 85%
Pheno #2
Bud Aroma: 7/10
Bud Appearance: 8/10
Bud Density: 7/10
Trichome Visibility: 8/10
Smoke Taste: 9/10
Smoke High: 8/10
Total Yield: 8/10
Ease Of Cultivation: 9/10
Result: 64/80 or 80%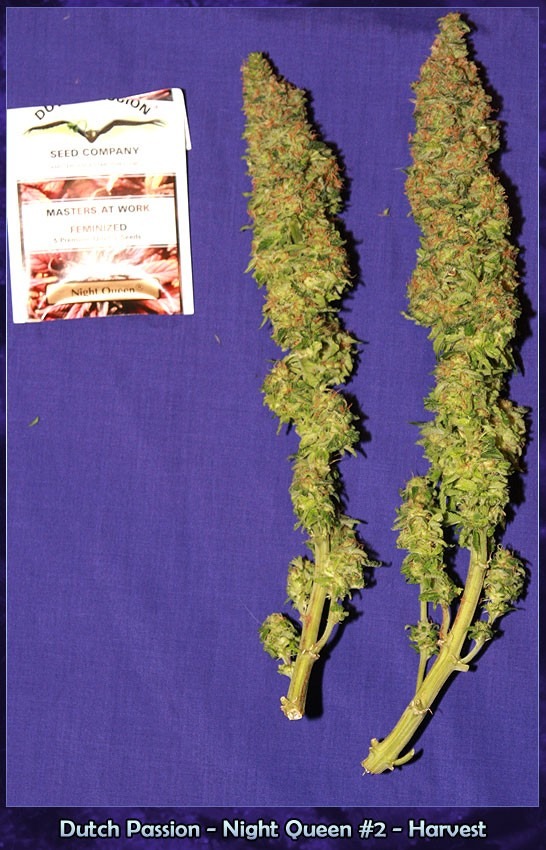 **
Top-quality double harvest
Congratulations to Serpent on a top-quality double harvest of StarRyder followed by Night Queen. Both varieties have become very popular with our customers since they were introduced, and both varieties come with our own recommendations.
We get good feedback on Night Queen from recreational smokers that simply want a heavy couch-lock stone with an old-school feel. If you missed it here is a previous review of Night Queen by Organic Jim. We also get good Night Queen feedback from medical growers that want a variety with a genuinely heavy body-stone. If you are looking for some quality indica genetics then they don't get much better than Night Queen.
Dutch Joe
Find me on Facebook too!