Dutch Passion Skunk#11 grow review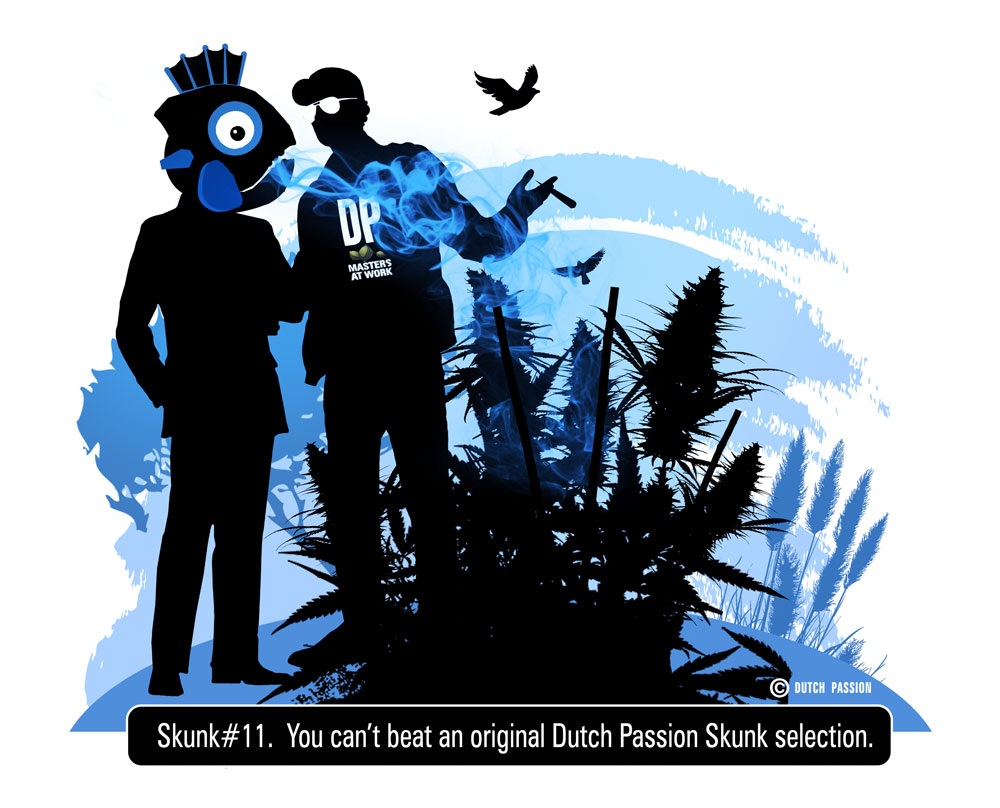 Grow Review by Captain Beefheart
This weeks Dutch Passion Skunk#11 grow review from Captain Beefheart is one of the biggest and best looking Skunk#11 plants we have seen for quite a while. This is a top-rated Skunk variety with massive growth potential and is one of the strongest varieties we have in terms of sheer potency. Skunk#11 was also our first seed variety to reach 1million seed sales and we know a number of repeat home growers that grow nothing else due to the bullet-proof reliability.
Spot the grower. Elite home grower Captain Beefheart produced a spectacular Skunk#11 grown under a 400W HPS dual spectrum light in soil. Final harvest 240g of potent dry Skunk buds.
Skunk#11 is 75% sativa and 25% indica
Dutch Passion Skunk#11 originated from our famous Skunk breeding program in the 1980's which yielded several classics including Orange Bud and Euforia. Skunk#11 is 75% sativa, 25% indica and typically takes around 9 weeks to finish blooming. Skunk#11 is no ordinary Skunk, she packs a massively powerful high alongside yields which can be quite ridiculous in experienced hands such as Captain Beefheart.
Skunk#11 is a premium selection which offered that special combination of Skunk flavour/aroma, brain numbing potency and crazy yields. Its the type of combination that our customers have always loved.
Above, every home grower loves to see solid and heavy blooms like this. Skunk#11 has been bred to provide quality and quantity.
Skunk#11 in a 25-seed pack
Such is the cult following of Skunk#11 that this is the only variety we offer in a 25-seed pack with a bargain price of €85. So if you like what you see in this weeks blog remember you can buy the seeds for just over €3 each, buying in bulk allows you the best quality at the best price in the entire Dutch Passion collection.
Because Skunk#11 is one of our established original Dutch Passion classics this is also a highly stable variety which can be relied on to do a great job for the 'average' home grower, whilst retaining the XXL potential for the more experienced grower.
Above and below Skunk#11.  Most repeat customers grow this variety for the rather special, happy and exhilerating 'balanced' high.  The excellent yields are just a great bonus.
11 Litre container and 400W HPS light
Captain Beefheart planted the Skunk#11 seed in an 11 litre container of soil under a 400W HPS light. It was grown in veg mode for 20 days. Beefheart is an old-school cannabis grower that believes in keeping things simple. Instead of a complicated range of cannabis nutrients the only fertiliser used was Levingtons Tomorite, which is normally used by Tomato growers.
Many self-sufficient cannabis growers will insist that the best way to grow monster cannabis plants is to use a comprehensive blend of purpose-designed nutrients. But remember cannabis is one of the most robust and versatile plants, she will find a way to grow regardless of growing medium or nutrients.
Tomato feed has a slightly different ratio of key nutrients (N:P:K) to those normally used to grow marijuana, but Skunk#11 is an easy, non demanding variety which grows well under a range of conditions. Its a variety which many first time growers choose specifically for the robust and proven genetics.
The plant kept on growing
The Skunk#11 grew with real vigour and didn't seem to want to stop growing. Captain Beefheart decided to allow the Skunk#11 to go beyond the recommended 9-10-week harvest time and was well rewarded for that decision. The plant kept on growing layer after layer of buds, and the branches got longer and heavier.
"Skunk#11 doesn't need to much food, so go easy on the nutrients. I left this plant 13 weeks because thats what she wanted, allow your plants to finish properly. Also, get a good quality carbon filter because this variety stinks. She grew in an 11 litre container with soil, its my best plant so far 1240g wet harvest, 240g dry."
In the end Beefheart harvested the plant after an unusually long 13 week bloom period under 12/12 light, but the wait was worth it with 240g of dried buds, the best and most productive plant grown he had grown. Beefheart gives the following advice to future Skunk#11 growers.
Enjoy the special pictures from Captain Beefheart, and remember that growing crazy quantities of top quality cannabis is neither expensive nor difficult with Skunk#11
Dutch Joe
PS Find Dutch Passion on Facebook