Strawberry Cough Dutch Passion – Relax in style
Strawberry Cough pleasunt 'up' high
Dutch Passion Strawberry Cough may not be one of our best known varieties, but for many of those who grow her regularly she is a very special and quite unique variety with a notably pleasant 'up' high which many people feel offers great anti-anxiety benefits.
This makes this variety quite distinctive, calming and soothing yet strong and definitely very pleasant whether you enjoy cannabis for medical or recreational reasons.
For regular Strawberry Cough growers she is an individual variety and one with very useful medical applications. If you enjoy pot, but would enjoy it more with a smoother and more relaxing cerebral effect then Strawberry Cough should definitely be on your list of varieties to grow.
Exclusive Dutch Passion creation
She is an exclusively Dutch Passion creation and is 80% sativa, 20% indica and takes around 9 weeks to finish flowering. She was created by blending North American cannabis genetics with some European genetics from our genebank. 
The European genetics have only been used for Strawberry Cough, they were never used in the development of any other variety.
Top quality sativa with respectable yields and a famously smooth high
Anxiety-relieving high
Strawberry Cough shot to fame when she was featured in the 2006 Hollywood movie 'Children Of Men'. The video clip is below. As well as being a good choice of strain for those wanting an anxiety-relieving high, Strawberry Cough can also produce some delicious berry-flavours making her a treat for the connoisseur growers.
Inhale a joint of nicely cured Strawberry Cough and you will taste a blend of soft and sweet fruity flavours as the vapours start to numb your body and soul. Allow those flavours to peak and then cough gently and you will pick up the Strawberry taste, and that is where the name comes from!
Medical growing community
Strawberry Cough is not just a preferred-choice in parts of the medical growing community; she is also appreciated as one of the better quality sativa varieties for the home grower. She is a medium height plant and easy to grow in soil, coco or hydro. It's a variety bred specifically for the type of high she produces.
Although she was not bred with heavy yields in mind she can (and does) produce long and well proportioned blooms. In the featured grow this week, 'The Saint' produced an average of 5 ounces (140g) per plant from 4 plants grown in coco with HPS light.
The original grow diary is here on the UK420 internet growers forum, though you will need to register to see this particular diary. The photo's are from Saint's growroom.
This variety doesn't require lots of nutrition, Saint grew the plants with EC (electrical conductivity) of 1.7.
Comments from The Saint
"The buds were sticky & hard dude, also a fair width to them, they were like my forearms almost, with a skunky smell…. it's a strain I will definitely grow again. 20 ounces from 4 plants, 5 ounces per plant"
"The Strawberry Cough was great to grow, they almost grew themselves if I'm honest. I had one of them showing signs of being underfed, (either that or bleaching from the 1000 watt lights) from around week 6. Other plants in the room were fine & because I use one reservoir for them all I wasn't going to adjust the nutrients for just the one plant so it had to make do."
"I fed lighter than usual on this run with my highest EC at 1.7. All the Strawberry Coughs responded well to being supercropped roughly 5 days into flower, all had multiple BIG colas which just fell everywhere. The smoke is a nice pleasant high"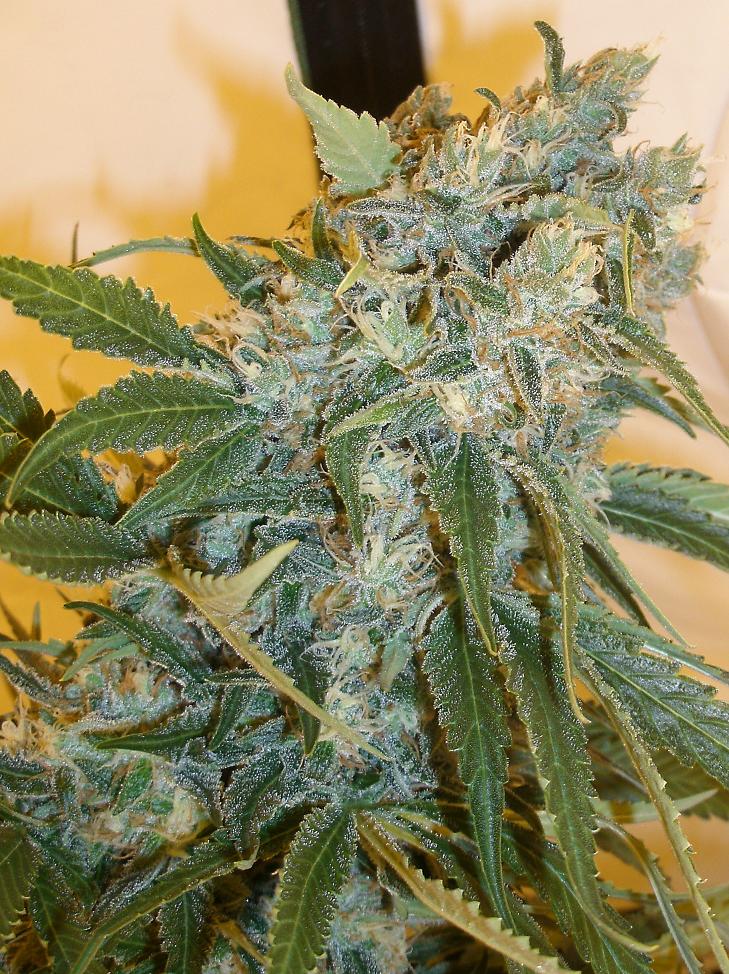 **
One of our favourites
Dutch Passion Strawberry Cough is one of our favourites, a good producer of a really special and enjoyable pot. She feels like an old-school sativa with a gorgeous feel-good euphoric high, great for celebrating life.
If you want to freshen up your growroom with something really enjoyable then Strawberry Cough could be for you.
Dutch Joe
Find me on Facebook too!
**