Jorge's Diamonds #1 grow review
Jorge's Diamonds #1
This week is the first time we have featured a customer grow diary of Jorge's Diamonds #1 in a blog. The original grow diary by Autopoter is here on the popular UK420 growers forum.
Jorge Cervantes is a best-selling author, campaigner and educator in the cannabis world. He has also been a close friend of Dutch Passion's for many years and in recognition of his work for the cannabis community we worked with Jorge Cervantes to develop the Jorge's Diamonds #1 variety which we introduced in 2008 after a few years of work.
Jorge's Diamonds, lots of resin, ootent, easy to grow and good yields
Easy to grow indica
Jorge's Diamonds #1 is one of Dutch Passion's best, most consistent, varieties. She is an easy-to-grow indica dominant (80% indica, 20% sativa) traditional photoperiod variety that is noted for its unusually high levels of resin production and solid, reliable yields.
It is a top quality smoke, and one of Dutch Passion's 'premium' varieties. It has a really powerful deep indica stone but it contains enough sativa to really give the variety a special exhilarating high and a satisfying long lasting effect.
Growers often harvest 100g+ yields from individual plants, she is one of those varieties favoured by connoisseur growers for the resin-crusted highly potent buds, yet she is robust enough to do well in the hands of a less experienced grower.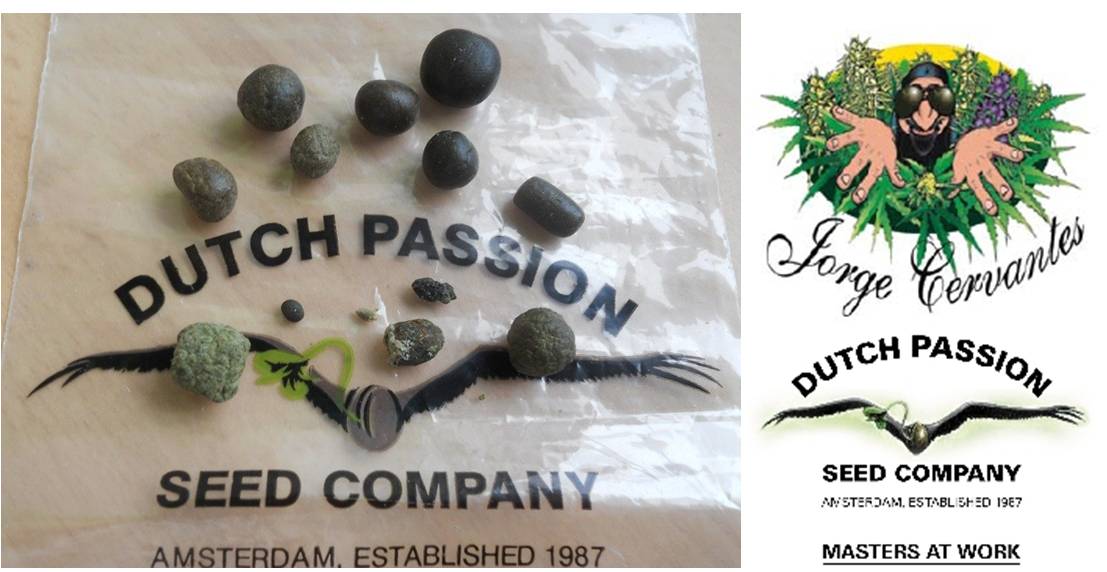 Sweet taste and aroma
Jorge Cervantes himself described the way he selected the variety which was to carry his name.
"I was presented with several selections from Dutch Passion. I chose the one I liked best. I went with my instinct and chose the sweet taste and aroma, smooth smoke and potent long-lasting soaring high."
"I also looked at the fact that this plant is easy to grow and very resilient, so that anybody can grow it successfully."
The genetics were selected from the 30 year old "Research Gene Pool" of Dutch Passion, rare indica-dominant genes mixed with just the right amount of sativa to give the smoke a very strong, deep and long-lasting high.
Grade A weed Jorge's Diamonds #1
The featured grower in this week's blog is Autopoter, a skilled European grower who describes Jorge's Diamonds #1 as simply 'grade A weed!'. He grew Jorge's under 1200W of HPS (2x 600W) using Plant Magic coir (coco fibre), 7.5 litre pots, formulex (seedling feed), and Canna coco nutrients with canna pK13/14 (bud boost).
Autopoter harvested around 20 ounces (~570 grams) of dried top quality cannabis from just 5 plants. Here is Autopoter's opinion of the aroma, flavour and smoke quality: All the photo's are from Autopoters grow showing his hash collection and his buds.
Fruity sweet strawberry smell
"Jorge's Diamonds has fruity sweet strawberry smell like confectionery, as well as skunk undertones. The fruity pheno smelled very zesty/lemon when drying! It also had cheese/skunk aroma's present. Carbon filters are a necessity! It is a very nice indica, a warm and comfortable stone from this bud."
"Very smooth on the inhale and slight cough inducing on the exhale. It had a really skunky taste as well, and all this is coming from a heavy tobacco smoker! It sure is a lovely smoke, suck it and see!"
"Would Autopoter grow Jorge Cervantes variety again? "YES I would definitely grow the Jorge's Diamonds again; this is one plant that grows with vigour. She took to LST training like a duck to water! Resin production on this plant is INSANE its name is very apt. When inspecting a dried cured bud it shines/glistens like diamonds"
Autopower's advice
Autopoter's main advice with this variety is to make sure you have a good carbon filter to deal with the strong odour produced during growth. Here are his final comments on Jorge's Diamonds "This variety grows itself with no problems at all, just add some water/feed and watch it grow. It would be ideal for a novice/first time grower, even with cold growroom temperatures these girls held their own and showed no signs of stress.
It is a heavy yielding/resinous variety that produces 'Grade A' pot. All 5 plants physically looked the same, but there were 2 clear phenotypes. One had sweet strawberry aroma with dark purple/blue parts of buds. The other pheno had a very skunky/cheese smell. Each phenotype has their own merits! Achieving '1 gram (of bud) per watt of light' would be easy with Jorge's Diamonds #1"
**
Congratulations to Autopoter for a great harvest from one of our best all-round varieties. We wish him a great deal of pleasure from the crop.
Dutch Joe
Find me on Facebook too!