Master Kush organic indoor grow review
Master Kush is an original Afghani Kush indica strain with an 8-week bloom time, rock hard buds and a delicious Kush taste. She was also overall champion at the prestigious 2017 Highlife Cup as well as taking 1st Prize in the Kush category where she impressed judges with her knockout high. Master Kush is particularly popular with those that need a no-fuss, hard hitting Kush that is easy and quick to grow with predictably satisfying results. In this grow review, expert cultivator Antonio grew a single Master Kush plant selected from 3 feminised cannabis seeds which he geminated. The Master Kush plant was grown in a 20 litre airpot under an LED grow light using organic methods.
Growing Master Kush cannabis seeds organically
Grow Details
| | |
| --- | --- |
| Variety | Master Kush |
| Cannabis seed type | Feminised cannabis seeds |
| Number of seeds | 3 |
| Date of germination | Winter 2015 |
| Germination rate | 100% |
| Days required for germination | 3 days |
| Length of vegetative grow cycle (18/6 light schedule) | Around 8 weeks of veg |
| Length of flowering stage (12/12 light schedule) | Around 9 weeks of bloom |
| Stretch during bloom | Around 100-150%, short to medium stretch |
Basic information of the grow
| | |
| --- | --- |
| Grow room type | G-kit 600 |
| Grow room size | 118cm x 76 cm |
| Plant numbers | 1 plant |
| Plant containers | 20L Airpot |
| Grow medium | Light mix soil:Coco fibre in a 4:1 ratio |
| Nutrients | Organic, Biotabs & BAC |
| Grow system | Watered by hand – soil/coco grow |
| Grow technique | Natural grow with some bending/supercropping |
| Grow light | LED grow light – First generation Dutch Passion Highlite MS006 with 180w total power draw |
| Light distance to canopy | Around 25-50cm in bloom |
Master Kush seeds germinated, just one selected for final bloom
Remarks during germination :
This time I only germinated 3 cannabis seeds because I wanted to grow just a single Master Kush plant. I always germinate a few more seeds in order to pick the most healthy-looking plant to eventually grow. Germination went fast and all 3 cannabis seeds germinated within 3 days. I transplanted the small seedlings into 0.25L containers in which they were kept for around 2 weeks in total.
Remarks during vegetative phase – VEG (18/6 light cycle) :
I grew this Master Kush side by side with another Kush from a different seedbank. Just to have some different smokes and compare the quality of the two. After the first VEG period of 2 weeks I picked out the best-looking plants and transferred them into 1L Airpots. The airpots are in my opinion one of the best pots if you are looking for a solid container for rapid root development and fast growth.
Besides airpots I'm also a big fan of Root pouches and Smart pots. All work kind of the same way, with the air-pruning of the roots as the most important feature. Airpots can dry out quickly though, so you have to be aware of that. It's not a container for the grower that only likes to water twice a week.
Anyway, the selected Master Kush plant grew fast from the moment she was transplanted into the small 1L airpot. I kept her in it for another 1,5 weeks before she was ready to be transplanted into the big airpot that was going to be used for flowering. During these first 3,5 weeks I noticed she had quite thick and strong stems, as well as a short internodal distance. The leaf structure looked like a hybrid, with a nice dark green colour.
It was time to transplant her to the 20L airpot and increase the light levels with the LED light that was selected for the flowering phase. This was actually one of the first grows I did with an LED light, back in 2015. She grew very bushy and stocky. I super-cropped her main branch once and even though I messed it up (the stem broke, unfortunately this happens sometimes) I used regular duck-tape to tie it back together and she managed to survive.
As always, the Airpot was filled with a mixture of Coco and Lightmix soil. Back then I was using the organic nutrient line of Bio Sannie in combination with BAC. Something I learned from my friends on the forums. I've always had very good results with these bio nutrients so the choice for using these was a no-brainer.
Master Kush in bloom, frosty and potent!
The plants kept on growing for another few weeks after switching the clock to 12/12. They grew vigorously but the stretch was quite manageable. I was glad to see the internodal distance stayed quite short. It took around 2.5 weeks before the plant stopped stretching and started producing flowers.
Although the buds were starting to become long for an Indica, they were stacking close on top of each other. Resin development also started early and the buds had a nice contrasting appeal with the white frosted buds and vivid green leaves. Some buds became truly massive, already 40cm in size while they were only filled with white-haired flowers.
A few weeks later and the buds were starting to fatten up. They looked like conical spears! Elongated vertical flowers with a good calyx-to-leaf ratio. The leaves turned quite thin during flowering. That was really something I didn't expect to happen, since Master Kush is such an Indica dominant variety. Even the lower buds were starting to get a good layer of trichomes.
At the end of the flowering phase most of the top buds were very big and slightly fox-tailing, but still pretty firm. I didn't pluck away many leaves. Since the leaves were quite thin-fingered the light was able to shine through the canopy with ease. The plant became pretty big and I noticed she sometimes dried out a bit too quickly.
Looking at it in retrospect I think a 20L airpot for such a large plant was a bit too small. The downside of having a container that has dried out too much a few times already is the fact that the soil is losing its ability to hold the water as well as it previously might have.
The Bio Sannie nutrient line that I was using included something called Yucca. Yucca improves the flow-out of water (area-span) so your soil capacity to absorb and hold water is improved. This was very useful when re-watering the dry pots.
At the end of flowering, just before harvest the plant acquired some nice colours. She had orange/brown pistils and dark (sometimes purple) hues on the inner leaves and the buds. Together with dark green leaves and the nice resin coating the bag appeal of this strain already looked good untrimmed. The buds were also sticky and dense, it was hard to squeeze them.
Some buds became quite massive and had an amazing earthy, citrus dominant aroma. It might be a bit more subtle than other old school Afghan Kush varieties but she still smelled very nice. I truly loved the way the buds look, they have solid structure and become quite massive. Definitely a big yielder! This was a natural grow but I think Master Kush could also be a suitable candidate for a SCROG and SOG grow. It might give tremendous results!
Harvest report for Master Kush
Final Height in cm:
The Master Kush lady reached around 75cm in size. She might would have become a little bigger if I hadn't used bending and super cropping techniques in order to get a more even (flatter) canopy. It wouldn't have surprised me if she would have exceeded 100cm if I hadn't bent/super-cropped. Looking back she is a medium sized plant with a manageable stretch after switching the clock to 12/12.
Calyx-leaf ratio (Easy trim/yes or no) :
Yes, she has a favourable calyx-to-leaf ratio. The flowers only had small leaves in them, making this a quick manicure and easy trim. You could even pluck her totally by hand if you prefer it that way. The buds have the appearance of a hybrid flower but with the density and compact structure of an Indica.
Quality (Resin/Smell/Compactness) :
The flowers of Master Kush are quite big and chunky. It's definitely a strong yielder. The quality of the buds is very high as well. They have the appearance of a big hybrid plant but with the density of an Indica. Compact and firm, they do feel very solid.
Resin-wise, the flowers looked good as well. Although the resin doesn't cover the leaves as well as some other varieties. However, the inner flower seems well covered in trichomes. The buds become quite sticky and they have that classic earthy, herbal dominant old-school Kush aroma with some citrus background. The smell is quite pungent too. Overall, the appearance and bag appeal of the Master Kush makes this an outstanding flower. The contrasting bright orange hairs on the resin covered buds make her look particularly good.
Master Kush taste, yield and effect
Yield:
This single Master Kush plant had very compact and firm nugs. The plant become quite big and therefore the yield was also pretty high, coming in at slightly over 150g. Which was quite a good result for a grow with one of the first commercial LED-grow lights on the market. Keeping in mind that this was a natural grow too (not a SCROG) I was very happy with the result.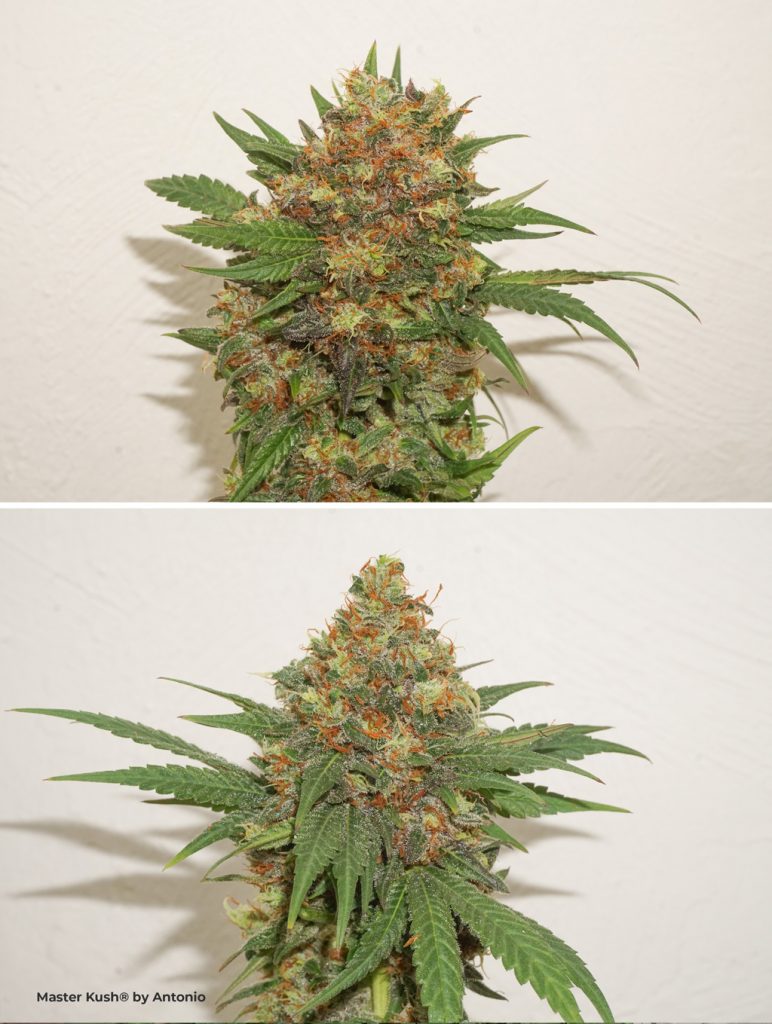 Remarks after curing :
The buds have that classic old-school weed aroma, pungent, hashy, earthy with some herbal, spicy, citrus tones on the background. The aroma became even better after a good cure, more complex and interesting.
It's definitely a stinker, a small bud can fill up the room with a strong cannabis odour. The taste is what you expect from such an Indica dominant cannabis strain from Afghanistan. Earthy, slightly sour on the inhale and more herbal and piney on the exhale. Smoke a fat joint and its good night!
Master Kush has a potent high that can initially hit you strongly in the face. After a little while it transforms more into a body high with total relaxation and a feeling of physical well-being. I would recommend to smoke her during the evening/night. Master Kush has a pleasurable effect that helps you unwind after a stressful day.
Overall rating (out of a 5 star rating) : 4
| | |
| --- | --- |
| Aroma | ★★★½☆ (3.5 stars) |
| Taste | ★★★½☆ (3.5 stars) |
| Effect | ★★★★☆ (4 stars) |
| Bag appeal | ★★★★☆ (4 stars) |
| Overall rating | ★★★★☆ (4 stars) |
Master Kush has great looking buds and the high is also very potent with a pleasurable body effect. Our phenotype was tasty but could have had a few more terpenes. That's why we gave it a slightly lower rating on those 2 aspects. Overall, still a very good score!
Special remarks and tips for growing Master Kush cannabis seeds
Master Kush was definitely fun to grow. It's a strong and forgiving strain and she knows to yield well. I can imagine it being a good variety for beginners. Although this grow went well, it wasn't perfect either. Next time I would use a bigger pot for her and would probably grow her in a SCROG to get even higher yields.
This lady has a reasonable stretch and could become slightly bigger than other Afghan Indica's. Make sure you have enough ventilation and extraction because the flowers get pretty massive and dense! High humidity and still air could ruin those precious buds. The effect is very nice and one of the best features of this strain. A well-balanced effect, total body relaxation is guaranteed!