Auto Brooklyn Sunrise grow review
Indoor grow in a 60×60 cm grow tent
In this weeks Auto Brooklyn Sunrise grow review the plant was grown under a home-made DIY COB ('chip on board') LED in a 12 litre fabric root pot in a small 60cm x 60cm grow tent hidden in a bedroom closet. The plant was grown under 20 hours of daily light from seed to harvest. That is the recommended light cycle for all Dutch Passion autoflowers.
Grown under a 70W DIY COB LED
This weeks grower, 'Lucky P' made an LED grow light from two COB chips rated at 35W each. The total power used by the grow light was 70W, thats a small amount of power. But auto flowers usually take around 20 hours of light per day, and thats enough daily light to allow buds to grow.
Lucky P got several respectably sized blooms from the plant, the blooms were frosty – it was an impressive grow for 70W of COB LED.
COB technology in LEDs continues to impress, Dutch Passion continue to see great results when autoflower seeds are grown with LED growlights. LED, with lower levels of heat stress (compared to HPS) and an optimised grow spectrum delivers excellent grow results with autoflower seeds.
Auto Brooklyn Sunrise grow review
Autoflower seed to harvest in around 75 days
Auto Brooklyn Sunrise grows from feminized autoflower seed to harvest in around 75 days, but growers should note that a number of the plants often finish 7-10 days early at around 65-70 days. It's an easy variety to grow, and suits less experienced growers looking for a robust and forgiving strain.
More experienced growers that can provide an optimised cannabis grow room will routinely harvest 100 grams per plant or more. The genetics come from a USA Diesel crossed with a special AK variety, it's rich in THC with above average resin levels, this makes her a popular variety with cannabis concentrate fans who produce cannabis oil, shatter, hash, BHO etc.
Happy, feel good high
Many growers appreciate this variety for a happy, feel-good high. A vaporizer is the best way to appreciate the rich fuel and fruit taste from this potent USA autoflower variety.
The genetics grow well in all grow mediums and grow systems, they respond particularly well to powerful grow lights especially during the last 4-5 weeks. But as this weeks grow showed, Auto Brooklyn Sunrise will deliver a harvest even with lower powered grow lights in a small grow environment.
In soil and topped after 18 days
The auto grew in a 12 litre fabric root pouch of Plagron Light Mix soil. The Light Mix contains relatively few nutrients but it does offer a very light and well aerated growing medium. The cannabis roots receive plenty of oxygen in this growing medium and grow rapidly.
Remo nutrients were used, Micro, Grow, Bloom, Cal-Mag and Molasses. The Auto Brooklyn Sunrise was topped on day 18 at the 4th node, this means the growing tip was removed with sharp scissors. Although 'topping' is not routinely done on autoflowers, it can produce good results creating a bushier auto without the tall isolated central bloom.
The main central bloom is replaced with a large flat canopy of side blooms, some growers feel it helps give bigger harvests because the grow light can be lowered and kept close to all the buds.
Most auto growers still prefer to grow them naturally, without topping the plant. One of the beauties of autos is that they are tough and adaptable plants, able to bloom under any light conditions given, indoors or outdoors. The best autoflower seeds make it easy to grow cannabis indoors.
The best feminized autoflower seeds make indoor cannabis growing easy
Auto Brooklyn Sunrise produces a feel-good happy smoke. It's a variety that allows you to relax and feel cheerful, and its an easy feminized cannabis seed variety to grow indoors.
The first 25 days
During the first 25 days Auto Brooklyn Sunrise grows into a small bushy plant and gets ready for the pre-flower stretch. Often, during the first 3 weeks Auto Brooklyn grows into a short plant with leaves and some small side shoots. Once this growth phase is complete, Auto Brooklyn Sunrise is ready to start stretching vertically from days ~25-50.
Ready to stretch
During this stage the plant may grow 2-3cm per day, as well as the main central stem growing, the side branches also stretch and grow. The side branches are usually 10-20cm shorter than the main central bloom, but they will yield heavily especially in grow rooms with high light intensities.
Final third of the grow
During the final third of the grow, from days 50-75 approximately, the Auto Brooklyn Sunrise starts to ripen. The trichomes transition from clear, to cloudy to amber and the blooms get heavier and fatter. The white hairs start to turn orange. The aroma also develops and you will notice a rich and appealing aroma of fruity fuel and skunky scents.
The buds produce a strong THC rich vape/smoke and a long lasting high. With Auto Brooklyn Sunrise you may notice some early phenotypes are ready to harvest around 65 days after germination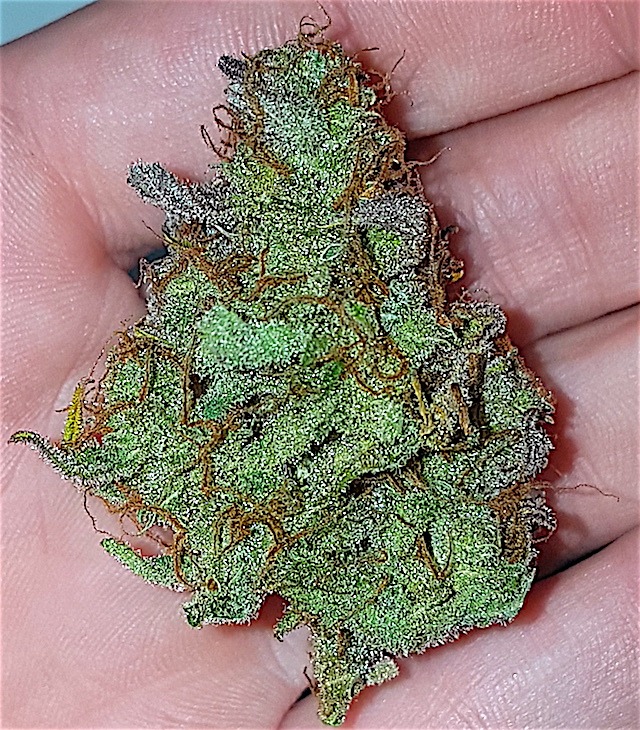 Buy cannabis seeds online
If you are looking for an uncomplicated autoflower seed variety which will grow easily in any grow room conditions then you should buy your cannabis seeds online here.
If you are looking to buy a ready-built LED then please visit our sister company, LED By Passion and more, who offer a complete selection of top quality LED grow lights from the worlds best manufacturers.