Auto Cinderella Jack week by week flowering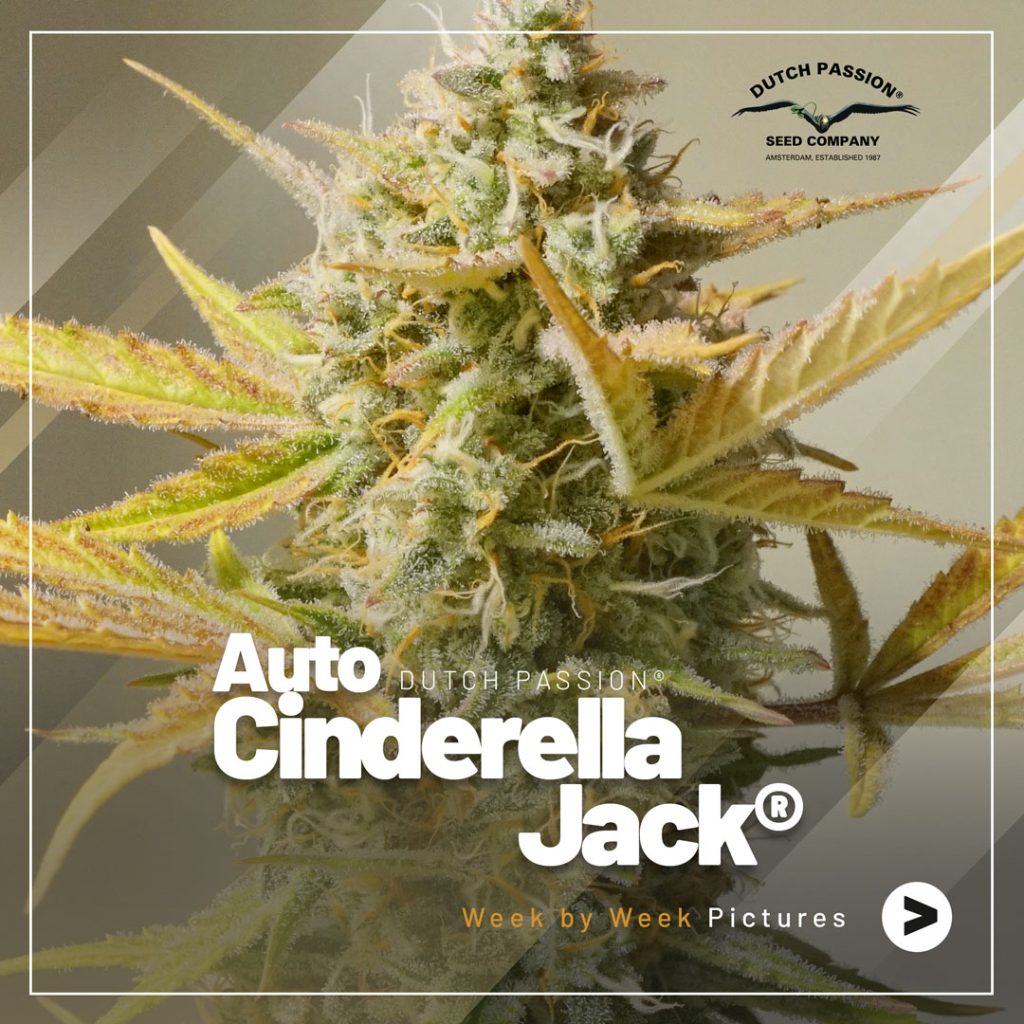 Auto Cinderella Jack is one of the most potent autoflower strains ever created by Dutch Passion. Pure Healing (Portugal) are an independent legal/licensed EU cannabis grower who recently recorded 28% THC using these high THC autoflower seeds. This week's week-by-week grow review shows you exactly what to expect if you grow her yourself. These hybrid genetics typically grow from autoflower seed to harvest in 10-11 weeks and stay around (or just below) a metre tall. Extreme THC levels come as standard and growers will be pleased to know that Auto Cinderella Jack grows with the same ease and wide latitude as the rest of the Dutch Passion autoflower strains.
Auto Cinderella Jack grow time-lapse video
This 2-minute time-lapse grow video shows Auto Cinderella Jack complete her 11 week grow cycle from autoflower seed to harvest. The final plant height was 70cm and she finished in the classic Dutch Passion autoflower structure, with a dominant central bloom surrounded by a ring of slightly smaller side blooms. The final dry yield was a very respectable 130g of exceptional quality cannabis buds which were strong enough to gain top marks from the seasoned members of Dutch Passion's some-test team.
Auto Cinderella Jack® Dutch Passion – Time Lapse of growing cannabis plant from Dutch Passion on Vimeo.
Grow conditions:
| | |
| --- | --- |
| Cannabis Light Cycle | 20 hours of daily light from autoflower seed to harvest |
| Grow room temperatures | 20-25ºC generally (17ºC night time minimum) |
| Plant container | 30 litre airpot |
| Grow medium | 50% light mix, 50% coco fibre |
| Nutrients | BioTabs, Bio PK booster |
| Grow system | Manual watering |
| Grow technique | No special training techniques, just routine defoliation to allow light penetration |
| Grow light | 200W LED (California Lightworks Solar System 275) |
Auto Cinderella Jack week by week pictures
Auto Cinderella Jack in veg
Plant growth is slow for the first couple of weeks with little for the grower to do. During week 3 growth accelerates a little with extra leaves. Auto Cinderella Jack often starts to accelerate her growth around week 4.
After 4 weeks of growth the plant height may only be around 15cm, but the largest leaves will be stretching out horizontally and growing daily. Often the bulk of the vegetative growth is complete by this point and your Auto Cinderella Jack will be getting ready for bloom.
Note from the picture how the grower uses a hygrometer in each air pot. The hygrometer informs the grower of the precise moisture quantities at root level in the airpot. Use of hygrometers and airpots (and indeed LED grow lights) are especially recommended to the quality conscious grower shooting for the highest quality levels.
Auto Cinderella Jack early flowering
The action really starts at this point with rapid plant stretch. Note how the Auto Cinderella Jacks continue to push out new leaves and at the same point stretch and produce numerous bloom points. The small 15cm tall seedling at the end of week 4 becomes a bushy cannabis plant in the following 4 weeks and reaches 60+cm tall.
By the end of week 7 the vertical stretch is almost complete. The central bloom typically becomes the heaviest. But the sheer number of side blooms is what really allows Auto Cinderella to be the real belle of the ball and deliver her trademark XL yields.
At this stage the Auto Cinderella Jack is ready to start producing the resin and buds. Her demands for light and nutrition are approaching their peak. All the experienced grower has to do is keep her in the sweet spot for nutrition and light for the remaining 3-4 weeks.
Auto Cinderella Jack in bloom
Weeks 8 onwards are all about increasing the biomass of buds and cannabis resin production. Vertical stretch slows right down and Auto Cinderella Jack prioritises the fattening of the blooms for the remainder of her 10-11 week grow cycle. The grower noted the pungency of Auto Cinderella Jack peaked at this stage. A good carbon filter is essential.
The Auto Cinderella Jack looked ready for harvest around 11 weeks after autoflower seed germination. Rather than chop her immediately the grower left the Auto Cinderella Jack for a few days in darkness prior to harvest. This is a technique felt to improve resin/THC production.
Final plant height was 70cm, with the bulk of the vertical growth occurring from weeks 5-8.
Auto Cinderella Jack harvest
The grower used a Purpl Pro spectrometer to analyse the buds and found 24% THC. That's a highly respectable potency level and significantly higher than the average Dutch Coffee Shop THC level of 15-16%. The buds showed some amber colourations, the pistils (hairs) were orange and the general plant appearance indicated harvest at 11 weeks.
All in all, a typical Auto Cinderella Jack grow. The grower was particularly impressed with the brutally effective strength of the buds which deliver a feel-good high with powerful psychoactive effects which last the whole evening. Expect plenty of laughter, a strong appetite and a great night sleep afterwards! Such heavy yields (130g from the plant in the video) are a real bonus given the professional potency levels.
Grow your own Auto Cinderella Jack!
If you have grown any impressive plants from our genetics, please get in touch with us! We would love to see your results! And remember that Auto Cinderella Jack shares the same easy-to-grow characteristics which have made Dutch Passion autoflower seeds so well respected in the growing community.
Auto Cinderella Jack seeds also grow really well outdoors (as do all Dutch Passion autoflowering cannabis seeds). Just select your 3 best summer months and watch the genetics do the rest. Expect compact, manageable hybrid plants with heavy yields, a bushy appearance and mind-numbingly potent buds.
With XL yields and 25%+ THC levels Auto Cinderella Jack is simply one of Dutch Passions best ever strains. Amongst the Dutch Passion autoflower seed collection only Auto Skywalker Haze with independently measured THC levels of 29% has (at the time of writing in early 2022) exceeded the potency of Auto Cinderella Jack. These THC levels don't suit everyone and may be too strong for most cannabis users. If you love growing the strongest cannabis strains available then Auto Cinderella Jack seeds deserve a place in your cannabis seed collection.