Auto Colorado Cookies heavy indoor harvest of sweet scented white frosty buds
Another successful grow from seed to harvest for Missy Mary of the UGC (Urban Growers Collective)! This time around, we take a look at Auto Colorado Cookies grown indoors under LED grow lights with pictures by Antonio.
| | |
| --- | --- |
| Variety | Auto Colorado Cookies |
| Cannabis seed type | Autoflowering cannabis seeds |
| Number of seeds | 7 |
| Date of germination | December 2015 |
| Germination rate | 100% |
| Days required for germination | 3 days |
| Length of grow cycle (20/4 light schedule) | 10-11 weeks |
| Stretch during bloom | Good sized autoflowers, medium in height (with one very large phenotype in the middle) |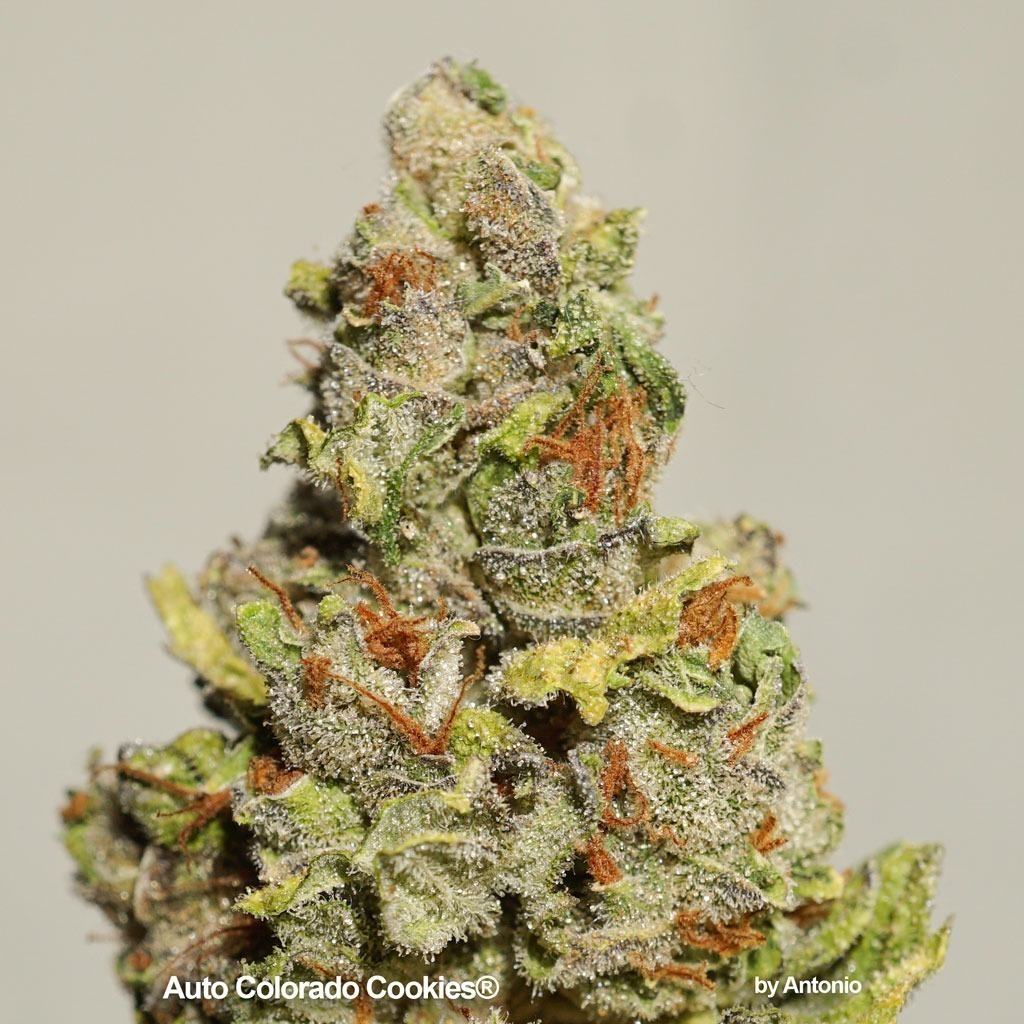 | | |
| --- | --- |
| Grow room type | Growtent R120 |
| Grow room size | 120cm x 90cm |
| Plant numbers | 5 plants |
| Plant containers | 5 x 20L Airpots |
| Grow medium | Light mix soil:Coco fibre in a 4:1 ratio |
| Nutrients | Organic nutrients from BioSannie |
| Grow system | Watered by hand – soil/coco grow |
| Grow technique | Natural grow |
| Grow light | 2x HS1 LED growlight by Crazy LEDs of 75w each = 150watt & 1 UFO led of about 130-150watt. Total around 300W of early LED |
| Light distance to canopy | Around 20-45cm in bloom |
Auto Colorado Cookies seeds germinated and grown
We germinated a pack of 7 autoflower seeds and had a 100% germination rate. Within 3 days the taproots had grown to about 1-2cm. This was the right time to transplant them. All 7 ladies were pre-grown in small 0.25L containers for about a week. After one week, the 5 fastest growing and biggest seedlings were selected to be grown in the flowering room.
Remarks during vegetative growth phase – VEG (20/4 light cycle):
We chose the 5 biggest seedlings and transplanted them in to 20L Airpots. These pots were filled with a mixture of Lightmix soil and Coco in a 4:1 ratio. We didn't want to wait too long before transplanting these young seedlings because we knew the longer you wait the smaller they usually stay. During the first few weeks only the two GN HS1 LEDs were used. In total 150watts of LED were used for the first parts of the VEG growth phase.
These young auto's really took off. They seemed to love the light. Especially the plant in the middle which seemed to be growing a lot faster than the other 4 plants in the room. Maybe the higher light levels in the middle ensured a faster growth or perhaps it was just a bigger phenotype. It's hard to say. After 1 week in the big pots it seemed one plant (in the top left) had some minor leaf issues. She seemed to have distorted leaves. It is not the first time we had seen that happening. But most of the times when you give the plant a week (or so) the leaves start to grow normally again. Luckily this happened with this particular specimen too, she grew through the issues.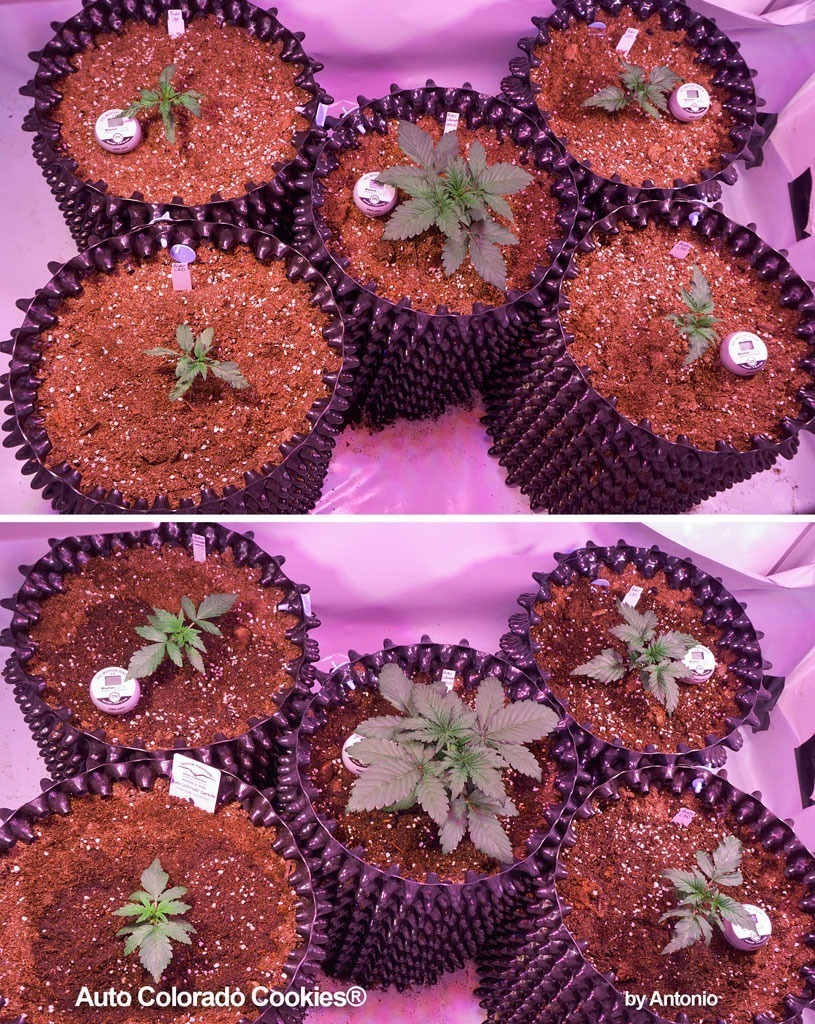 The Auto Colorado Cookies in the middle really took off, growing rapidly compared to the others. She started off very bushy with fat Indica-style leaves and thick individual leaf fingers. We knew we could expect a little more from her compared to the others. Although we have to say these were not growing too slowly either.
This particular phenotype of the Auto Colorado Cookies will be highlighted often during this grow review. We noticed she got a very thick stem even after just a few weeks of growth.
Her colour was dark green and instead of growing very wide she started to grow vertically quickly every day. Just by looking at her we knew she was going to be big! We used a 20/4 cannabis light cycle for this grow from the start, apart the first week (in the seedling room) where they were kept on an 18/6 light schedule.
Remarks during Flowering period – Bloom (20/4):
The larger Auto Colorado Cookies was one of the most special plants to enjoy watching during the grow. Her rapid speed of growth compared to the others created some challenges but nothing that couldn't be fixed/handled. In this case we were lucky to be using 3 lights in total, with 2 HS1 LED grow lights by Crazy-LED's/GrowNorthern and 1 older UFO LED from China. We were able to tilt the 2 HS1's and raise the height of the UFO LED so the big plant in the middle didn't get (light) burned.
It is not often that we experienced such a big difference between the autoflowers. When you look at the picture you can easily see the big central plant growing much faster and more vertically than the others. We never saw such a big difference before, it was quite special to witness.
A few weeks later and this lady had produced quite a long and resinous main cola, at this time she was still filled with white haired flowers but we could already see this was going to be a big one. The buds became quite sticky and potent and the aroma was becoming more profound as time passed. Very doughy, sweet and fruity scents entered your nostrils. Rubbing her produced a pungent aroma that reminded you of candy & cake.
All 5 autoflowers looked pretty amazing with a typical Dutch Passion auto structure. A large central cola surrounded by many respectably-sized side blooms. They were medium in height (apart from the largest lady) and not so wide. In terms of width, the plants were about as wide (or just a little wider) than the 20 litre airpot.
All the Auto Colorado Cookies had a vivid and healthy green colour and were producing some unusually lovely aromas. If you're getting bored of strains with bland flavour profiles and want something different with a special appeal, Auto Colorado Cookies would be a great choice.
The largest Auto Colorado Cookies specimen kept on growing vertically and she ended up having the biggest gap between the head of the main bloom and those of her side blooms. So, although the main bloom kept on growing vertically the side buds remained relatively low and all at the same height. This gave her a slightly different appearance to the others. She also seemed to be needing a little bit more nutrition compared to the others. This resulted in the yellowing of the largest (fan) leaves which then dropping off. With the benefit of hindsight, perhaps she should have received a bit more Nitrogen-rich nutrition during this stage.
The main cola became very long. It was about half of the size of the actual plant! Around 50-60cm in size. Pretty massive, I must say! All in all, this was a beautiful plant to see, with hybrid style buds, not the most compact ones but definitely not fluffy either. Strong stems made sure the blooms stayed up without sagging or leaning over. We tied the side booms a bit closer to the main stem with the help of some tie-rips, but that was the only help that the plant required.
Harvest report for Auto Colorado Cookies
Final height in cm:
Most plants were medium in size. Between 60-75cm in height with one plant that reached about 125cm and another that was around 85cm tall. We let them grow naturally without the use of any grow techniques. Overall, a medium to compact autoflower strain with thick and sturdy branching.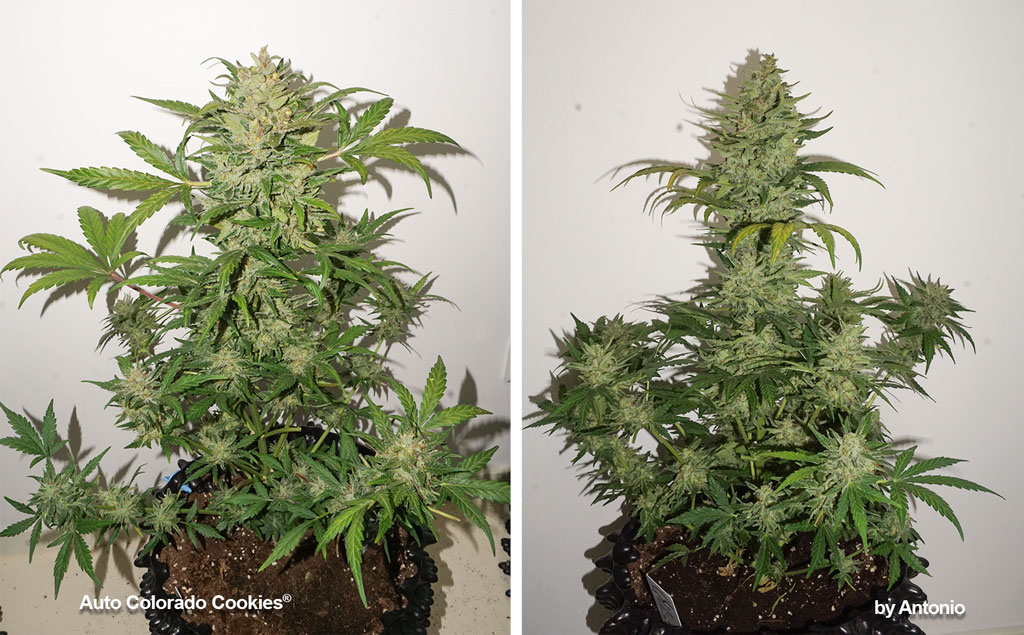 Calyx-leaf ratio (Easy trim/yes or no):
Yes, she has a solid calyx-to-leaf ratio with relatively few leaves in the flowers. When you pluck away the biggest leaves the trimming can be quite fast afterwards. These are pretty compact flowers which make manicuring easy and straightforward. The main bloom of the largest autoflower was also very easy to trim and really did look great after drying!
Quality (Resin/Smell/Compactness):
What a great aroma! The smell of these ladies is insane! Very doughy, creamy and fruity. Definitely a terpy strain. We absolutely loved it and so did our friends! Auto Colorado Cookies is one of those strains that you remind yourself to grow again as you look back on the simplicity of the grow and the quality of the harvest.
Expect some resinous flowers that feel really sticky and look white and frosty. The buds are dense and compact, we would rate it as a good hybrid flower that perhaps leans more towards being an Indica dominant. There is enough resin on the sugar leaves, whereas the fan leaves are not frosted at all.
All in all Auto Colorado Cookies really is a high quality autoflower, that's for sure! The combination of the aroma, taste and resin levels makes this a very appealing autoflowering variety to grow.
Harvest report for Auto Colorado Cookies
Yield:
Auto Colorado Cookies is a very decent yielder, with 5 plants we managed to harvest a little over 330g of top-quality cured buds. That's more than 60g per plant on average. The largest lady yielded around 75g of dried nuggets, the smallest around 40g. The rest were somewhere in between. Not bad for an autoflower run with some of the first-generation LED growlights on the market. The end result ended being slightly above a 1:1 g/watt ratio. We were very happy with this result!
Remarks after curing: The buds looked great! Heavily frosted flowers with a light green and mainly white appearance. Definitely a stunning looker! Compact buds with a hybrid shape. When you squeeze the buds the sweet aroma is released. It's mostly doughy, creamy terps with fruity hints. This scent make this Cookies autoflower a joy to smell and smoke. Any connoisseur looking for that trademark Cookie terpene profile should be filled with joy.
Taste wise she can be quite sweet and zesty. Her fruity tones are more pronounced than the doughy terps which can be tasted in the background. She gives a nice relaxing high and vibe that has both physical and mental aspects.
We would call it a subtle hybrid high with the relaxing characteristics of a good Indica. It makes you unwind, unload your stress and chill. She has a slightly euphoric and energising high. It really is the perfect bud for a night with Netflix or sitting in a lazy chair with a book near the fireplace.

Overall rating (out of 5 stars) : 4
| | |
| --- | --- |
| Aroma | ★★★★☆ (4 stars) |
| Taste | ★★★★☆ (4 stars) |
| Effect | ★★★½☆ (3.5 stars) |
| Bag appeal | ★★★★½ (4.5 stars) |
| Overall rating | ★★★★☆ (4 stars) |
A very nice autoflower with a flavourful terpene profile. Both the aroma and the taste are two of the main selling points, alongside the bag appeal. She does look resinous. Even the smaller buds are covered in resin! If you are into trichome loaded weed varieties, then this is a good choice.
Growing Auto Colorado Cookies seeds – grower remarks and tips
Unique observations or tips for this strain:
Auto Colorado Cookies was really fun and rewarding to grow, easy to grow too. She did great on organic nutrients and with the LED grow lights. The only thing that really stood out during this grow was that big plant in the middle of the grow room. Looking back, we should have given her a bit more nutrients so she could have reached her full potential. During the middle/end of flowering we noticed the fan leaves started to become yellow so she was missing out on nutrients. Due to her size, she probably needed a bit more nutrition than the other plants.
All the plants had quite strong and sturdy branches, which made this natural grow almost like a walk in the park. Very easy and straightforward growing. We would recommend her to beginners as well. You can't go wrong with this lady! We had a good yield from these plants and we were very happy with the result!
One of our favourite aspects of Auto Colorado Cookies is the dense layer of trichomes on the buds. Sometimes a small bud may not look like it will last long. But when you put these Cookie buds in your grinder you will be surprised by the quantity of white herbal powder grinds that comes out! Trichomes all the way baby!
Aroma and taste-wise this is a very interesting cannabis variety. We adore those creamy, doughy and fruity terps. A great combination that leaves you craving for more!
More cannabis grow reviews from Miss Mary (UGC)