Auto Orange Bud indoor grow report by The Artist
The pictures in this grow review of the extremely fruity Auto Orange Bud autoflower from Dutch Passion come from 'The Artist' who is a cannabis grower/photographer. The Auto Orange Bud seeds were germinated and grown under a California Lightworks SolarSystem 275 grow light with 20 hours of daily light. This grow light has a maximum power draw of 200W and is roughly equivalent to a 250W HPS. Auto Orange Bud took the normal 11 weeks from seed to harvest.
Although the final height of the plant was only 70-75cm it grew just as wide. The Artist enjoyed a heavy harvest of dense and incredibly frosty buds. He was particularly impressed with the number of chunky side blooms which all added to the respectable 128 gram harvest from the 200W LED. Considering that just a single seed was grown under the 200W light, this was a good yield of high quality, resin-covered buds.
For the record, Auto Orange Bud uses cannabis genetics from the legendary original Orange Bud. These were crossed with Auto Daiquiri Lime to create the autoflowering characteristics. Auto Daiquiri Lime is a fruity autoflower with rich and deep aromas of citrus and lime. Auto Orange Bud is the result of this powerful combination between these two super fruity, high THC varieties.
The following time lapse video made during this grow review shows exactly what you can expect to see from Auto Orange Bud in similar conditions.
Auto Orange Bud grow report by "The Artist"
The Artist focuses on growing small numbers of plants to the highest quality levels using the best autoflower seeds he can get. Therefore he doesn't need a large grow room or heavy duty lights. Instead he uses an LED with a power draw of 200W from California Lightworks, an established USA LED light manufacturer.
Type of grow room
Indoor grow tent with LED lighting, carbon filter, fan and extraction
Size of grow room
90 x 90cm
Number of plants
1 (Auto Orange Bud)
Type / size of pots
30 litre Airpot
Type of soil/medium
Light mix soil combined with coco fibre in a 50/50 blend
Nutrients
Root stimulator and BAC grow (early week and veg).
BAC Bloom, and BAC PK booster during flowering.
In the final 1-2 weeks only water was given.
BioTabs were used along with Mycotrex, and Startrex.
Grow technique(s)
The Auto Orange Bud was allowed to grow naturally under the LED grow light with no training or special grow techniques.
Avg. temperature
20ºC – 25ºC generally. Minimum lights-out temperature was 17ºC
Average humidity
55% relative humidity
Lighting
California Lightworks Solar System 275. 200W Power draw with a blend of red, blue and white LEDs
Light distance
Around 40cm in bloom
More and more home growers are finding that LED offers noticeable quality improvements over HPS grown crops. That's the main reason people don't mind spending the extra money on the initial LED investment. But reduced ongoing running costs means LED usually pays for itself in the medium term, especially when replacement HPS bulb costs are considered. LED grow lights should last for around 10 years for most hobby growers before any significant power drop is seen.
In the early weeks, The Artist noticed that the leaves had a bit more of an Indica appearance with thick fingers. But by the later stages her sativa side was dominating, the leaves looking more slender. In addition to the main central bloom, all the other blooms grew quite evenly with plenty of sparkling buds. The vigorous autoflower genetics created a wide bushy plant which thrived under the great conditions.
The combination of air pots and LED are particularly effective for growing autoflowers. The final plants stayed well under 1 meter. The Artist reported that it was an easy plant to grow with delicious citrus/nectarine aromas. Because this grow was part of a time lapse project, no special grow techniques were used. A few bottom branches / leaves were removed. Other than that, the Auto Orange Bud was allowed to grow naturally.
The Artist loved the unique taste and aroma, if you haven't grown Auto Orange Bud the nose tingling scent of sweet fruity aromas is unusually intense. In a vaporiser it's a mouth-watering experience which tastes like fruit candy.
After the taste/aroma, the next favourite part was the sheer potency which sets Auto Orange Bud apart from the average auto. Sugar-frost and THC development was already visible from as early as week 5. By week 11 (harvest week) the buds were coated with a sticky sweet trichome coating.
The Artist remarked that of all the autoflowers he has grown, he had never seen any develop so much resin so early in the grow. The longer the grow continued, the more THC and sugar-frost built up. At the same time, the one-of-kind fruity tangerine aroma continued to intensify. Growers that enjoy spending time and hanging out in their grow room with their plants near harvest really will cherish growing Auto Orange Bud!
Auto Orange Bud feeding schedule
A 50/50 blend of soil light-mix and coco substrate was used for this grow. At the start some Biotabs tablets were added to the soil. They were pressed into the soil around 5-10 cm deep.
These are slow release organic nutrient tablets. They are very popular with growers who like to combine high quality results with an easy grow experience.
During the early weeks, Root Stimulator and BAC grow were used. In later stages, BAC Bloom nutrients were used. BAC PK booster was also used. In the final 1-2 weeks the plants were flushed, only water was given. This is a technique which many feel helps to improve taste and flavour.
Auto Orange Bud week to week grow pictures
The following series of pictures outline what you can expect an autoflower to look like during a typical 11 week grow cycle. Note how the Auto Orange Bud fattened up significantly during weeks 7-11. The patient grower who doesn't mind waiting until the genetics have completed their work can reap serious rewards when growing the best autoflower seeds. Waiting an extra week at the end can really make a difference!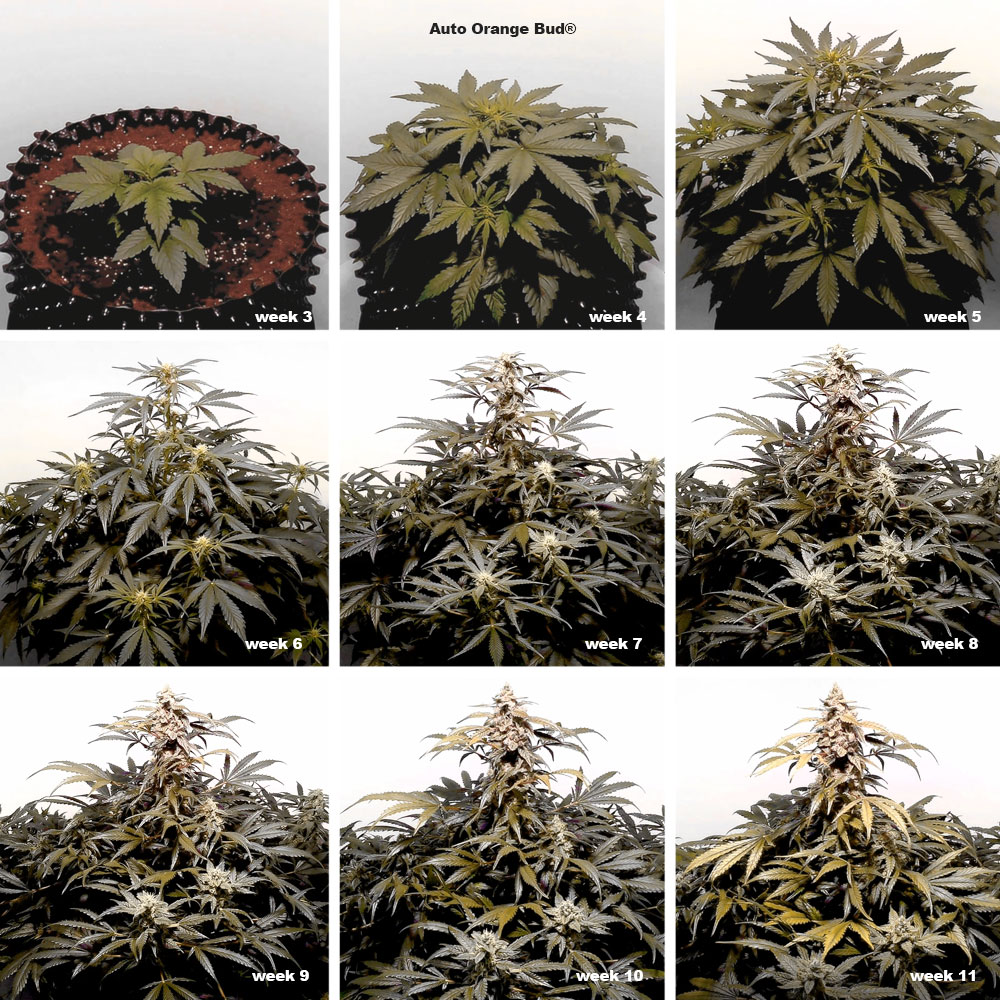 After week 11 the Auto Orange Bud was trimmed, removing all big leaves and most smaller leaves from the plant. This process that can sometimes be very time consuming. But in the case of Auto Orange Bud it was quite fast and pleasant due to the resin covered buds and leaves.
The sweet aroma during trimming was very smooth and pleasant. Hints of citrus and fruity tones filled the air. Buds were dried in the grow tent, (in the dark of course) on a net. It took about a week for the buds to dry well enough. In total the dry weight was 128 grams.
The Artist made the following summary of his Auto Orange Bud grow:
The great smelling buds were then stored in a glass jar. The dried buds were super frosty and thick. Opening the jar during curing was a real pleasure. The beautiful smell was unlike any autoflower grown before. A strong aroma and very pleasant fruity tones, so sweet and rich! Just like real dried fruits or oranges. Dutch Passion created a real fruity winner with this autoflower. It's a shame we didn't get a chance to send this one to the lab for testing. I think the results would have been quite extraordinary. But I'm already planning my next Auto Orange Bud grow, which I'm sure I will get tested for terpenes and cannabinoids!
Buy Your Auto Orange Bud cannabis seeds
Auto Orange Bud is quite a remarkable feat of auto breeding and a popular repeat choice with Dutch Passion customers. It's part of the exclusive collection of 'Extremely High THC' cannabis seeds and one of the strongest autoflower strains ever created by Dutch Passion. This means THC levels are as high as they can get, around 20% in optimum conditions. That alone means that Auto Orange Bud will appeal to plenty of quality focussed growers seeking the strongest possible effects from an easy-to-grow auto
In addition there is the genuinely rare and special citrus terpene profile. Here the parent Orange Bud genetics really come into play. The Orange Family of cannabis seeds all enjoy the sweet, refreshing citrus fruit taste and aroma. But Auto Orange Bud takes this to new levels. Vaping some well cured buds releases a mouthwatering explosion of delicious citrus terpenes.
Autoflowering cannabis seeds simply don't get much better than this.
You can buy your Auto Orange Bud seeds online here.