Auto Skywalker Haze 110g yield of mind-melting buds
Auto Skywalker Haze is currently Dutch Passion's most potent auto with THC levels recorded at over 26%. This makes her stronger than most photoperiod strains! These sativa autoflowering seeds were created by crossing Skywalker Haze with Auto Amsterdam Amnesia. They typically take around 12 weeks to grow from seed to harvest under 20 hours of daily indoor light
This indoor Auto Skywalker Haze grow review comes from Antonio and StickyGreen.
Auto Skywalker Haze grown in 30 litre airpot with LEDs
Grow Details
| | |
| --- | --- |
| Variety | Auto Skywalker Haze |
| Cannabis seed type | Autoflowering cannabis seeds |
| Number of seeds | 10 |
| Date of germination | Late November 2020 |
| Germination rate | 100% |
| Days required for germination | 3-4 days |
| Light cycle | 20 hours of daily light from start to finish |
| Length of grow cycle | 13 weeks from autoflower seed to harvest |
| Stretch during bloom | Compact and bushy autoflower – not a lot of stretch |
Basic grow information
| | |
| --- | --- |
| Grow room type | Indoor grow tent, Growlab GL60 |
| Grow room size | 60cm x 60cm |
| Plant containers | 1 plant in a 30 litre airpot |
| Grow medium | Coco fibre:Light mix soil in a 1:4 ratio |
| Nutrients | BioTabs and BAC nutrients |
| Grow system | Watered by hand |
| Grow technique | Natural grow, no techniques used |
| Grow light | LED growlight, 140W power draw with dimmer |
| Light distance to canopy | 20-30cm |
Auto Skywalker Haze seeds indoor grow report
Germination
I germinated 10 seeds in total, after 3 days all of the seeds had germinated which gave me a 100% germination rate. Most of the freshly sprouted seedlings had a small tap root of about 2-3 cm. I left them for one more day in the cotton pads during which the root grew to about 4-5cm in length before transplanting them to their 0.25L pre-growth containers.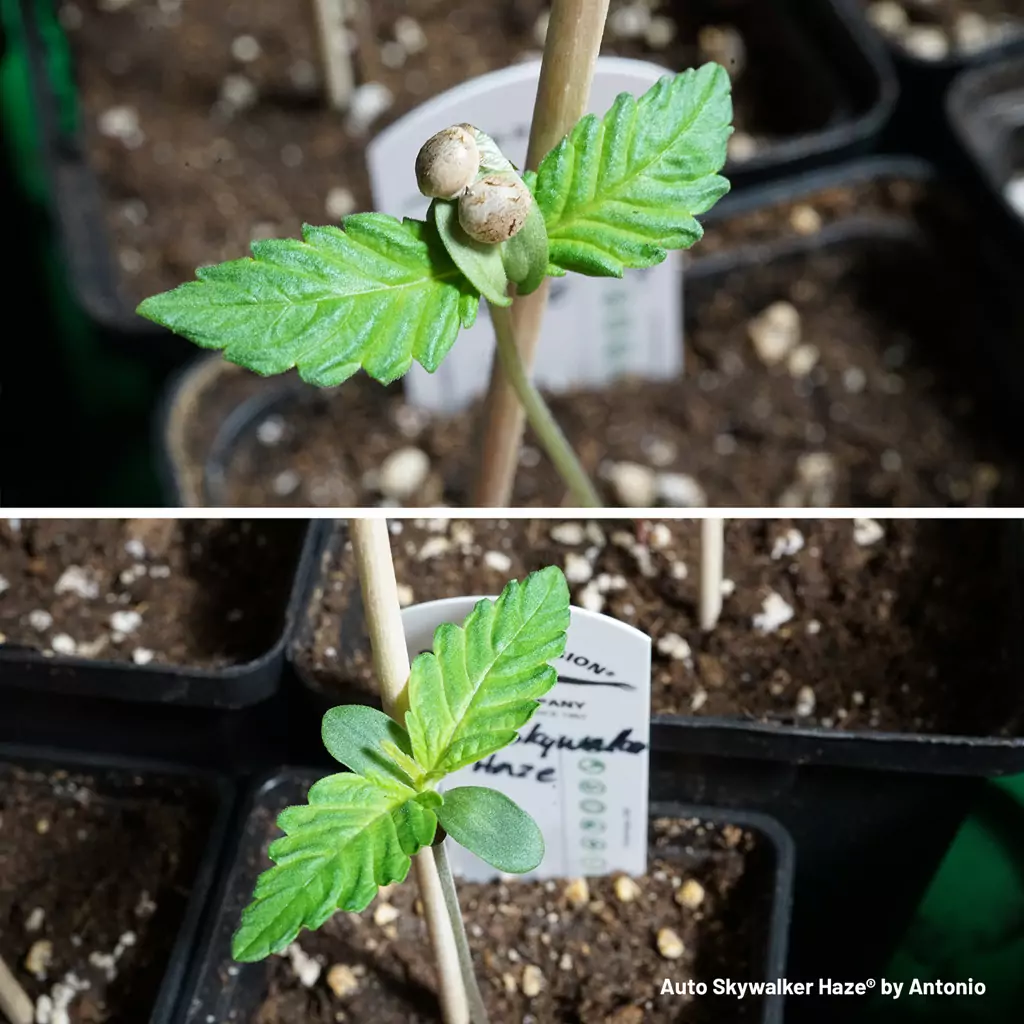 Related:
The cotton pad cannabis seed germination method
Remarks during early vegetative phase (20/4 light used for entire cycle)
The plants were grown in 0.25L square plastic containers for about 3 weeks. At that time, I selected the single best-looking plant to grow separately in the 60×60 grow tent. When making a plant selection, I usually look at a few important things, starting with the size of the plant itself.
The thickness of the stem and the amount of (inter)nodes are a good sign of the overall vigour of the phenotype. Furthermore, is it important to look at the number of blades per leaf and the progression of these blades from the start. Ideally, you want a plant that starts off with 1-3-5-7 bladed leafs and from then on progresses even further to 9-11-13 blades per leaf. The leaf colour is also a good sign to see whether the plant is in good shape or not.
Young plants that show nutrient issues, spots or colours other than vivid green might be discarded. Plants that are showing a 1-1-3-3 progression in bladed leaves can be discarded as well. For this grow, I wanted to have the best possible Auto Skywalker Haze so I selected one plant from the 10 seedlings.
During these first 3 weeks all of the 10 plants grew pretty normally. 2 plants were a bit smaller and 3 a bit bigger, 5 were somewhere in between. During this 3 week process the plants were grown under a few SANLight Flex 10 bars. Two of the 10W Flex-10 bars were used during the first 1.5 weeks and 4 bars for the next 2 weeks.
The plants were grown in Lightmix soil and were gradually given some Bio Rhizotonic (Canna) and Bio Grow (BAC) nutrients from the second week.
I would normally recommend either to grow autoflowers in their final containers from the start or for a maximum of 1-2 weeks in a smaller container of between 0.25L-1L. Unfortunately for this test I couldn't do that because the grow area was very limited and there was simply no space for 10 airpots of 30L.
Ideally, when you pre-grow autoflowers in small pots it is best to do it for a maximum of 2-2.5 weeks. Otherwise, it is possible they will get stunted and probably stay a bit smaller than their true potential. Due to circumstances I even had to extend the growth period a bit in the 0.25L containers and they stayed in there for about 3,5 weeks.
The single Auto Skywalker Haze was transplanted into a 30L Airpot with a mixture of Lightmix and Coco fibre, in a 4:1 ratio. The Biotabs complete nutrient line was added to the soil and the plant received some additional liquid BAC nutrients (BAC Grow/Bloom and PK Booster) during the rest of its lifecycle.
During the first 3 weeks in its final container the plant grew steadily into a nice little bush. Even in its 6th week she didn't have any flowers. During week 7 she started to show the first signs of being female with some nice little white hairs. During week 8 and 9 flower development really took off and in week 9 she became filled with round shaped white flowers with a short internodal distance. I had a feeling they could become pretty big towards the end.
Remarks during Flowering period.
The Auto Skywalker Haze was very compact, I guess due to the fact that she was kept in a small container for a little too long she probably lost some of her height potential.
I lowered the light to about 20-25cm and it was already on full power from the end of week 7 when the first signs of flowering appeared. At the start I could see some minor damage on the leaves from the intense light (the leaves were slightly curled upwards, and the colour of them started to shift to light green).
When this was noticed the light was moved a little higher, to about 30cm above the canopy, in order to not cause any more stress to the plant.
Between week 9 and week 12 the plant really put all her effort into the development of the flowers. They just kept on growing. Resin development started pretty early on and from week 9-10 she started to get very sticky too.
When you touch the buds during this stage you could already smell an amazing limonene dominant haze aroma. Very fruity and citrus, fresh lemon infused haze I would name it.
I knew these buds were going to be special! During the start of week 12 the buds were already pretty big and chunky, but I could see they were definitely not finished yet. There were still some white hairs in the flowers and you could see that they still had some time left to ripen and hopefully become rock hard.
Even though the leaves showed some minor damage from the strong LED light, the flowers didn't have any light burn at all. I think it was a good move to hang the light a bit higher. During these last 2 weeks the stems became completely filled with big flower clusters.
The white hairs that were still there at the start of week 12 turned orange and the resin development of these buds really started to show the potential! She didn't have a lot of resin on the bigger leaves, but the sugar leaves surrounding the flower were covered in a sticky layer of trichomes.
The flowers themselves became very white with light pale green leaves surrounding the bud. The plant was flushed with only tap water for about 12-14 days. This helps to get rid of excessive nutrients in the plants and let them ripe even further.
Because of its bushy stature there was actually no need to use the scrog net and there was also no need to use any other height restricting techniques like bending/supercropping etc.
She reached about 45-50cm in height and not very wide either, but everything was covered with thick flowers! Most buds were about 20-25cm in length, even the side cola's were very long and heavy, the biggest buds were 30-35cm in length. Truly a beautiful little bush.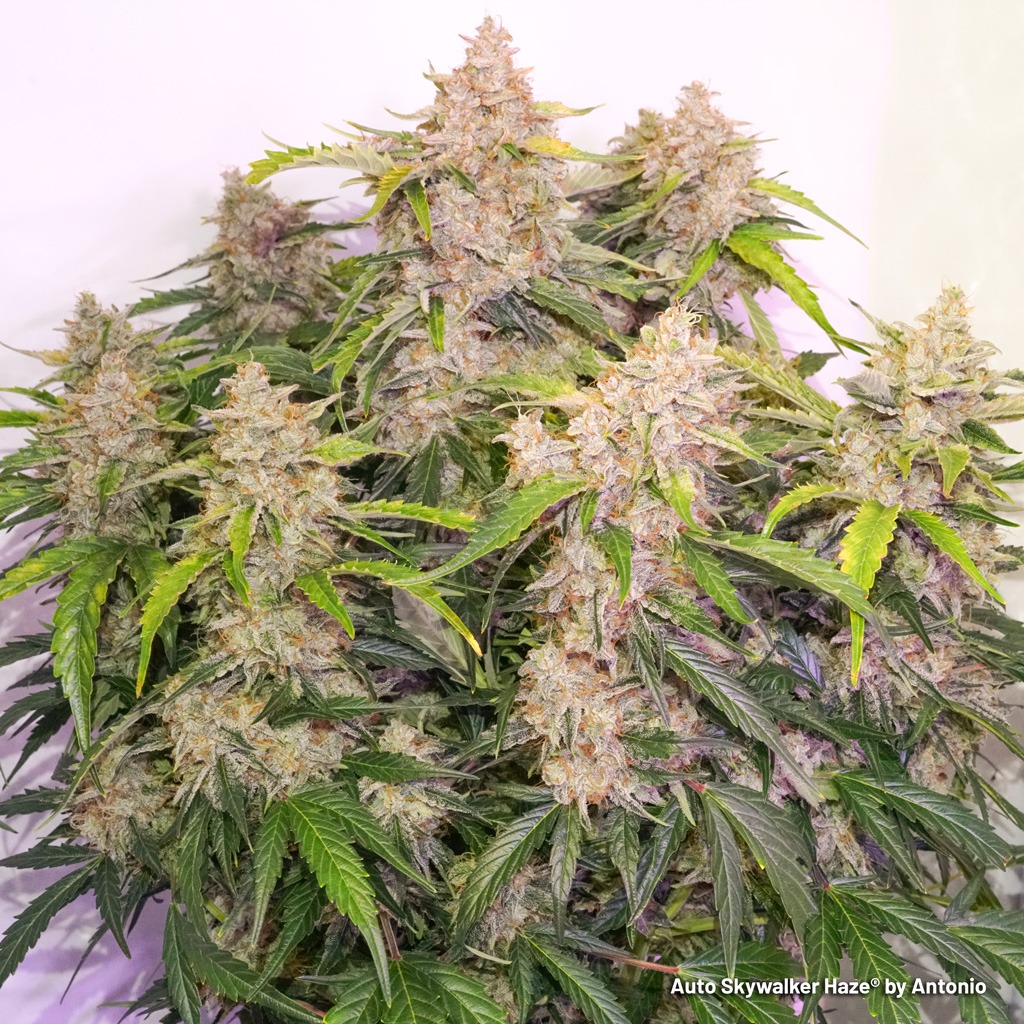 Auto Skywalker Haze harvest report
Final height
She reached about 50cm in height, I think she could have been a lot bigger if I hadn't kept her in the small 0.25L container for so long (or if I had placed her in the final container directly after germination). And I have a feeling that the strong LED light during her growth period could have caused some damage and might even stunted her growth. All in all however, I was definitely not disappointed, this bushy lady had some thick and great looking flowers that smelled really amazing!
Calyx-leaf ratio (Easy trim – yes/no)
She has a very good calyx-to-leaf ratio. You can manicure this lady in no-time. Just pick her outer leaves and hang the remaining complete plant upside down in your drying room. Or cut away the side stems from the central stem and manicure all the branches separately with a scissor, which was what we did. Our advice is to use gloves when trimming because your hands will get very greasy, it's an excellent strain to make scissor hash though!
Quality (Resin/Smell/Compactness)
The aroma is pretty pungent and fruity! The more citrus and hazy tones are definitely dominant. For us that citrus, zesty lemon-infused haze smell made this a winner. Resin development on this lady is top-notch.
She gets completely covered in sticky resin. If you squeeze the flowers between your fingers you have to be careful they won't get stuck next time you put your fingers together. The aroma also has some spicy, herbal haze tones which makes it very interesting and appealing. She actually tastes great too. A little more subtle than the aroma, but still very tasty.
Those zesty, sour citrus tones can be tasted on the inhale and the more hazy terps come out on the exhale. She can tingle the throat a bit and the effect is very potent, so best beware! A small joint can leave you stoned for hours.
Post harvest report on Auto Skywalker Haze
Yield.
This single plant yielded 110 g of dried buds, which is pretty high for such a small plant. The big Sativa dominant buds definitely put quite some weight on the scale. Knowing she was only 50cm in height and just as wide as her pot I think the maximum yield could have been a lot higher if I had done things a bit differently.
In addition to the good yield we were also really happy with the high from this strain. She is super potent and mostly energetic, social and relaxing. It's one of those strains that has a solid combination of a head-high and a body high.
She leans a bit more to the Sativa side, but you can definitely feel a bit of the Indica genes in her too. She is the perfect bud to relax and unwind while feeling strongly medicated and slightly euphoric.
The high is strong and it's possible you can get the munchies, like we did several times. If you smoke some more, she will probably get you laughing. Definitely a nice bud to share with friends!
Remarks after curing.
She has become a bit more subtle after curing, but you can still smell that citrus haze aroma. Especially if you break/crush the buds the more pungent character comes to the surface.
The buds themselves are really rock-hard, the kind of bud that bounces off the table if you accidentally drop one. The curing took a bit of the sharp edge off, making this an even smoother toke.
You have to be careful though, if you keep on puffing the high that will follow later has the ability to knock you off your feet!
Overall rating (out of 5): 4,5
| | |
| --- | --- |
| Aroma | ★★★★½ (4,5 stars) |
| Taste | ★★★★☆ (4 stars) |
| Effect | ★★★★½ (4,5 stars) |
| Bag appeal | ★★★★★ (5 stars) |
| Overall rating | ★★★★½ (4,5 stars) |
This is a great strain to smoke, this autoflower has such a potent effect and such great bag appeal that it is impossible to distinguish from photoperiod cannabis buds. There have always been a lot of growers saying all autoflowers are rubbish, but we feel this beauty proves otherwise!
Special Remarks when growing Auto Skywalker Haze
Auto Skywalker Haze is a Sativa dominant autoflower with a hybrid plant and leaf structure which leans slightly to the Sativa side of the genes. Our particular specimen/phenotype stayed pretty compact, most likely due to our own actions. So we can imagine other plants would become a lot taller and wider.
She has a very good internodal distance and the flowers really stack from the bottom to the top of the branch. They grow into thick buds and even though the buds were very chunky and heavy, the plant could keep them upright without a problem. I think this could probably be a great autoflower strain to use in a SOG grow.
For us the most special thing about this strain is actually the quality of the bud itself. The combination of the bag appeal, the aroma and the potency of the high is something worth mentioning. The cured buds look simply amazing and one small bud can leave you stoned for many hours. The high is strong but doesn't knock you out (unless you smoke a large dose), it is a good mix of a mental high and a body effect that makes you feel (mainly) euphoric and relaxed. Perfect to chill after a rough day or for during the weekend when you have some time to sit back and relax!