AutoMazar grow review High THC
AutoMazar grow review
Heavy harvests and easy to grow
This weeks AutoMazar grow review comes from AutoBeast, an experienced European cannabis grower with a strong quality focus and a well equipped grow room.  The grow diary is here on the autoflower network.
AutoMazar has been one of Dutch Passions best selling feminized auto seed varieties ever since she was introduced.  AutoMazar is easy enough for first time growers to produce XL harvests, and connoisseur home growers can produce exceptional results from these heavy yielding and THC-rich genetics.
AutoMazar grow review from AutoBeast
AutoBeast grew the AutoMazar in a large 35 litre container of general purpose compost.  Nutrients were Sensi Grow & Sensi Bloom.  Calcium/Magnesium supplement was also used, this is a popular additive with auto growers.
Under 20 hours of daily light the calcium and magnesium needs of the plant may need supplementing to help maintain the rapid growth rates seen with the best auto varieties.  LED growers also find calcium and magnesium additives are particularly useful because LED produces less heat and plant transpiration than HPS lights.
The reduced levels of transpiration are thought to reduce the mobility of Calcium and Magnesium ions within the plant, so supplementing these minerals helps maintain growth rates and reduces the chance of mineral deficiency.
Preferred containers for indoor growing
Many auto growers prefer to use containers around 6-15 litres for indoor growing, so the 35 litre container is larger than most growers would use.
However, larger root-zones tend to create larger plants with bigger harvests, assuming that other growth factors such as environmental and nutrient conditions are also optimised.
In this AutoMazar grow review AutoBeast also topped the A, this means the the growing tip of the plant was cut off with scissors at around day 17.  This tends to produce a bushier and lower plant, its a technique used by experienced auto growers to produce a flat canopy with a large number of blooms.
Topping technique
However, most growers tend to allow the auto varieties to grow without topping the plant.  The 'topping' technique can increase yield, but it can also slow down the development of the auto a little and may add an extra week or two to the final harvest date as the plant replaces the main growing tip with side branches.   Its a process that can cost the plant some time to catch up, but the reward can be heavier yields.
As many Dutch Passion auto growers will already know, the best modern auto genetics can produce huge amounts of cannabis if the lighting conditions are optimised with plenty of high intensity light, especially during the final 7 weeks of growth.
LED Grow Lights in Mylar grow tent
AutoBeast used 3 LED grow lights in his Mylar grow tent, this ensured that the plant had some side-lighting which allowed good development of the blooms.  The typical Dutch Passion auto has a large central bloom surrounded by smaller side blooms, but in optimised lighting conditions the side blooms can grow almost as large as the main bloom.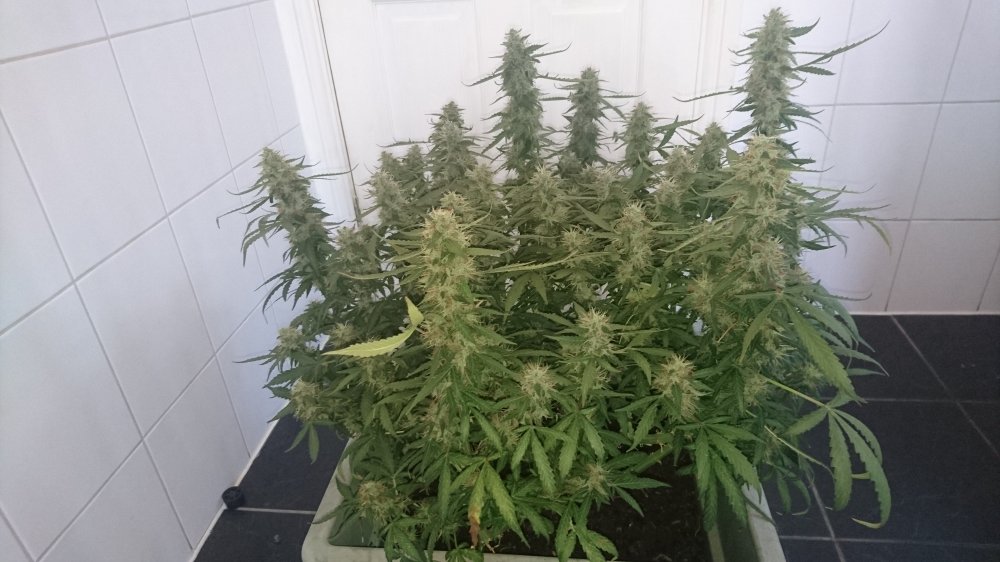 The AutoMazar grew into a medium hight plant with lots of blooms.  The large 35 litre container allowed the AutoMazar to grow an extensive root network, this is essential for any grower intending to produce heavy harvests.
Sensi Grow & Bloom nutrients
Careful feeding of the Sensi Grow & Bloom nutrients allowed the AutoMazar to reach its potential without the plant being under-fed.  And just as importantly, the plant was not slowed down by being over-fed which tends to damage roots, leaves and general plant health.
Xmas tree shape
The traditional 'Xmas tree' shape of AutoMazar wasn't seen because the plant was topped.  So instead of seeing a tall main bloom surrounded by a ring of small blooms, the AutoMazar grew into a bushy structure with numerous blooms and a flat level canopy.  For some growers this is a preferred way to maximise the use of the available growing space.
After drying, the harvest came to 7 ounces (~200g).  The grower commented that AutoMazar was easy to grow and produced dense, skunky buds with tropical and lemon scents.  AutoMazar remains one of the easiest and simplest varieties to grow, and routinely produces 100-200g++ for experienced growers.
Don't miss out on AutoMazar!
If you are planning to grow some good quality auto varieties in the future then don't miss out on AutoMazar, its one of the best performing auto varieties that Dutch Passion have come across in many years of research.  You can expect to get large plants that are notably easy to grow, heavy harvests and some of the best cannabis you will have tried in quite a while!