Dutch Passion AutoMazar grow review
Dutch Passion AutoMazar grow review
This Dutch Passion AutoMazar grow review comes from Robwars', an experienced home-grower who specialises in pushing AutoFem genetics to their limit.
Dutch Passion AutoMazar is a real customer favourite. This is an automatic variety which blooms under 20 hours of daily light and produces top-class cannabis, on the same potency level as a top quality traditional variety.
AutoMazar produces exceptionally heavy yields as well. In this grow diary AutoMazar produces 216g of dried buds and a further 75g of leaf/airy buds for bubble hash. Make no mistake; AutoMazar is a best-seller for very good reasons. If you haven't tried growing an automatic yet then we really recommend AutoMazar.
Above. Dutch Passion AutoMazar expertly grown by Robwars. The plant produced a huge number of heavy blooms. The buds were hard, covered with resin, and had attractive blue colourations.
Dutch Passion AutoMazar grow review
Robwars grew the single AutoMazar seed in a 5 gallon (25 litres) airpot which was cut down to 4 gallons (20 litres) by reducing the height of it. Airpots are becoming a favourite with soil and coco growers, they allow the root ball to grow in optimum conditions with plenty of oxygenation thanks to the numerous air holes around the side.
The 20 litre (4 gallon) airpot used by Robwars is bigger than most growers would normally choose. But as you can see from the photographs, it produced a very special result. 200g+ harvests from single plants are a home-growers dream. Getting heavy harvests so quickly is one of the reasons why AutoFems have become so popular with home growers, the ability to photosynthesise under 20 hours of daily light is the reason that the best auto genetics have such explosive production capability.
AutoFem's popularity
AutoFem's are popular with experienced growers that want to push their growing skills to the limits, but auto's are also popular with less experienced growers who do not understand the difference between 'veg' and 'bloom' phases of traditional cannabis genetics.
Feminized automatics are perhaps one of the easiest and yet the most rewarding ways to become a self-sufficient cannabis grower. These days AutoFem seeds account for almost half the seeds bought by Dutch Passion customers, when you see results like this you can understand the popularity of them.
Above AutoMazar in close-up, a variety bred for serious resin production as well as heavy harvests.
Comments from Robwars
"I finally had the chance to grow out the AutoMazar this fall and see first hand what the legend was all about. I was not disappointed… I threw all I had at her, I gave AutoMazar her own tent, the biggest airpot I had and some LED love."
"She had a very easy veg period, relatively slow at first but she exploded into form, I believe I switched to Bloom nutes at 45-50 days. The Bloom phase was just as easy, knowing that she would go at least 100 days I just stretched out my Bloom schedule to fit her needs."
Biggest challenge
"My biggest challenge was keeping her warm enough, she spent the majority of her Bloom phase @ 77°F (25°C) which is a few degrees lower then I like (79-81°F) but she did get some very pretty purple colours out of it. I took her down at 103 days, it took my wife and I about 6 hours from start to finish to cut her down and trim her up."
"She spent 9 days drying and maybe 10 days in the jars so far. The AutoMazar gave up 216 grams of fine bud and a healthy side of popcorn buds and sugar trim (about 75 grams) for bubble hash."
"Her high is very uplifting and energetic classic sativa with a hint of citrus and pine. Bag appeal is off the charts with tight Christmas tree frosted buds, dense buds. Overall if you're into Auto's and you haven't grown this out you are missing out. The AutoMazar has something for the commercial grower and the connoisseur."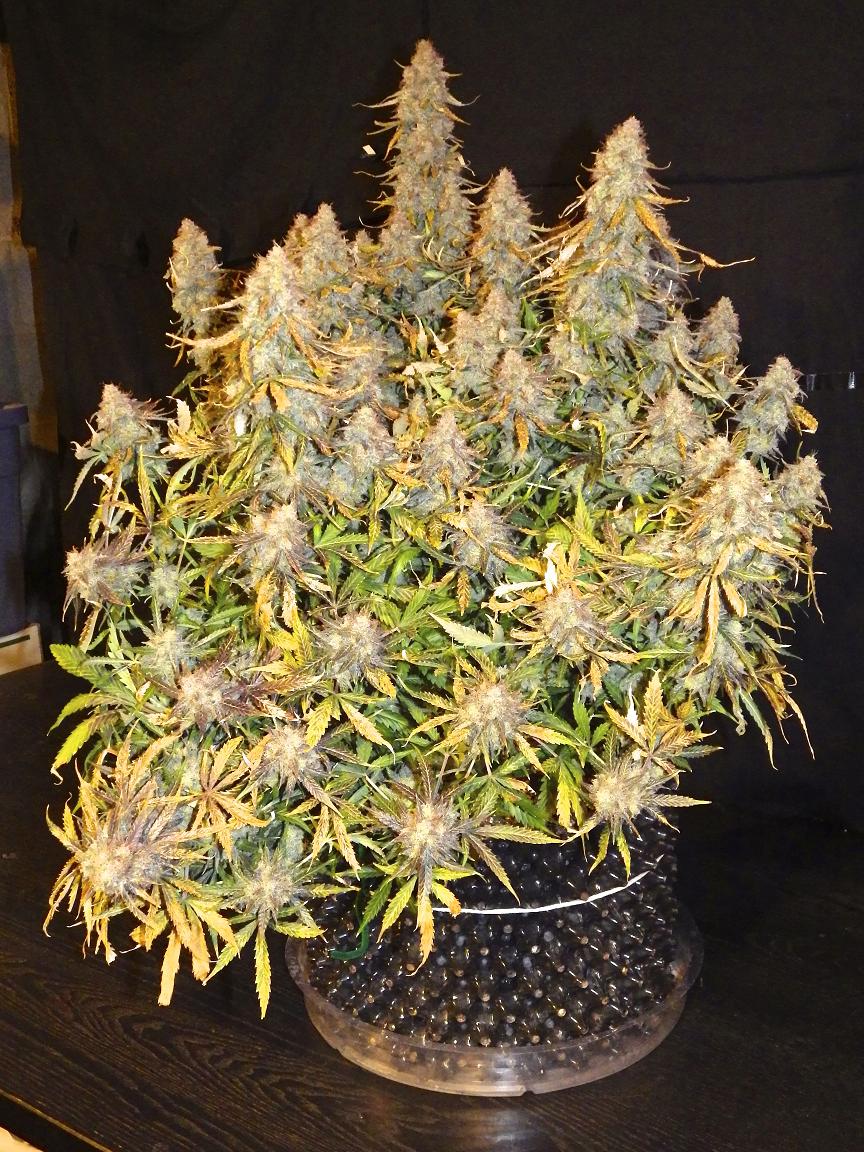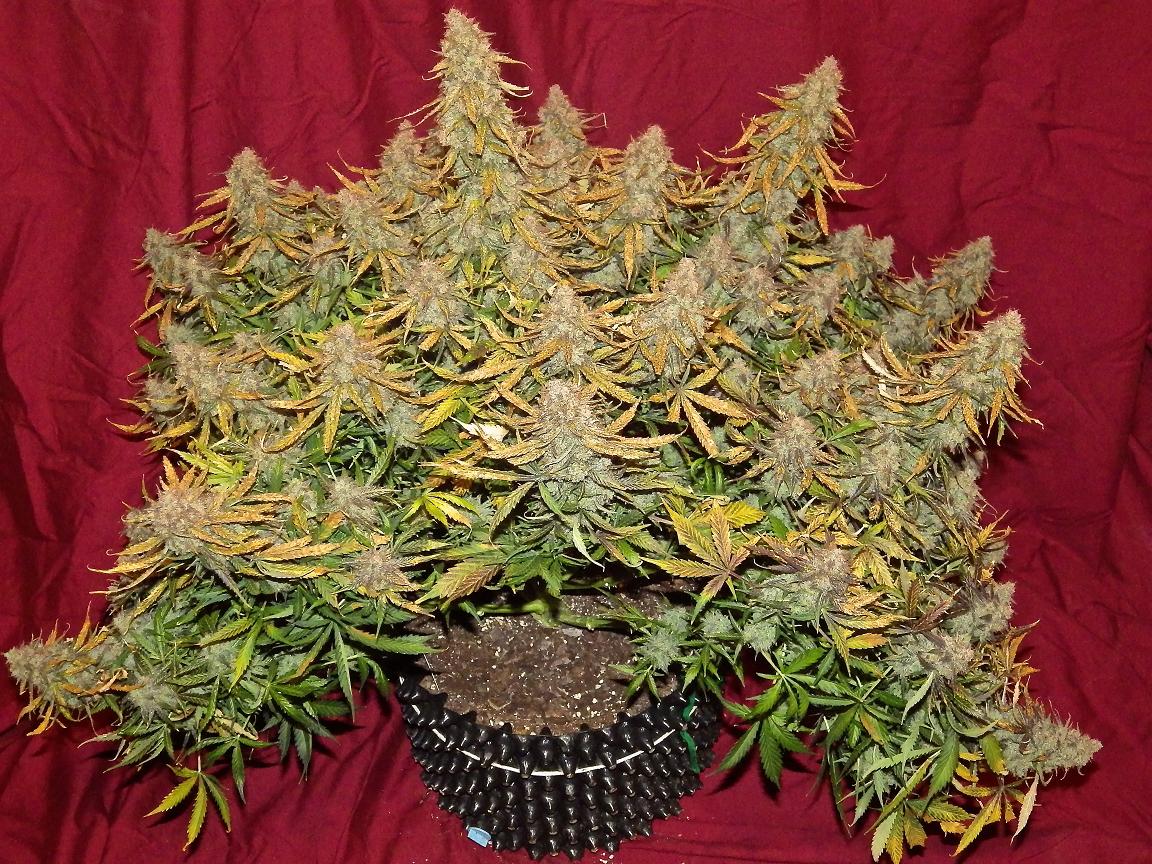 Great morning smoke
"The AutoMazar delivers on production and bag appeal that's for sure. As far as falling short I'd say this is more of my opinion that I prefer more of an Indica style buzz butt would highly recommend this to someone with poor circulation and or PTSD. This is a great morning smoke, energetic and happy with zero anxiety."
**
Heavy yields without hydroponic systems
Congratulations to Robwars on a harvest that all home-growers would be satisfied with. Achieving 200g+ from a soil-grown cannabis plant is quite an achievement. It's good to see such heavy yields can be achieved without the need to use hydroponic grow systems, hydroponics produce great results but the technology doesn't suit everyone equally well.
Soil growers often claim to produce somewhat richer flavours from a good quality organic compost. Robwars used his LED's, airpots and genetics to great effect and produced a dream result, Dutch Passion wish him continued success in the future.
Dutch Joe
Find me on Facebook too!