Dutch Passion Orange Hill Special Review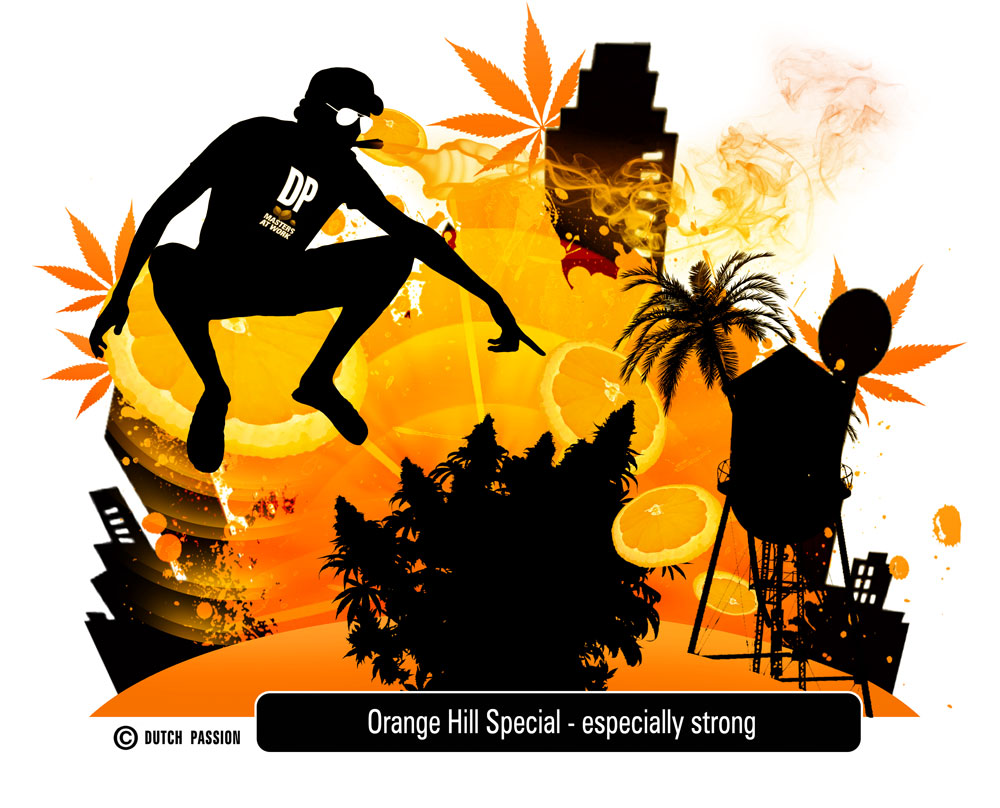 Dutch Passion Orange Hill special
Orange Hill Special is a recent traditional photoperiod variety from Dutch Passion.  She was introduced following many years of requests from our customers for a new member of our 'Orange' family.  Orange Hill is a cross of our famous 1980's classics Orange Bud and Californian Orange and was stabilised over 6 generations of breeding.
This is a really strong variety with THC levels of over 20% and a balanced indica/sativa effect.  Orange Hill Special is one of our best received new photoperiod varieties, and because she is such an important variety we sell her in regular seeds as well as feminized.
Regular cannabis seeds only account for 2-3% of our sales these days, meaning that we supply them as a service rather than as a business.  But regular marijuana seeds are still important to many of our old-school customers and we remain committed to them.
The pictures and words in this weeks review come from 'bugger' and the original grow diary is courtesy of Autoflower.net.
Above and below, Orange Hill Special.  Super strong parent genetics result in a resin rich variety with great yields.
Comments from the grower
"It was a superb journey with the Orange Hill Special, the average yield was 117g dry.  The 109 day grow period is inclusive of 12 days flush with pure reverse osmosis (RO) water, since RO removes salts much better than tap water.  The average height was 1.3 metres from soil at 109 days. The tallest in range, was 1.6m. I found the Orange Hill Special a pleasure to grow, the germination rate was 9 out of 10 within 8 days.  They were very vigorous in 18/6 light, more so in 12/12"
"Smoke Report:  21% THC, wow its a superb melodic, sativa-creeper cerebral, serotonin, thinkers high. The high lasts 3hrs+ before dying back to a post-steak meal satisfaction.  This fills your chest cavity. The bouquet, when re-entering the room, is of the old school 'Orange', that Bulldog coffee shop perfume of 1990's Amsterdam"
Above and below Orange Hill Special, exceptionally potent cannabis.  Use with moderation.

Final remarks from bugger
"Its a 50% Sativa 50% Indica,  with 21% THC, cured out to the max. This gives me a balanced stone. Sativa head dominance is balanced out with indica which comes through in the satisfaction with a calm psychoactive trait of the sativa lineage. This one delivers the bouquet and flavor of zesty citrus of pungent Seville Oranges, with tropicana overtones and very sticky. To smoke, its like smoking "Orange Hash"."
"The trichome loading, as mentioned, is thick & heavy. Some colas were still bent over even though they where supported with 10mm canes."
"All in all, a top bit of 'Orange' from this Dutch dame. Orange Hill Special, and special she is, for Orange Lovers.  For new growers, it is a trouble free journey to the harvest fruits. But start on medium strength nutrients, then work up to around EC 1.2-1.4 in flower. Leaf tip color change happened above 1.2 in flower, in veg no issues where found at 0.9 Ec."
**
Orange Hill Special is the first new member of our original Orange family for 2 decades.  She is so good we made her available in feminized and regular seeds, she comes with our highest recommendations.  If you are looking for a top quality photoperiod variety with the original legendary orange-family heritage then look no further.  Orange Hill Special is here.
Dutch Joe
PS Find Dutch Passion on Facebook