Think Big indoor grow review
If you want reliable XXL harvests and one of the strongest smokes in the Dutch Passion collection then try our new auto Think Big. This weeks Think Big indoor grow review from 'Tdam' shows the numerous chunky blooms that make this one of our heaviest yielding autos.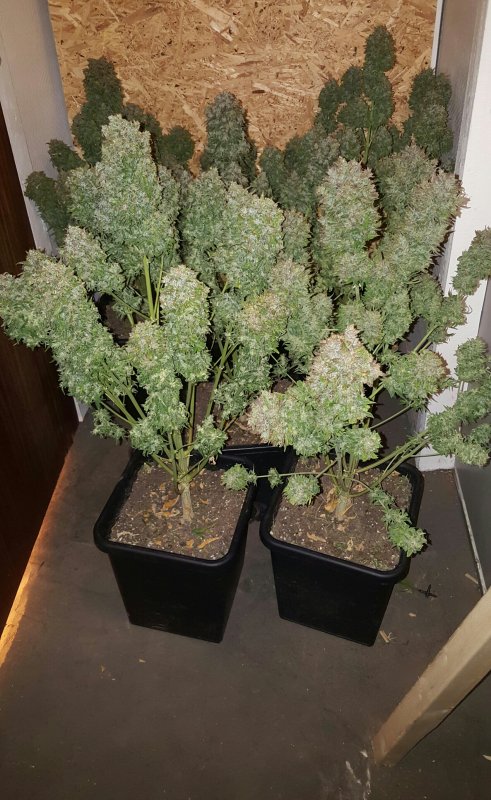 Think Big indoor grow review
Think Big is a carefully selected auto genetic line with a really strong smoke. Best results for yield and potency come if the plant is allowed a full 13-14 weeks from seed to harvest. Most growers use a 20/4 light schedule from start to finish (20 hours of daily light, followed by 4 hours of darkness). Some experienced home growers cultivate Think Big under 24 hour daily light (no 'lights off' rest period), however this may lead to Calcium/Magnesium deficiencies which could be tricky to correct for inexperienced growers. For that reason many home growers prefer to grow Think Big under a 20/4 light schedule.
Initial growth
Unusually for a modern high-yielding auto, Think Big tends to stay around or below 1 metre in size.  The initial growth, over the first 5-6 weeks may seem slow.  During this time Think Big is preparing to produce multiple blooms, to do this she needs to grow a bushy structure with more side branching than usual and a larger root ball than normal.  This takes time, and is one reason why Think Big takes 13-14 weeks.  The sativa dominant genetics have a flash of Haze in them, this helps make Think Big one of the most potent smokes in our collection.  As many home growers will know, these sativa genetics may take a couple of weeks extra to bloom, but the results are definitely worth the wait.
Home growers & high yields
Think Big will not tend to grow as tall as our other heavy yielding autos such as AutoXtreme and AutoUltimate.  This is all part of the Think Big genetic selection, which is optimised towards potency and heavy yields.  Think Big is ideal suited to home growers looking for heavy yields whilst retaining a compact and manageable hight for their grow room.
Tdam grew Think Big in soil under 600W HPS lights with highly impressive results, the original grow diary is here on the autoflower network. One of the more impressive aspects of Tdams grow is the consistency of the plants throughout the grow. All of the Think Bigs have the characteristic swollen blooms, and all are roughly the same size and appearance.
Easy to grow
The Think Bigs are easy to grow and their medium hight (typically a metre or less) makes this an easy variety to manage in your grow room without compromising either yield or quality.  Sometimes the larger 'stretchier' autos need LST (tying down with string etc) in order to keep the grow room manageable.  Think Big delivers a heavy harvest with a compact structure and an uncomplicated growing style.  This is an easy variety to grow, the only real downside to the Think Big variety is the need to be patient for the full 13-14 weeks to get the most from her.  But if you are patient this is an ideal variety to select if you want to exceed a gram-per-watt, even from HPS lighting.  
Nutrient concentration can be slowly increased as the Think Big gets older. Most growers prefer to feed pure water, known as 'flushing' for the last week before harvest. Many feel that this improves the flavour and smoothness of the final vape/smoke and allows the plants to be flushed free of excess residual minerals from the nutrients.
Think Big is one of our more stable auto varieties with good levels of predictable and consistent growth. This is the variety to choose if you have high light levels in your grow room and want an auto variety that will is capable of producing a harvest to match the light intensity. And remember to be patient, a full 13-14 week grow is required to allow the blooms to swell to the maximum size and reach full potency.
All in all this was one of the most impressive and efficient soil/HPS grows we have seen with Think Big. Tdam ensured the plants had plenty of root space, some good quality soil and regular feeding. The intense light levels allowed the Think Big genetics to do the rest. Think Big is an unusual genetic line in our auto collection, and one which comes with our highest recommendations.