Meringue epic 300g harvest from TheCannaProphet!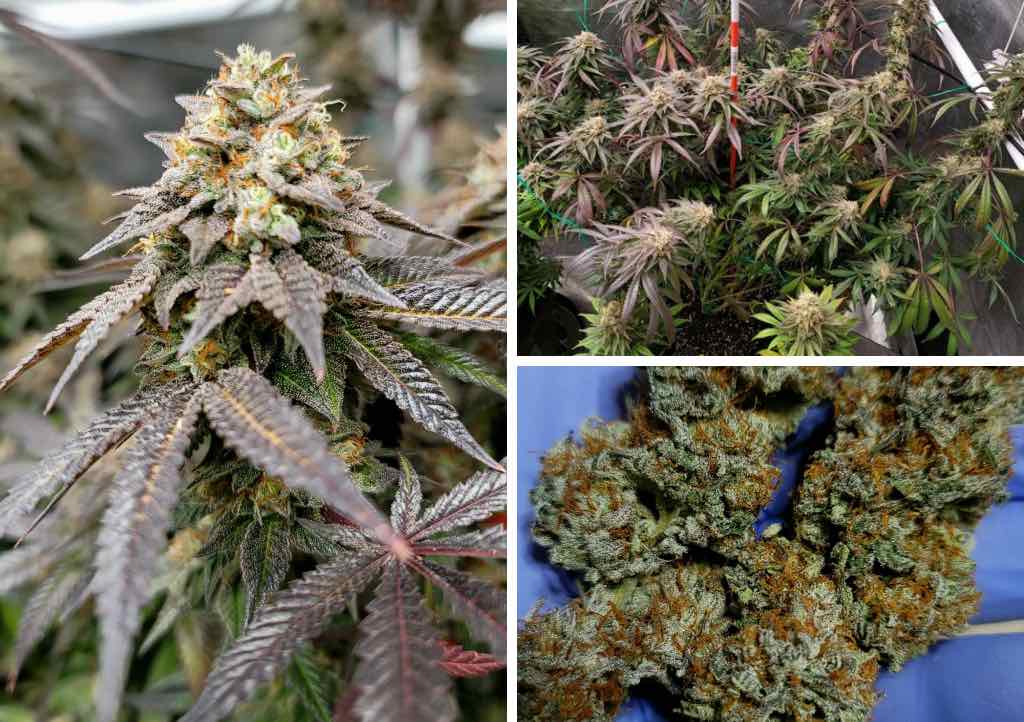 Meringue is a photoperiod feminised cannabis seed variety. The name came from the unusually white crusting of trichomes which coat the buds and leaves. The genetics come from two serious USA heavyweights, Wedding Cake x Animal Cookies.
One of the main reasons for the popularity of Meringue is that she is part of the exclusive High THC Cannabis Seed collection. This is reserved only for the finest Dutch Passion strains whose THC levels can hit the elusive 25% mark. What's more, the flowering time can be as little as 8 weeks meaning that you can expect a fast grow cycle. Meringue is an indica-leaning hybrid with firm, dense buds and a powerful pungent aroma. The exceptionally strong effects neutralise stress and anxiety delivering powerful body effects and blissfully pleasurable relaxation.
These cannabis seeds are part of the USA Special seed collection, home to USA genetics with loud flavours and even louder effects. In this grow review, TheCannaProphet grew Meringue cannabis seeds indoors with organic nutrients. This often ensures the deepest and richest flavours/aroma.
Meringue cannabis seeds indoor grow diary
Growing Meringue seeds indoors with a fully organic nutrient range
The Meringue feminised seeds were grown 100% organically in a 10 Gallon (45 litre) fabric pot. Fabric pots allow particularly high levels of aeration to the root ball, supporting healthy growth above ground and below. This fabric sack contained Mother Earth 70/30 Coco/Perlite medium amended with 2 tablespoons pr gallon of 'Down To Earth 4-4-4''. Additionally there were 2 cups per gallon of Earthworm Castings and 1 tablespoon per gallon of Dr. Earth Flower Girl 2-8-4. Finally, TheCannaProphet added 1 tablespoon per gallon of Dr. Earth Bat Guano. With such a large grow sack the subsequent root network showed extensive growth. This supported the large and very heavy final harvest. LED lighting was used.
| | |
| --- | --- |
| Type of cannabis seeds | Meringue, photoperiod feminised cannabis seeds |
| Container | 10 Gallon (45 litre) fabric sack |
| Grow style | Organic with LST & SCROG |
| Grow medium | Mother Earth, 70/30 coco/perlite |
| Lighting | LED |
| Length of vegetative period | 60 days |
| Length of flowering phase | 9 weeks |
| Nutrients | Dr Earth Organics and weekly compost tea |
| Harvest | 300g |
Strong growth indoor growth under good conditions
Initially the Meringue seedlings enjoyed 24 hours of daily light during germination. During bloom conditions the plants showed fast growth/development. A 10/14 light cycle (just 10 hours of daily light) was used for last 2 weeks of flower in an attempt to maximise resin production.
The Meringue was grown with some LST and the SCROG method. Plain water was pH adjusted to 6.2-6.8 and offered whenever it was needed. A nutrient feed was applied to the surface ('top dressed') every 3-4 weeks. Weekly Compost Tea was also given to complete the nutrient line-up.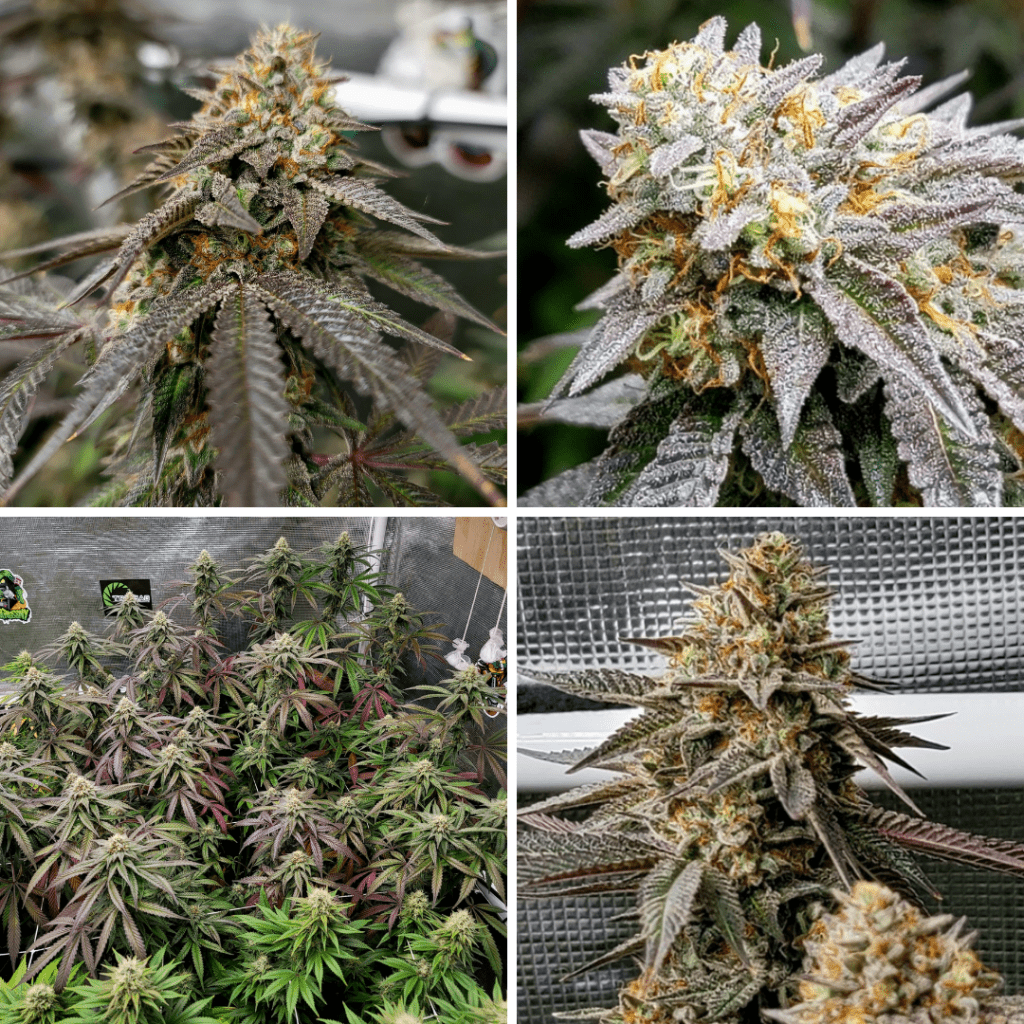 Meringue feedback from The CannaProphet
Want dense, super sticky pungent nugs frosted in snow white trichomes??? You search is over, meet Dutch Passion's Meringue strain. She's a 60/40 Indica/Sativa hybrid derived from a cross of Wedding Cake x Animal Cookies. Growing this cultivar started out quite challenging with her going through a daily major wilt that took a bit to figure out what she wanted.

In the end I realised that she was just very fussy as a youngster (wanted a TON of water and didn't like the 18 hour long days). Once she matured she continued to be a 'drinker', drying out her 10 gallon pot daily. She grew tall and proud, she handled up to 1400 ppm, 2.8 EC nutrients without skipping a beat and ended up with a marvellous dark maroon colour with hints of red that were contrasted by the heavy, frosty coating of glistening trichomes she produced throughout the last 5 weeks of her 9 week flower.

She does have really wide node spacing so prepare yourself for daily 'leaf tucking' to ensure the lower canopy gets enough light. All in all she was an absolute joy to grow, taught me a couple of things and provided some of the most beautiful, pungent, dense and sticky flowers I have grown! I WILL be growing this genotype again and would recommend it, especially to experienced growers as she can be a bit finicky.

The breeder recommends 30-45 day veg and advertises an 8 week flower. I vegged her for 60 days and flowered her for a full 9 weeks in which she grew to 42″ tall and faded beautifully ,the last two weeks I dropped the light cycle to 10/14 to further induce trichome production (along with the 72 hours of darkness at the end of bloom) which is a reminder to you new guy's that Breeder times are not 'cut in stone' and are a 'general' recommendation.

Always know your plant and check the trichomes to determine exactly when the ideal harvest time has arrived as so many variables can affect harvest times. Grow Strong! After being hung for 12 days in the dark at 56-60°F @ 55% RH she was ready to be trimmed, weighed and jarred for a 2-3 month cure, ending up with a RH of 60%. Final weight ended up with just over 300grams of the most sticky, dense buds that have incredible bag appeal. I pressed some of it and was rewarded with an almost 30% (28%) return!…An extractors dream come true!

The Dutch Passion Meringue has a very complex pungent, fruity/sweet terpene profile. That complex terpene profile carries over to your palate when smoking her and lingers a while allowing you to really savour the flavour! With her high THC levels this strain hits you quick and hard right between the eyes. Relaxation quickly sets in with a calm euphoria (great for listening to old vinyl) which eventually will lock you down for the count. A GREAT evening smoke! I plan on pressing a good bit of this and am sure the yields will be epic!

You should definitely consider the Dutch Passion Meringue to be a part of your next grow. With her copious amount of trichomes produced and her delicious terpene profile she'll make your mouth water! 😎🙏

Meringue grow review and feedback by TheCannaProphet
Meringue, uncompromising potency with heavy yields
If you're looking for a heavy yielding strain which genuinely doesn't compromise on quality there are limited options and Meringue is one of the finest. The original grow review on Grow Diaries is here. If you want a deep dive into the SCROG method and how that could help you net a heavy haul like TheCannaProphet, then the following cannabis SCROGing guide may help. And if you want to see another epic Meringue grow then check out this link.
Related:
Meringue grown with the SCROG method by Antonio
However you decide to grow Meringue you should be rewarded with generous harvest of connoisseur quality buds!